COBB COUNTY, Ga. — Funeral services were held on Wednesday for Cobb County Sheriff's Deputy Jonathan Randall Koleski.
Koleski was a longtime deputy with the sheriff's office, joining the agency in 2007. He was a U.S. Army veteran who served three tours in Iraq and Afghanistan.
Family and friends gathered at NorthStar Church in Kennesaw at noon to celebrate his life. His body is being taken to the Georgia National Cemetery
on Veterans Cemetery Road in Canton, Ga.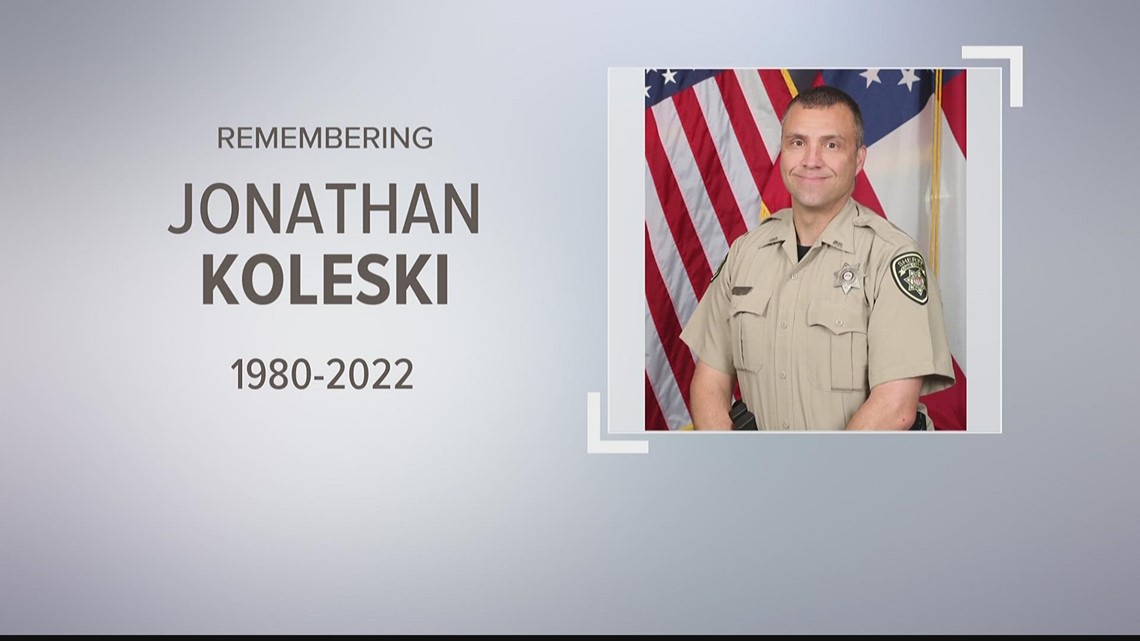 LIVE | Procession for fallen deputy
The funeral started with a welcome and prayer from Reverend Mike Linch of NorthStar Church. He expressed his condolences to the family and continued into a prayer asking the Lord to be their shepherd as they push through the service.
Afterward, the Cobb County Sherriff and a fellow deputy spoke about Koleski. They talked about losing one of their own and how their brotherhood feels fractured. Sheriff Craig Owens, Sr., asked people to continue praying for the immediate family and keep their office in their thoughts.
Lt. Christopher Leger with Cobb County spoke more specifically about his friendship with Koleski and all their good laughs over the years.
Family members, including his two sisters and father-in-law, spoke about their life with Koleski. The first to take the pulpit was Megan Barrios, who, with tears and a voice trembling in sorrow, told several heartfelt stories about her brother. Koleski's other sister, Melissa Marchetti, followed her with even more anecdotes about their brother's light-hearted nature.
Lastly, Koleski's father-in-law, David McDowell, spoke about how he was a fantastic husband, boasting that Koleski brought home a gift for his wife every day.
This was followed by the musical selection "Amazing Grace" as the Changing of the Guard took place. Then Linch returned to the pulpit to deliver the message and closing prayer.
The service ended with the song "Hero," recorded by Mariah Carey.
Photos: Funeral, procession for Deputy Jonathan Koleski
The Cobb County Sheriff thanked the community for the "outpouring of love and support shown to the family and loved ones of fallen Deputy Jonathan Koleski," in a Facebook post. The sheriff's office shared a few more images taken throughout the day as the community and law enforcement across the nation came to pay their respects.
An online fundraiser has been started for the family of Deputy Koleski. You can find more information here.
Deputy Marshall Ervin Jr. will be laid to rest tomorrow.
A procession was held earlier this morning to the church. You can watch a replay of our special coverage here:
News happens fast. Stream it faster with our re-designed 11Alive+ app on Roku and Amazon Fire TV. Watch newscasts, breaking news streams and get the latest sports, weather and VERIFY content -- 24 hours a day, 7 days a week.
MORE WAYS TO GET 11ALIVE
PHOTOS | Cobb County Deputy Jonathan Koleski