Covington Police Officer Matt Cooper continues to make huge strides in his recovery after being shot in the head last fall.
On Thursday, the Covington Police Department shared video of Cooper "running" on a treadmill with the assistance of physical therapists during a recent session.
"Look who went for a run this week! #148Strong," the department posted on Facebook.
It's a vast improvement from where Cooper was months ago, after being shot in the head on Labor Day. Since then, the officer's journey has been one of recovery, marked by major milestones.
Below is a timeline of events - from the shooting until now.
Police were able to detain two juvenile suspects, but a third, 21-year-old Aaron Fleming, ran off, followed by Cooper and another sergeant. A short time later, the sergeant heard two gunshots. When he came around the corner, the sergeant found Cooper unconscious and injured. Fleming was found dead shortly after.
Cooper had been shot in the head.
THE JOURNEY AT THE HOSPITAL
Community shows support for Covington officer shot in line of duty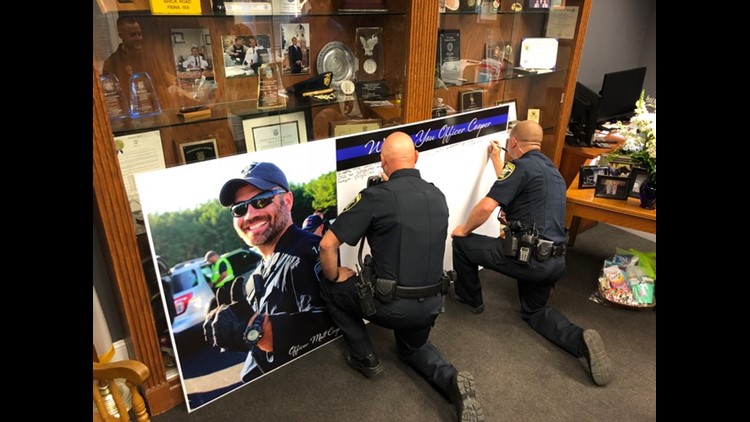 Officers said Cooper was able to mouth the words "I love you" to his wife, who had not left his side. The nurse even asked him, "Did you just tell her I love you?" He was able to respond by nodding yes, they said.
Cooper was moved from the hospital to The Shepherd Center in late September. The center specializes in medical treatment and research for people with spine and brain injuries. During his time there, Cooper made great progress and underwent therapy with a team of specialists.
Cooper was released from the Shepherd Center in December and was home just in time for the holidays. The center said he graduated from its inpatient brain injury rehabilitation.
"Through fist bumps, thumbs ups, hugs and kind words, he greeted and thanked his family and friends, as well as his colleagues from the Covington Police Department, who gave him and his family a police escort out of Shepherd Center and onto Peachtree Road," the Shepherd Center posted.
HAPPY BIRTHDAY OFFICER COOPER
Cooper celebrated his 35th birthday Jan. 14, a milestone that was almost taken away.
The department posted on their Facebook page that day, writing, "Never take for granted that last candle you place on your birthday cake each year. There are people who have fought for that flame to shine bright; fought for another year to shine their light on this world."
The Army veteran, husband, and father is still recovering from his injury.