COVINGTON, Ga. -- Covington Chief of Police Stacey Cotton gave an emotional update about his officer who was shot in the line of duty on Monday.
Officer Matt Cooper is fighting for his life after being shot in the head while chasing a Walmart shoplifting suspect. He was found unconscious by one of the department's sergeants. He was transferred from Atlanta Medical Center to Grady Hospital, one day later.
Tuesday, Chief Cotton said Cooper is doing a good job fighting for his life. Cooper is still listed in serious condition. The police department posted on its Facebook page that the bullet is lodged against his carotid artery.
Two days from the shooting, on Sept. 5, police gave another update, saying that Cooper underwent surgery meant to relieve pressure from swelling in the brain. He's now out out of surgery, which doctors said went successfully, and is recovering.
The Covington Police Department has been asking the community to pray for Cooper and his family. The officer was able to mouth the words "I love you" to his wife, who has not left his side.
The nurse even asked him, "Did you just tell her I love you?" He was able to respond by nodding yes, they said.
"Prayers are working and Matt is fighting hard," the post said. "The outpouring of love and concern for our officer is overwhelming!"
Cotton said Cooper's family is holding up.
"His wife is obviously concerned, but when he spoke to her this morning, I think that uplifted her," Cotton explained. "His parents and her parents are very close and they are surrounded by many of their friends."
Cotton said Cooper is skilled at his job.
"He served our country in Afghanistan and Iraq in combat situations," he said. "He served on our ESU Emergency Services Unit team here. He's actually a part of the two-man sniper team that competed internationally against military units from all around the country. He finished 15th in being the top sniper team from law enforcement in the world."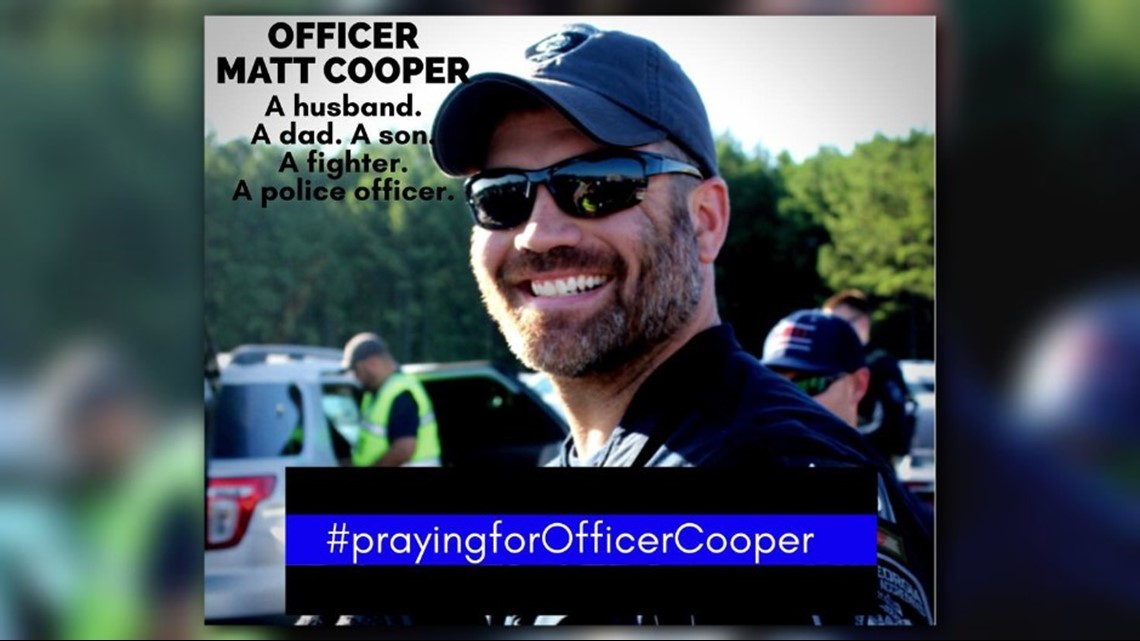 "He's a protector, he's a professional," Cotton continued. "And probably if anyone is prepared to struggle and fight through this type of injury, Matt Cooper is your man."
Chief Cotton fought back tears talking about the support the department has received.
"The community support and outreach for ths officer and his department show me that the public loves and cares for law enforcement. But they know it's a tough job, and we're not always treated fairly. But a man got up to go to work that day."
"The only thing he did was go to work, just like each and every one of y'all do, get up and go to work," he said, holding back the tears. "And he was seriously injured for doing the job."
"We don't this for the paycheck, we do it because we love it. Many of us feel like we are protectors and Matt Cooper is one of those protectors."
Authorities believe Aaron Fleming was the shooter whose bullet left Cooper fighting for his life. Authorities confirmed that the picture below shows Fleming on his Facebook page.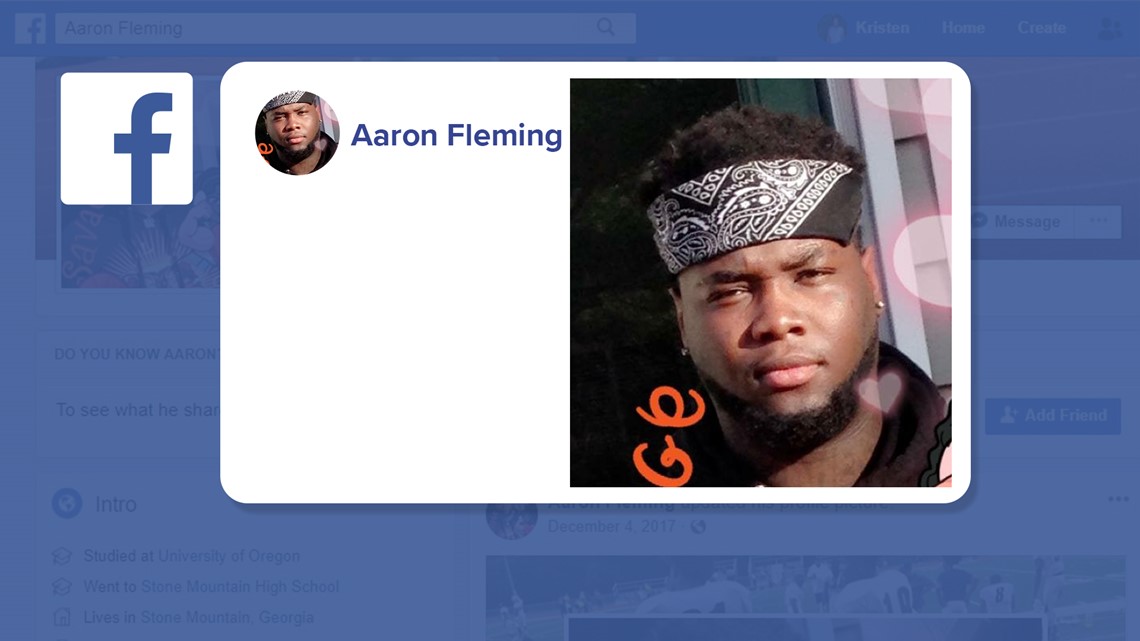 First Baptist Church of Covington opened its doors Tuesday so community members could come in from noon to 5 p.m. and use the sanctuary to pray for Cooper. There's also a community prayer service at 6:30 p.m.
Although this ordeal has been hard for the family and police department, Cotton said seeing Cooper's strength has been inspiring.
"I learned in the police academy almost 32 years ago, that if you get injured in the line of duty and think you're going to die, you probably will. But if you think that you will survive it, you can. If your mind is set and you believe you are going to pull through this," Cotton said. "I've always carried that with me in my personal life. I will survive."
"Guess what?, Matt Cooper is doing that, and I'm standing back in awe watching that young man do that. I'm humbled by watching the strength of that young man. It inspires all of us."
The police department has listed multiple ways for people to donate to the family.
Stop by Newton Federal Bank on Highway 278 in Covington and asked to donate to Officer Matt Cooper. (Routing # 261170371) (Account # 0011269651)
Stop by the Covington Police Department on Oak Street and make a donation to the "Police Who Care Fund" by check or Cash. Place Officer Matt Cooper's name in the memo.
Wife Transfer:

Receiving Bank: First National Bankers Bank - 7813 Office Park Boulevard in Baton Rouge. (Routing #065 403 370) (Swift # FRNAUS44)
Beneficiary Bank: Newton Federal Bank 3175 Highway 278 in Covington, Ga. (DDA# 261170371) (Beneficiary name- Officer Matt Cooper account # 0011269651)
The police department is dedicating this year's Covington Fuzz Run in Cooper's honor. It will be held Saturday, September 8. Get more details about the even on the website.