COVINGTON, Ga. -- What started as a shoplifting call at a local Walmart ended with a Covington Police officer getting shot in the head.
Officer Matt Cooper is in serious condition at Atlanta Medical Center after the Army Veteran and 34-year-old father was shot on Labor Day.
Now, 11Alive has learned why the Covington officers, including Cooper, were called to that Walmart in the first place.
According to Capt. Ken Malcom with the Covington Police Department, officers responded to the store off Industrial Boulevard around 12:30 p.m. after several suspects tried to steal red bandanas from inside.
When police got there, they arrested two suspects in the Walmart parking lot. But a third, 21-year-old Aaron Demonta Fleming, ran from the scene.
Covington police officer shot responding to shoplifting call
Police said Cooper and a sergeant ran in opposite directions behind a nearby building to search for Fleming. The sergeant heard two gunshots and found Cooper injured and unconscious. Police heard another gunshot in the woods and found the Fleming dead. According to the Georgia Bureau of Investigation, early information indicates that the wound was self-inflicted.
Cooper, who's worked for the Coving Police Department for six years, was taken to the Atlanta Medical Center.
"It is very heavy on our hearts. Please pray for our officer," Covington Police spokesman Capt. Ken Malcom told 11Alive. "This is something that we all pray everyday that it will never happen. We want our officer to come home."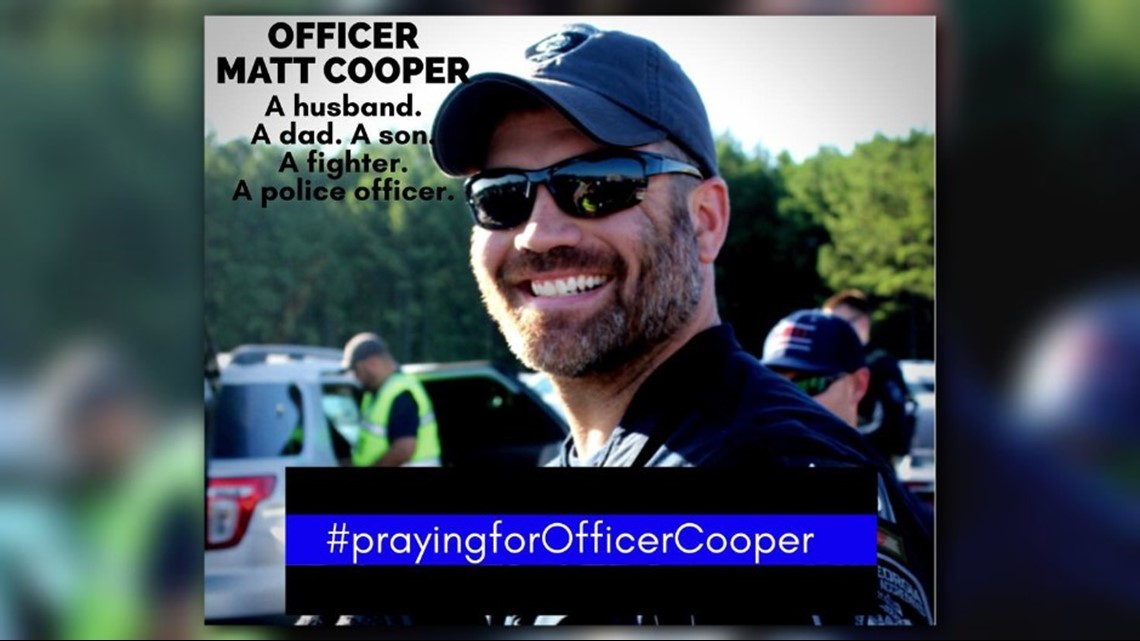 Covington Police said they are already receiving support from their community and well beyond for Officer Cooper.
"He is a good family man, got two small children and our hearts are really heavy right now. Just ask everyone to pray for him and pray for our officer."
GBI said the Bureau of Alcohol, Tobacco, Firearms, & Explosives; Georgia State Patrol; Jasper County Sheriff's Office; Newton County Sheriff's Office; Social Circle Police Department; and the Walton County Sheriff's Office are assisting with the investigation. Other agencies have also reached out to offer assistance.
At this time, authorities don't believe any officers fired their weapons.
Editor's note: A previous version of this story incorrectly stated the officer was at Grady Hospital. Four LaGrange firefighters are at that hospital's burn unit for injures they received in an overnight house fire. This story has been updated to correctly reflect that officer Cooper is at Atlanta Medical Center.