COVINGTON, Ga. -- A Covington Police officer remains in serious condition after he was shot in the head chasing down a shoplifter outside of a Walmart.
Officer Matt Cooper was taken to the Atlanta Medical Center where he was evaluated Tuesday morning by a vascular surgeon to prepare for a procedure to remove the bullet, Covington police said.
Police were responding to a shoplifting call at the Walmart on Industrial Boulevard Sept. 3 when the shooting occurred. The said two suspects were arrested but a third took off behind some business and Officer Cooper went after him.
A sergeant on the scene heard two gunshots and then found Cooper unconscious.
The suspect, 21-year-old Aaron Demonta Fleming, was later found dead in the woods from what is believed to be a self-inflicted gunshot, according to the Georgia Bureau of Investigation.
Family, friends, and law enforcement officers from other agencies went to Atlanta Medical Center to check on Cooper's condition. His neighbor, Kevin Carnes, also drove up to check on him.
"He's just one of the nicest people you'd ever want to know," he said.
Carnes said the other officers are deeply concerned.
"They are concerned for his family and those are their priorities right now."
He said as a community, they want to make sure they support Cooper's family and the other officers as well.
"They have our backs every single day and to make sure we do that in return for them is paramount," Carnes said. "When there is a little bit of a connection, there and you know who they are as a person, it hits you a little deeper I guess. Small town everybody knows everybody."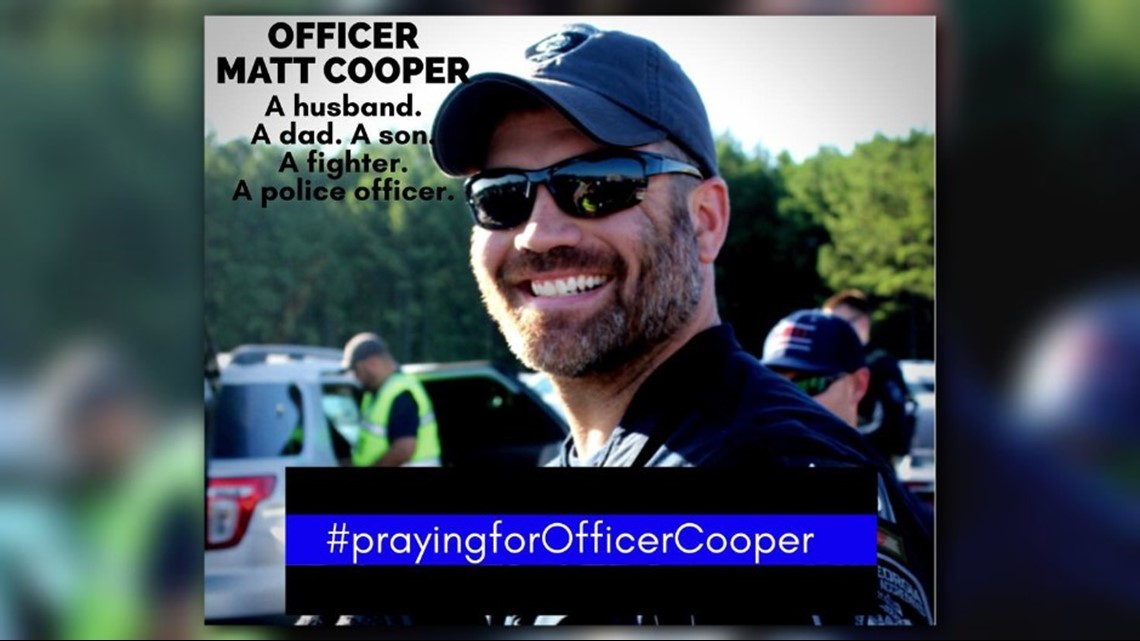 "It's important to wrap our arms around them every day but especially when something like this happens."
The department has been asking for prayers since the traumatic event happened. Something like this is forever in the minds of the officers who witnessed it.
Studies show officers who witness or are involved in life-changing events can suffer from Post-Traumatic Stress Disorder.
According to a Psychology Today article, some studies show that 19 percent of officers in the nation may suffer from PTSD and the emotional pain can linger years later.
Covington police officer shot responding to shoplifting call