COVINGTON, Ga. -- Authorities have released the name of the officer who was shot responding to a shoplifting call Monday.
Officer Matt Cooper is in serious condition after being shot in the head, Covington police said. 11Alive has learned he is an Army Veteran who worked for the police department for six years. He is 34 years old.
Georgia Bureau of Investigation said one suspect, 21-year-old Aaron Demonta Fleming, is dead. Two others were taken into custody.
According to Covington police, it happened near the Walmart located on Industrial Boulevard.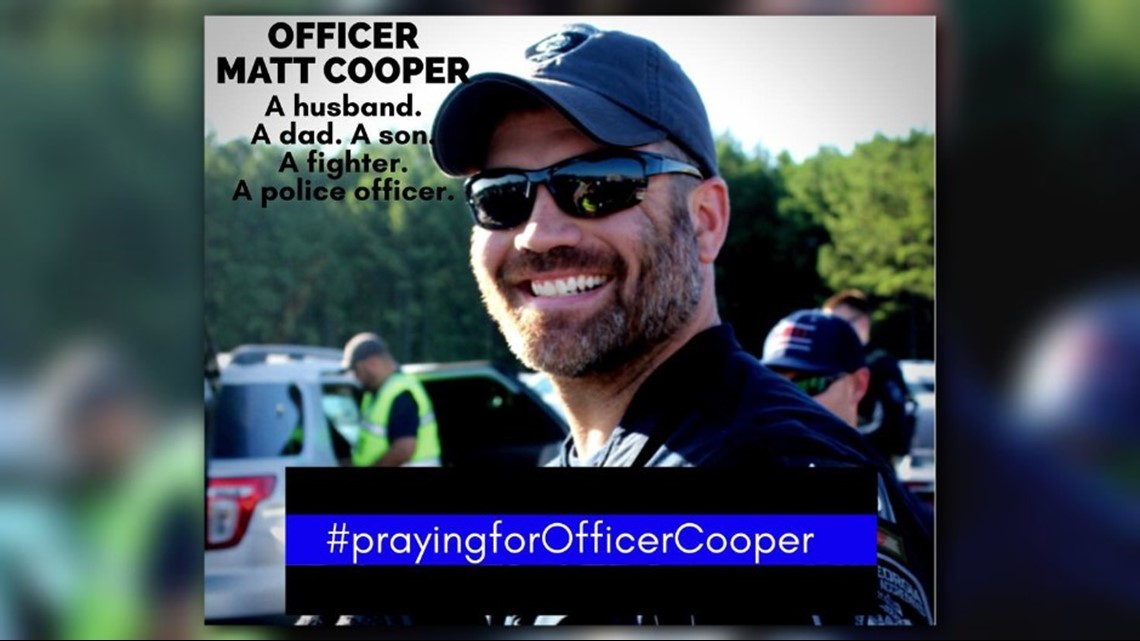 Capt. Ken Malcom said officers were responding to the store for a shoplifting call around 12:24 p.m. The suspects were allegedly stealing red bandanas. Two people were taken into custody in the Walmart parking lot and a third ran from the scene.
"He was being given verbal orders to approach the officer. He choose to flee on foot and ran from the parking lot," he said.
Police said an officer and a sergeant ran in opposite directions behind a nearby building looking for the suspect. The sergeant heard two gunshots and found the other officer injured, Malcom said. C
"As he made his way around the building he found one of our officers injured by a gunshot. He was unconscious," he said.
Police heard another gunshot in the woods and found the third suspect dead. According to GBI, early information indicates that the wound was self-inflicted.
Cooper was taken to the Atlanta Medical Center.
"It is very heavy on our hearts," Malcom said. "Please pray for our officer."
"This is something that we all pray everyday that it will never happen," he said. "We want our officer to come home."
11Alive's Neima Abdulahi spotted law enforcement officers pulling up to the medical center.
Covington police officer shot responding to shoplifting call
In the Walmart parking lot, state troopers located the suspect's vehicle as shoppers watched the scene.
"You can just hope that these guys aren't local. I hope that they came in here from some place else because you just hate to think that type of crime element is working here in the Covington area," said William Hurt.
Covington Police say they are already receiving support from their community and well beyond for Officer Cooper.
"He is a good family man, got two small children and our hearts are really heavy right now. Just ask everyone to pray for him and pray for our officer," Capt. Wendell Wagstaff said, of Covington PD.
GBI said the Bureau of Alcohol, Tobacco, Firearms, & Explosives, Georgia State Patrol, Jasper County Sheriff's Office, Newton County Sheriff's Office, Social Circle Police Department, and the Walton County Sheriff's Office are assisting with the investigation. Other agencies have also reached out to offer assistance.