DEKALB COUNTY, Ga. — Dec. 13 with be a day DeKalb County Police Officers will never forget.
It's the day they lost their brother in blue, 24-year-old Officer Edgar Isidro Flores. He was responding to a traffic stop on Candler Road that evening when he was shot and killed.
Police units flooded the area looking for the suspect, including one duo - K-9 Indi and his handler, Officer Norman Larsen.
K-9 Indi was credited with finding the suspect hiding in a pile of tires behind a business. But the 7-year-old Belgian Malinois was shot in the face during the process. He survived the horrific ordeal but lost his right eye.
A month after the deadly shooting, DeKalb County is honoring the pair for their courage.
RELATED: All of the Georgia officers killed in the line of duty this year
"DeKalb County is extremely proud of Officer Larsen and K-9 Indi," said Public Safety Director Jack Lumpkin. "The county appreciates their unwavering dedication to keeping DeKalb safe while serving our community with excellence."
RELATED: Wounded K-9 recovering at home with early Christmas present
They were presented with the Award of Bravery by the Animal Law Source, Prosecuting Attorney's Council of Georgia, National Sheriff's Association and Office of the District Attorney, Towaliga Judicial Circuit.
RELATED: Watch: K-9 shot in face says goodbye at fallen officer's funeral
PHOTOS | K9 Indi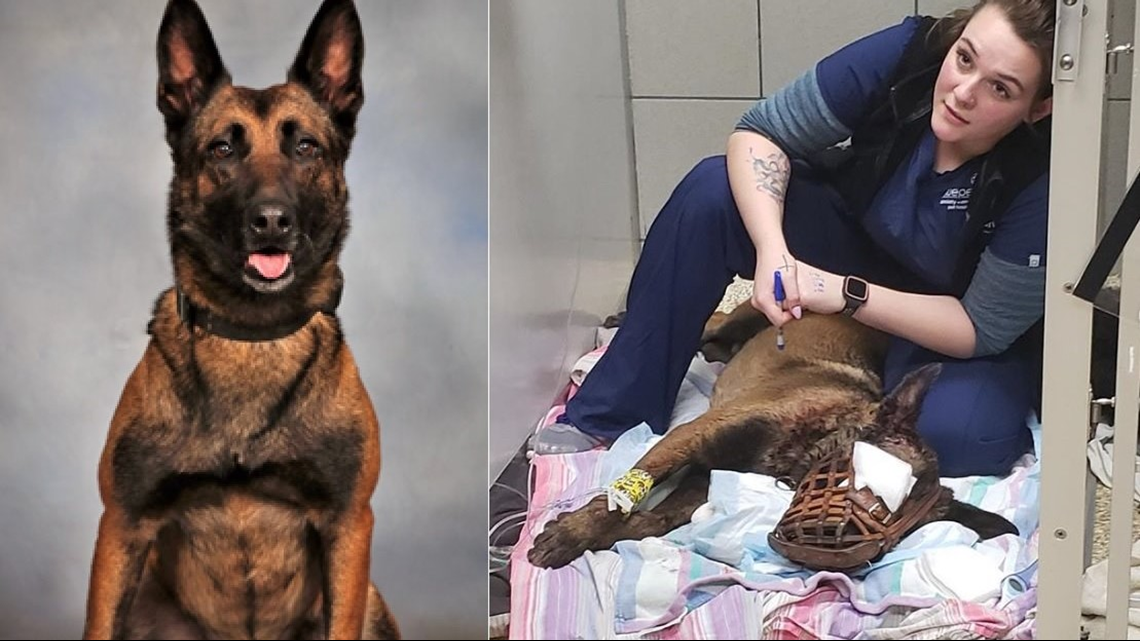 "Officer Norman Larson and K-9 Indi reflect the good in this world," said Claudine Wilkins, Founder of Animal Law Source. "Without pause and with much bravery, they saved many lives that day. Indi was by his side, without wavering did his job, fought for his own life, lost an eye and simply wants to come to work. Larson and Indi are a team of heroes
RELATED: What we know about the shooting that killed a DeKalb police officer and critically injured a K-9
Larsen and the K-9 have worked together for five years. They've helped catch numerous suspects during their partnership.
They were given the K-9 Handler Intensive at the Georgia Public Safety Training Center on Jan. 18.
RELATED: What's next for K9 Indi
RELATED: DeKalb K9 shot in face to receive award for his bravery