ATLANTA — Passengers aboard a Delta flight were met with a strange sight after landing Tuesday evening: A half-clothed man who tried to run up on the plane from the outside.
The FAA confirmed the unidentified man was been apprehended after he somehow made his way into a restricted area of the airfield and onto the runway around 5 p.m.
Witnesses aboard the plane told 11Alive the Delta flight was coming from Miami and had just landed when the chaotic scene unfolded.
According to airport officials, they initially thought the man had been aboard the plane, but they later said they weren't sure that was the case. Eventually, they were able to determine the man jumped a fence and ran onto the taxiway.
A passenger aboard the flight, Tim Jones, shared video of the bizarre incident with 11Alive. It shows the man rushing up to the plane wearing only his underwear, as passengers aboard the flight asked "What is he doing?" and flight attendants ask for calm. (Mobile viewers, click here to see the video)
During the incident, the man appears to be shouting at someone aboard the plane. Jones said the man wasn't originally on the flight, but tried to climb up into the aircraft through the emergency exit window above the wing. Jones went on to say passengers in the exit row held the door closed so he couldn't get inside.
Video later shows police surround the man and handcuff him on the ground before struggling to get him into the patrol car.
Photos: Half-naked man runs onto airport tarmac, rushes Delta plane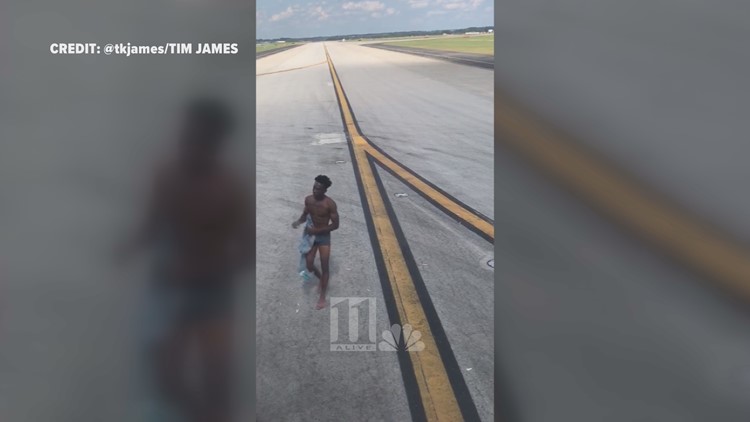 Police identified the man as 19-year-old Jhryin Jones. He's being charged with criminal trespassing, public indecency and obstruction of law enforcement officers.
Meanwhile, the FAA confirmed that the incident forced one of the runways to be shut down. Officials redirected aircraft to other runways until law enforcement checked out the plane.
The airport tweeted that the incident did not cause any further delays.
Sign up for The Speed Feed newsletter below to get the latest headlines in your inbox each weekday! (App users click here)