DULUTH, Ga. — 11Alive is working to get a mom the help she needs after pipes burst in her apartment, leaving it falling apart with mold build-up and a big hole in the wall.
"It's horrible. We wake up to just clean, to mop, bleach every day," she said.
Sanichar said these problems, for the most part, started after pipes burst on Christmas Eve. Since then, her walls and ceiling have had black spots popping up. Her son's closet, also had a large hole open up, where you can see to the outside.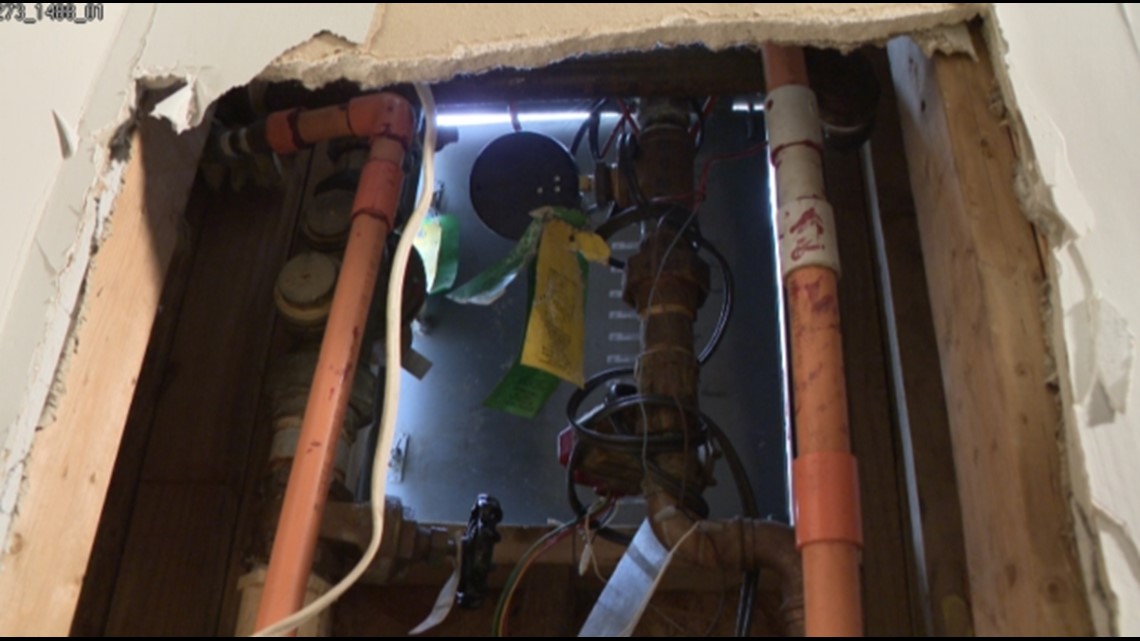 "It's a rollercoaster of emotion waking up to this all the time," she said. "We had a whole full household with an apartment, two beds... Right now, we're sleeping in a mattress on the floor."
Sanichar and her son moved into her apartment just two days before Christmas Eve. Since then, her life has been reduced to a dozen boxes, and many of the items left, are moldy and unusable.
"We have to smell and live with this every day," she said. "I could bust out crying. It really has taken a toll on our health but our mental health, too."
She said she finds more mold with each passing day, and it's forced her son, who has asthma – to leave.
"We get headaches. I can't sleep at night. I get sweats. Things that never happened before to me," Sanichar added.
On top of these issues, she said her dryer and fridge didn't work when she first moved in. She adds that her fridge was also moldy when she first moved in.
She said it took nearly two months since her move-in date, to have her fridge fixed. So, her family has had to rely on a little cooler to keep important things cold.
"This is the 'fridge' I was using the entire time my freezer wasn't working," she said. "We put ice, we put the milk, the two things we needed the most and some meat in there to be able to survive."
Sanichar said she's willing to break her lease or move to another unit on a different property, but managers told her they're dealing with 70 other families in similar situations. She adds that they told her they've only been able to solve about 20 of those cases.
She said she used to work as a leasing agent for the same company and believes more should be done.
"Now I understand more the people I was actually helping. I just want them to care about the people, because we pay their salaries, too," she added.
11Alive reached out to the complex's office more than a handful of times and never heard back. We also reached out to ZRS Management, which owns this property, and nobody responded to our multiple response requests.
But, hours after 11Alive left Sanichar's apartment, she said 10 maintenance workers showed up to fix the hole and confirmed she has mold all over the walls and the ceiling.
She said that they added that they'll have to bring another crew to fix it and that she won't be able to be inside her apartment for the repairs.
"It's been too long... dragging since December... and we're the ones breathing this air," she said. "We're the ones not feeling ourselves anymore. I'm sad... I cry all the time and that's not me."
We reached out to Atlanta Legal Aid, which warns tenants to not stop paying rent if they are in a similar situation. It said that "failure to repair" is not grounds to not pay rent.
Keep all communication with property managers in writing.
Hire someone to do the repairs, then deduct it from your future rent. Make sure you have proof that you tried reaching out to property managers multiple times without luck.
File an "affirmative lawsuit" against the landlord for "diminished value of the unit" and for damages.
You might be able to claim "constructive eviction" to break your lease.
If you are low-income, you can call Atlanta Legal Aid for help at (678) 376-4545.