DEKALB COUNTY, Ga. — An 18-month-old who was missing for more than 12 hours after her mother's car was stolen with her inside in DeKalb County early Thursday morning is safe in her arms again.
During a press conference Friday, Elizabeth Grisby described the moment she was reunited with little Royalty after she was found safe.
"It was a moment of joy," Grisby said. "I felt like I gave birth again, like the first time I ever seen her."
During the press conference, Grisby thanked everyone who worked to find her daughter, including DeKalb County's police chief and officers.
"I have never felt so much support in my life. I'm so glad that my baby is home," she said.
A mother of four, Grisby's other children are 9, 14, and 23-years-old.
After losing her job as a server due to the pandemic, Grisby said her main source of income became delivering food for DoorDash at night, as Royalty slept in the backseat.
"At the end of the day, the bills still have to be paid. Whether you have a job or not. I'm not trying to put myself in a predicament where I'm homeless."
The terrifying encounter, which prompted an Amber Alert, started around 2 a.m. Thursday.
Police said the mom was making a food delivery along the 1200 block of Harvest Dale Court in Stone Mountain, when her SUV was stolen with her 18-month-old in the backseat. Capt. Brian Deloach said the vehicle was still running when the Grisby stepped out to drop off the order.
"I just thought I was doing a normal delivery and next thing I knew I see my truck going down the street," Grisby said.
DeKalb Police said they eventually located the SUV in a nearby neighborhood hours later, but Royalty was nowhere to be found. When the car was located, police reported the license plates had been changed and Royalty's car seat were also gone.
By the afternoon, Police Chief Mirtha Ramos held a press conference and said officers were looking for a 14-year-old in connection with the kidnapping. Ramos described the incident as a set-up, with the order being placed and then the teen jumping in Grisby's vehicle, but Ramos didn't believe the teen knew a child was asleep inside.
A DeKalb County Police incident report quotes the resident of the address listed for the DoorDash order as saying he never ordered food. Around 1:30 p.m. Thursday DeKalb Police announced officers arrested the teen on the westside of Atlanta along Bolton Road.

Meanwhile, the search for baby Royalty continued.
Back in Lithonia, the baby was found on the front doorsteps of Anna Henderson's home.
"The police officer stated that he had passed this street around 1:30 p.m. and there was absolutely nothing on my step."
Henderson said the baby appears to have been randomly left outside her home and then someone driving past heard a baby crying on the porch and called the police.
Officers then responded to the home in the 1500 block of Stoneleigh Hill, which is not far from the original scene of the kidnapping. Investigators called Grisby and the pair were reunited.
Royalty was then taken to the hospital as a precaution and was released Thursday night.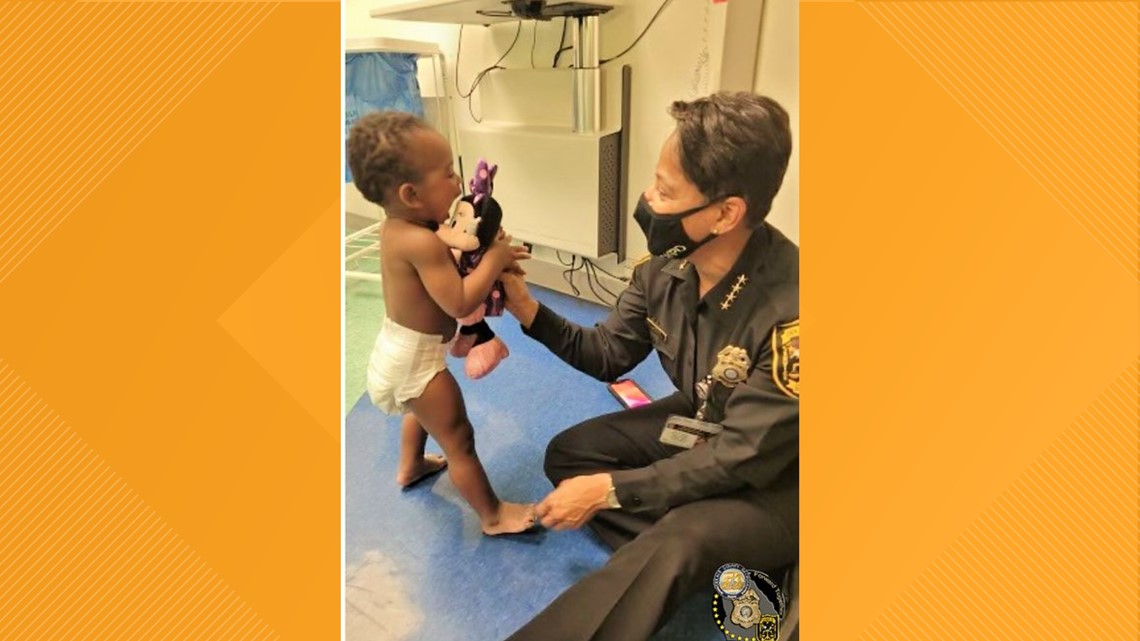 On Friday Ramos said the teen, who faces a charge of kidnapping and theft by taking a motor vehicle, hasn't admitted to anything. She said for now the teen would be charged as an adult.
Grisby said she doesn't have anything to say to the teen accused, but during Friday's news conference she offered her thoughts on the alleged crime.
"It is sad, it is just really sad and I hope he gets the help that he needs," she said. "I hope with him being so young, he can get put on the right path."
Ramos didn't confirm or rule out if anyone other than the teen was involved with the car being stolen or placing Royalty outside the Lithonia home.
"We haven't been able to identify the person who dropped off the baby," Ramos said. "If there is anyone else, we definitely will identify and hold them to task."
As of Friday afternoon, Ramos said detectives were still investigating in the Lithonia neighborhoods where the crime happened.
Meanwhile, Grisby said she is done making food deliveries at night and is thankful Royalty is back with her.
"She was a little shaken up yesterday and she really didn't want to talk, but by last night she ate and she drank and she was just her normal self," Grisby said.
An online fundraiser was set up to help Grisby. So far, more than $9,500 has been raised. DeKalb County Police are only directing people to the fundraiser linked here as they have discovered there are multiple fake online fundraisers that have also been created.