It's not clear how many people saw the projection when it was live but after news spread on social media about one group's vulgar statement on the Mercedes-Benz Stadium, the reaction was swift.
The Metro Atlanta Democratic Socialists of America claimed responsibility saying, "This evening, activists with the Metro Atlanta Chapter of the Democratic Socialists of America sent a message directly to Donald Trump and his proto-fascist administration - they are not welcome in the City of Atlanta."
They said other phrases were displayed on the stadium as Trump took the field. It's also not the first time the group has displayed this language. See the full story here.
PHOTOS: President Donald Trump at National Championship Game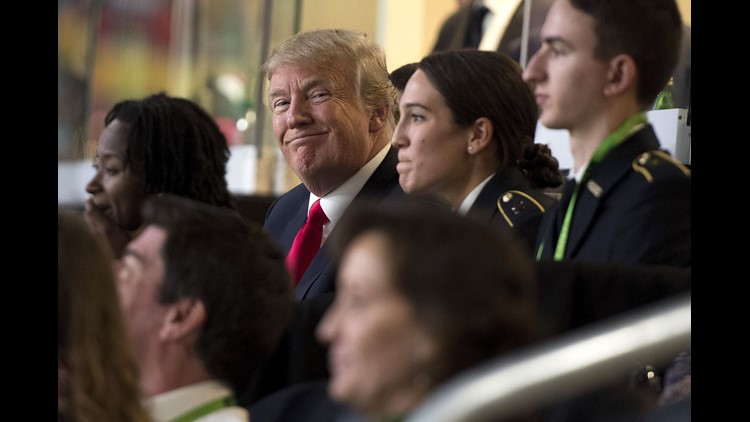 People on social media called the act everything from embarrassing and shameful to free speech. But, many agreed that it was a message lost in delivery.
Some people did come to the group's defense, saying this is how they chose to use their free speech.
Representatives from the College Football Playoffs were unaware of the projection when asked about it on Tuesday morning.
Bill Hancock, the Executive Director for the College Football Playoffs said, "I wasn't aware of that, not until right now."
11Alive has reached out to representatives for the stadium and law enforcement for a response. The Georgia Bureau of Investigation is not investigating the incident
Atlanta Police Department said they are aware of the projection and could not find the source while it was happening. They said they do no anticipate making any arrests.
"The Atlanta Police Department consulted with both MB Stadium leadership and the Fulton County District Attorney's Office on possible charges. While the message may understandably be offensive to some, there was no physical damage to the building and our ability to bring criminal charges would be very limited given current state and local statutes addressing vandalism and damage to property," the statement read in part.
When the same group projected the same message on the Crowne Plaza hotel in November 2016, a spokesperson for the Atlanta Police Department told 11Alive News the stunt didn't break the law. If they had spray-painted the message, it would have been considered vandalism. The projection didn't cause any permanent damage.
PHOTOS: Georgia Bulldogs vs. Alabama Crimson Tide