Family, friends and fellow officers showed an outpouring of support and love for a fallen DeKalb County Police officer, Sunday, during a visitation for the rookie cop.
Edgar Flores died Thursday, Dec. 13 after a traffic stop turned violent. The 24-year-old, who had only been with the department for less than two years, died just days before his birthday.
11Alive's Ashley Johnson was at the Whitefield Funeral Home in Habersham County for the emotional visitation - many of the officers who processed to Grady Hospital after Flores' death returned for Sunday's service. That's where those officers joined with family in friends in mourning.
RELATED: Law enforcement, supporters line procession route to honor slain DeKalb officer
Those who knew Flores said he had such unforgettable charm.
"He was just someone who always liked to give," said Wendy, a high school friend of Flores. "Everyone is going to remember him by his smile."
DeKalb County Police Department
The night was a moment to honor the fallen officer - hundreds gathered to pay their respects for the officer remembered as a family man.
"He was just a genuine, nice person," Wendy continued. "When you think of the picture-perfect picture of someone who's just nice all around, that was him."
RELATED: 'He died a hero': DeKalb County Police officer killed after traffic stop identified
Authorities said Flores conducted a traffic stop in the parking lot of a grocery store off Candler Road near I-20 the night of Dec. 13. Police said the suspect jumped out of the vehicle and ran off, but Flores followed. At some point, officials said the suspect, 33-year-old Brandon Taylor, shot at the 25-year-old officer, ultimately killing him.
RELATED: DeKalb County Police officer, suspect dead after shooting
RELATED: What we know about the shooting that killed a DeKalb police officer and critically injured a K9
Photos: Officer-involved shooting brings massive police presence at Candler Road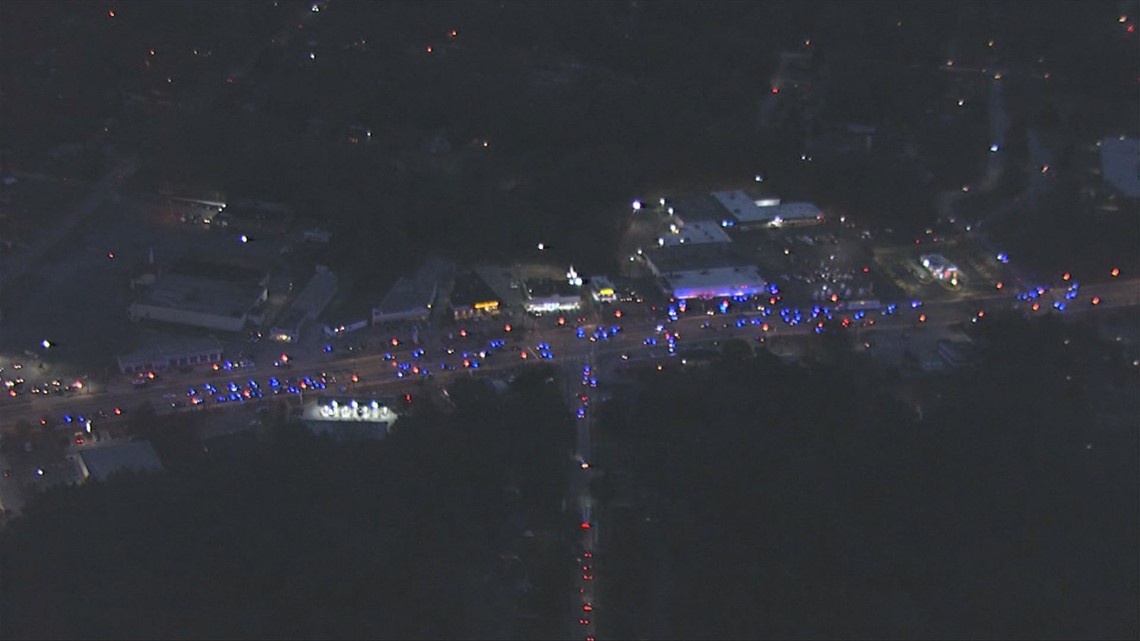 A K-9 with the department who tracked down Taylor was also shot during the incident. K-9 Indi is expected to recover after being released from the hospital, however he will likely lose an eye.
RELATED: What's next for K9 Indi?
RELATED: Police K9 injured in shooting expected to lose eye
RELATED: DeKalb K9 shot in face to receive award for his bravery
Fellow officers, and those around the metro, said Flores' death is a reminder of how much serving on the force is about family.
"We were Officer Flores' second family," explained one DeKalb officer. "We talk about the brothers and sisters in blue and that's what we see when something like this happens."
RELATED: Law enforcement agencies across metro Atlanta send condolences to DeKalb Police Department
Everyone there called Flores' death a great loss to the community - for both his family, and his DeKalb Police family.
"It just hurts knowing that so many people in his life are going to be missing him," Wendy.
Flores' funeral will be Tuesday at All Saints Catholic Church in Dunwoody.