CLARKSTON, GA. - What's left of a burned building in the Brannon Hill Condominiums has been torn down Friday morning.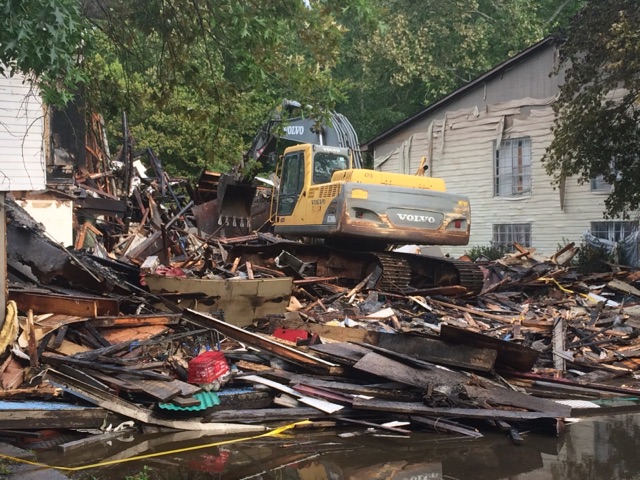 DeKalb firefighters arrived to 1000 Old Hampton Drive in Clarkston around 1:30 a.m. to find flames and smoke coming from one of the buildings that housed eight units.
Assistant Fire Chief Christopher Morrison said after a preliminary search, they decided to attack the fire from the outside.
"We took a defensive posture because of the flame involvement. Once we made sure that there was nobody inside the structure we set of aerial streams and decided to leave the firefighters on the outside and attack it from an elevated master stream," he said.
No one was injured in the blaze.
The American Red Cross responded to the scene to help the 40 residents who were displaced. They were offered shelter, food, clothing and replacement prescriptions.
The cause of the fire is under investigation.
This fire is one of several problems the condominiums has faced is recent years. Deemed 'Worst community in America', DeKalb County officials stepped in to help cleanup the area. In November 2016, DeKalb Superior Court Judge Gregory Adams signed an order granting the county authorization to demolish and clean up several buildings.