Five people, one of whom allegedly abducted his Jonesboro son last December, are being charged with 11 counts of child abuse after New Mexico officials raided their compound on Friday.
Late Sunday night, the Taos County Sheriff's Department said Siraj Ibn Wahhaj, Lucas Morten, and three women were facing the charges.
Morten and Siraj Ibn Wahhaj were arrested after local and state law enforcement officials raided a compound on the property of Jason Badger. Siraj Ibn Wahhaj had been wanted out of Georgia for allegedly abducting his son, 4-year-old Abdul-Ghani Wahhaj, in Clayton County.
Local authorities received a tip earlier in the week that children who were living on the property were in danger. That led to the all-day operation in which 11 children and three women were removed from what the local sheriff described as "third-world" living conditions.
Abdul-Ghani Wahhaj, however, was not found, and authorities are continuing to search for him.
The women who are being charged are believed to be the mothers of the children found on the property. The women, 35-year-old Jany Leveille, 38-year-old Hujrah Wahhaj, and 35-year-old Subhannah Wahhaj were arrested without incident in Taos and were later booked in the Taos Adult Detention Center.
"I believed this would most likely be the path that we would take and stand by my original decision to bring charges after CYFD investigators had an opportunity to conduct their independent investigation, which included interviews and obtaining information such as health and medical needs of the children from the three mothers," Sheriff Jerry Hogrefe said.
Morten, out of Atlanta, owned property next to Badger, but instead is alleged to have built the compound on Badger's land. That led to efforts from Badger to have Morten evicted.
Badger had filed an eviction notice to remove Morten from his property, but it was dismissed by a magistrate court.
Now that Siraj and Lucas have been arrested and the children taken off the property, Badger and his wife Tanya walked through the compound for the first time with our partner station KOB-TV out of Albuquerque, NM.
The compound was a mess of tires, septic systems, clothes and diapers, as well as a 150-foot escape tunnel.
"I don't know if that is human feces or animal feces," Tanya said, as the couple walked through the compound.
"This is bizarre," said Jason Badger. "A lot of guns, a lot of ammunition."
But what they were truly hoping to find was little Abdul-Ghani Wahhaj.
"I'm really hoping we find that kid," Tanya said.
Police interviewed the three women found inside the compound but so far, no one knows where the boy, who has a host of medical issues, is.
The Badgers are hoping to find some trace of the boy in the dusty, murky mess, where 11 other children were kept for months.
"That baby, he's got to be here somewhere," Tanya said. "Why aren't they here looking? Kids can't fight for themselves. There is so much land out here. Who says he's not here?"
"It's going to haunt me forever if they don't find that baby." Story continues below gallery.
PHOTOS: Inside the New Mexico compound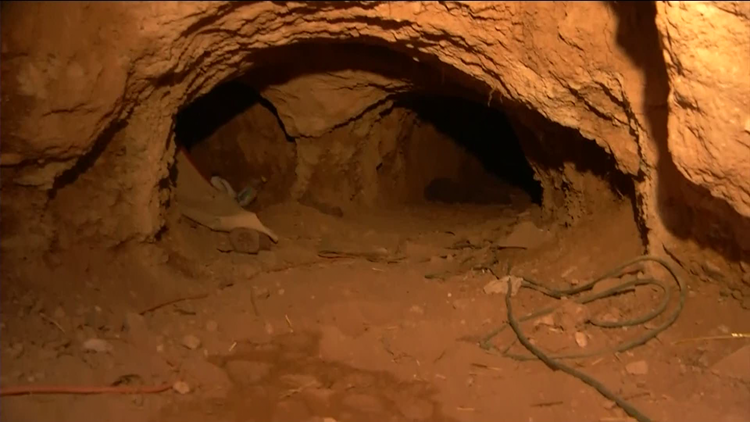 Officials believed the boy had been at the compound several weeks before but didn't have enough evidence to go onto the property.
"Without some concrete evidence that this child is in fact there, we choose to do a surveillance from far, from a distant," said a spokesman from the Taos County sheriff's department. "We did not see a child there in all of the hours of surveillance that we did do. We just didn't see him.
"It's not like we can just go kick someone's door in and say we think this is the case. So, we took a cautious approach, so that we didn't provoke anything that could lead to anyone being harmed, whether it be us, the people on the compound or the children."
Both Morten and Siraj Wahhaj were heavily armed, officials said but were taken into custody without incident.
Morten was charged with harboring a fugitive and Wahhaj was booked on his no-bond Georgia warrant for child abduction. The women were eventually released.
The mother of Abdul-Ghani Wahhaj called Clayton County police on Dec. 10, 2017. She told authorities that she hadn't seen her son since Dec. 1 when her father, Siraj Ibn Wahhaj, said he was taking him to the park.
The mother told police her son has to take medication because he suffers from seizures, developmental and cognitive delays and is unable to walk due to suffering a Hypoxic Ischemic Encephalopathy (HIE) at birth.
PHOTOS: Father of missing boy arrested