GAINESVILLE, Ga. — In a small town like Gainesville, any tragedy is bound to strike close to home.
So when news broke that Hall County Deputy Nicolas Blane Dixon was fatally wounded confronting alleged car thieves while on duty Sunday night, it shook the small community.
"He grew up with my kids," recalled Gail Barrett. "I just remember him being such a sweet kid."
She knew him as Blane. She said she has fond memories of him as a kid – one who always had a big smile and was willing to help others.
"From the time he was little, 2, 3 years old, he was always trying to look out for somebody," she said.
According to investigators, four teens were spotted by deputies on Sunday driving a stolen car. That led to a chase, and eventually a shoot-out that resulted in Dixon's death.
RELATED: What we know about the deputy killed after a police chase Sunday night
The Gainesville community turned out in droves – more than 100 people gathered to honor Deputy Dixon, including his law enforcement brothers and sisters.
Photos: Gainesville gathers to honor fallen Hall County deputy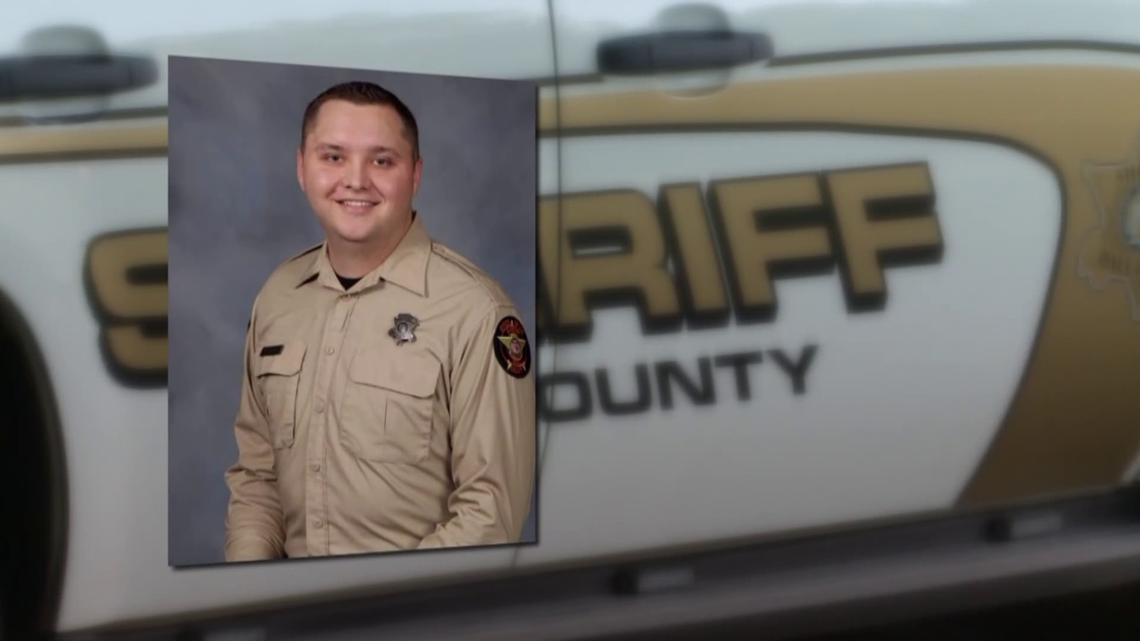 And it all started with a Facebook post on Monday – private citizens who wanted to honor Dixon. It quickly spread from there. Everyone wanted to help. Everyone wanted to be there. And Dixon's family wanted to meet everyone.
Freddy Dixon said he didn't plan on showing up to the vigil, but once he and the rest of the family saw the incredible outpouring of support, they knew they had to share a message.
"We are heartbroken, but at the same time we feel so much love from this community," he said.
WXIA
The community will continue to honor the memory of the fallen 28-year-old deputy, who leaves behind a wife and two children -- a 9-year-old boy and 4-month-old infant son.
RELATED: Memorial fund set up for Nicolas Dixon, deputy shot and killed in Hall County
The city of Gainesville said all flags on city property will be lowered to half-staff, and the lights over the pedestrian bridge on Jesse Jewell Parkway in Downtown will be lit blue in honor of Dixon's service.
Meanwhile, the 17-year-old suspected of killing Dixon, Hector Garcia-Solis, is still in the hospital and charged with felony murder.
Hector Garcia-Solis had only been out of jail five days before Sunday's chase and shooting. Three other teens are also facing felony murder charges in the deputy's death. Brayan Cruz, London Clements and Eric Velazquez all appeared before a Hall County judge Tuesday.
MORE NEWS
Hall County deputy becomes fourth fallen officer in Georgia this year
Four teens charged with felony murder after Hall County deputy is shot and killed
'Boom, boom, boom!' Man describes dodging bullets with family during shootout that killed Hall County deputy
Videos show manhunt for suspects in killing of Hall County sheriff's deputy