COVINGTON, Ga. — A community is rallying around a Covington Police officer after he was shot in the head Labor Day while responding to a shoplifting call.
It was around noon Sept. 3 when officer Matt Cooper and fellow Covington officers responded to a Walmart off Industrial Boulevard in Covington for calls of three suspects who were shoplifting.
Police were able to detain two juvenile suspects, but a third, 21-year-old Aaron Fleming, ran off, followed by Cooper and another sergeant. A short time later, the sergeant heard two gunshots. When he came around the corner, the sergeant found Cooper unconscious and injured. Fleming was found dead shortly after.
Emergency responders rushed Cooper to Atlanta Medical Center in serious condition. He was later moved to Grady Hospital, where he had surgery and has been responding to his loved ones.
Officers said Cooper was able to mouth the words "I love you" to his wife, who had not left his side.
The nurse even asked him, "Did you just tell her I love you?" He was able to respond by nodding yes, they said.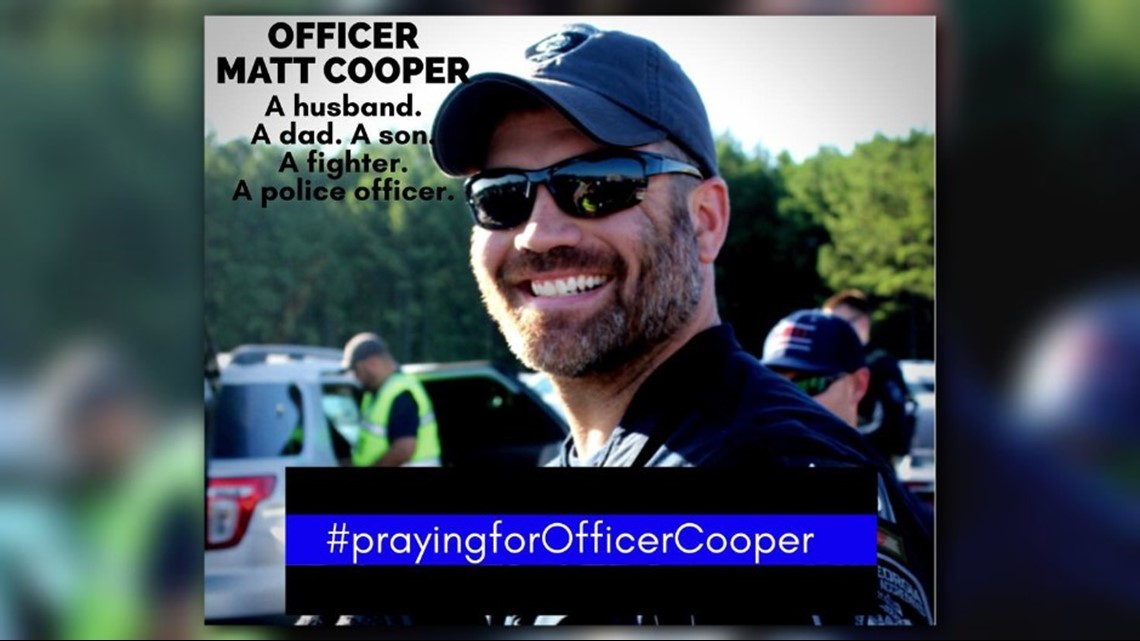 Since the shooting, the community has rallied around Cooper and his family.
First Baptist Church of Covington opened its doors Tuesday so community members could come in from noon to 5 p.m. and use the sanctuary to pray for Cooper.
Although this ordeal has been hard for the family and police department, Covington Police Chief Stacey Cotton said seeing Cooper's strength has been inspiring.
Community shows support for Covington officer shot in line of duty
"I learned in the police academy almost 32 years ago, that if you get injured in the line of duty and think you're going to die, you probably will. But if you think that you will survive it, you can. If your mind is set and you believe you are going to pull through this," Cotton said. "I've always carried that with me in my personal life. I will survive."
The police department has listed multiple ways for people to donate to the family.
Stop by Newton Federal Bank on Highway 278 in Covington and asked to donate to Officer Matt Cooper. (Routing # 261170371) (Account # 0011269651)
Stop by the Covington Police Department on Oak Street and make a donation to the "Police Who Care Fund" by check or Cash. Place Officer Matt Cooper's name in the memo.
Zaxby's restaurants in Covington are donating a percentage of proceeds on Saturday Sept. 8 to the Cooper family.
A raffle is being held on Sept. 6 from 5PM until 9PM for on the Square Park.
Wife Transfer:

Receiving Bank: First National Bankers Bank - 7813 Office Park Boulevard in Baton Rouge. (Routing #065 403 370) (Swift # FRNAUS44)
Beneficiary Bank: Newton Federal Bank 3175 Highway 278 in Covington, Ga. (DDA# 261170371) (Beneficiary name- Officer Matt Cooper account # 0011269651)
The police department is dedicating this year's Covington Fuzz Run in Cooper's honor. It will be held Saturday, Sept. 8. Get more details about the even on the website.