ATLANTA — While death is often perceived as a sad thing, Día de los Muertos flips the narrative.
"The Aztecs, Mayans and Toltecs considered mourning the dead disrespectful," said Adisde Handal, who handles Tourism and Cultural Affairs at the Consulate General of Mexico in Atlanta in a previous interview with 11Alive. "They thought of death as a natural phase of life."
The message of the pre-Hispanic ritual established more than 3,000 years ago is clear. Those who passed are alive in our memories.
To welcome them each year, on Nov. 1 and 2, family members build altars known as ofrendas to honor dead relatives and loved ones. During the beginning of November, the spirits of those lost are believed to return home. Nov. 1 honors deceased children, and Nov. 2 focuses on adults.
The two-day holiday typically falls on All Saints' Day and All Souls' Day on the Catholic calendar. Born out of practices done by the indigenous peoples of the Americas and Catholic traditions from when the Spanish conquered Mexico - Día de los Muertos is a blend of both.
"It's a mix-up of both," said Handal. "It's a blend of pre-Hispanic religious rituals and Christian beliefs."
Although it originated in Mexico, Día de los Muertos is celebrated in other countries, including the U.S. cities like Los Angeles, New York and Atlanta.
With the largest concentration of Georgians who identify as Latino in Atlanta, a traditional Día de los Muertos festival is held annually by the Consulate General of Mexico in Atlanta.
Wherever the celebration takes place - an ofrenda will be in sight.


What is an ofrenda?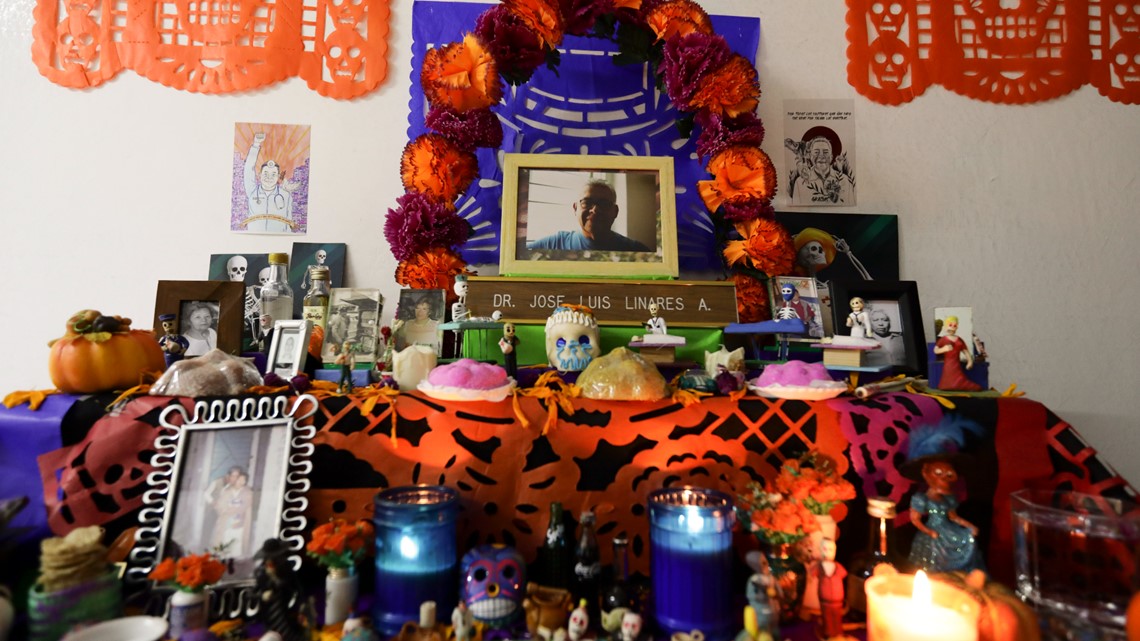 Dia de los Muertos ofrendas are meant to honor the returning souls. Carefully and uniquely crafted, the objects chosen symbolize loved ones lost.
Food offerings, typically the favorite dish of the deceased, are placed on the altar, along with special items that remind you of them. Family members often use things like their favorite drinks, perfumes and flowers to honor loved ones.
Different parts of the world may decorate ofrendas in different ways. Typically, the offering is created and lives in your own home. Other common locations for ofrendas include cemeteries and churches.
Fun Fact: In Mexico, families usually visit cemeteries to clean and decorate the graves of their loved ones.
It's important to note that you don't necessarily have to know the person to build them an ofrenda. You can create an altar for a person that's meaningful to you. Or you can make an altar remembering groups of people. Last year, Atlanta trans advocacy organization Community Estrella built an altar for victims of trans violence.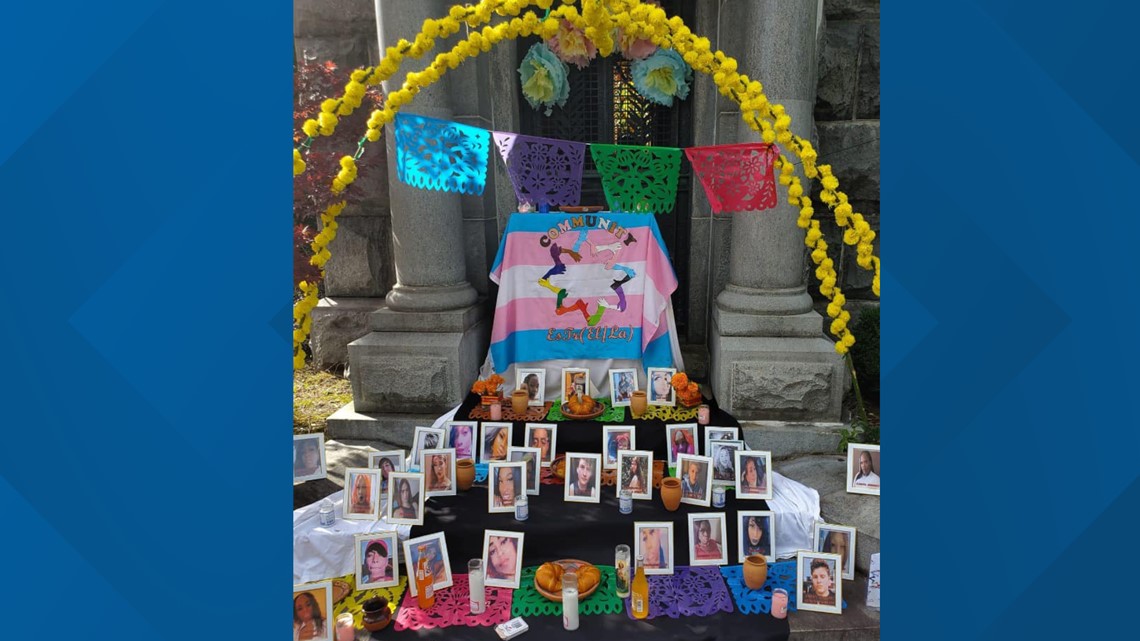 Although ofrendas can vary, there are certain elements you should try to incorporate.
How to build an ofrenda for Día de los Muertos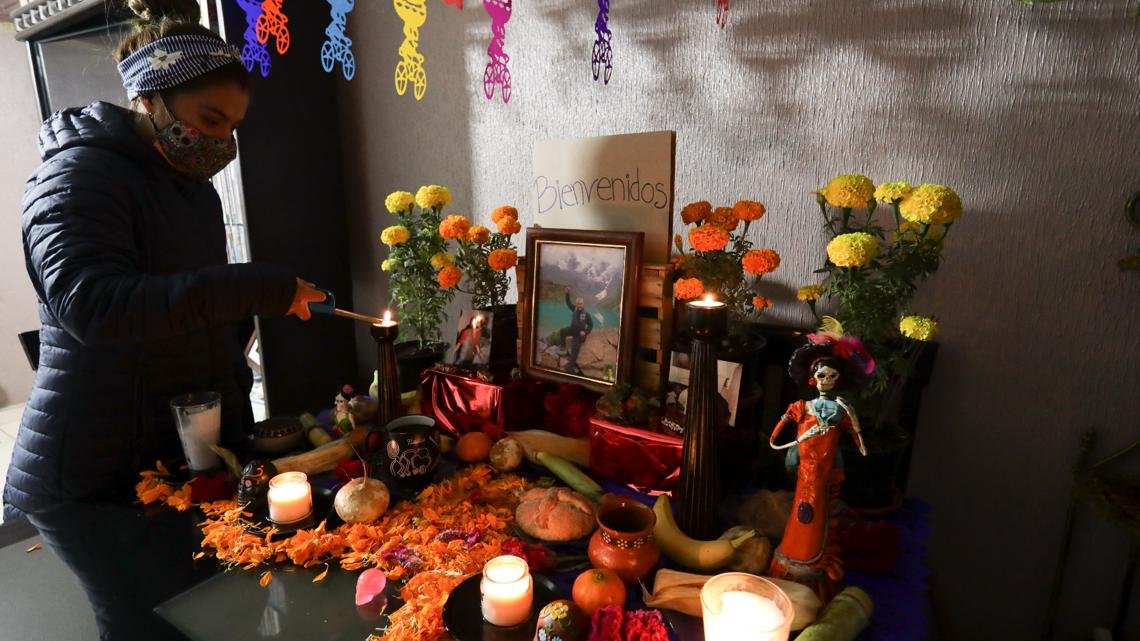 1. Find where you want to build your ofrenda. A flat surface like a table will work. Need a full table to spare - no worries. An ofrenda can exist wherever you see fit in your house. It doesn't have to be in a specific spot. A side table or shelf works.
Depending on how elaborate you want to get, ofrendas can have layers. The most common ones have at least three levels, which represent heaven, earth, and purgatory.
Pro tip: Add boxes and crates to create multiple levels to obtain a tiered effect. Next, cover the table with a tablecloth of your choosing. In Mexican culture, a serape is typically used. A serape is a long blanket-like shawl that's often brightly colored. If you don't have one - use a blanket, or any fabric to cover the levels.
2. Time to decorate. The objects used to decorate ofrendas all have some hidden meaning.
According to the Mexican Museum, altars are decorated with objects that symbolize the four elements of nature, earth, wind, water and fire. Common objects that represent these elements and can be used to build your altar include:
A glass of water - Used to emphasize the main source of life, which quenches the souls' thirst after their long journey back on Nov. 1 and 2.
Candles - Commonly used in our culture to remember a loved one who has passed away, memorial candles represent fire. Feel free to use more than one. Ofrendas are typically covered with candles of all shapes and sizes. Lost souls are believed to use candles to guide them to the altar.
Papel picado - These tissue-paper cutouts represent wind. During "Día de los Muertos," papel picado is placed around the edges of the altar. You can cut yours by hand or purchase pre-made versions of this intricately cut tissue paper.
Marigold flowers - Known as one of the main elements of Día de los Muertos celebrations, Marigolds were the symbolic flower of death for the Aztecs, used in rituals to commemorate death. The yellow-fiery flowers represent the earth.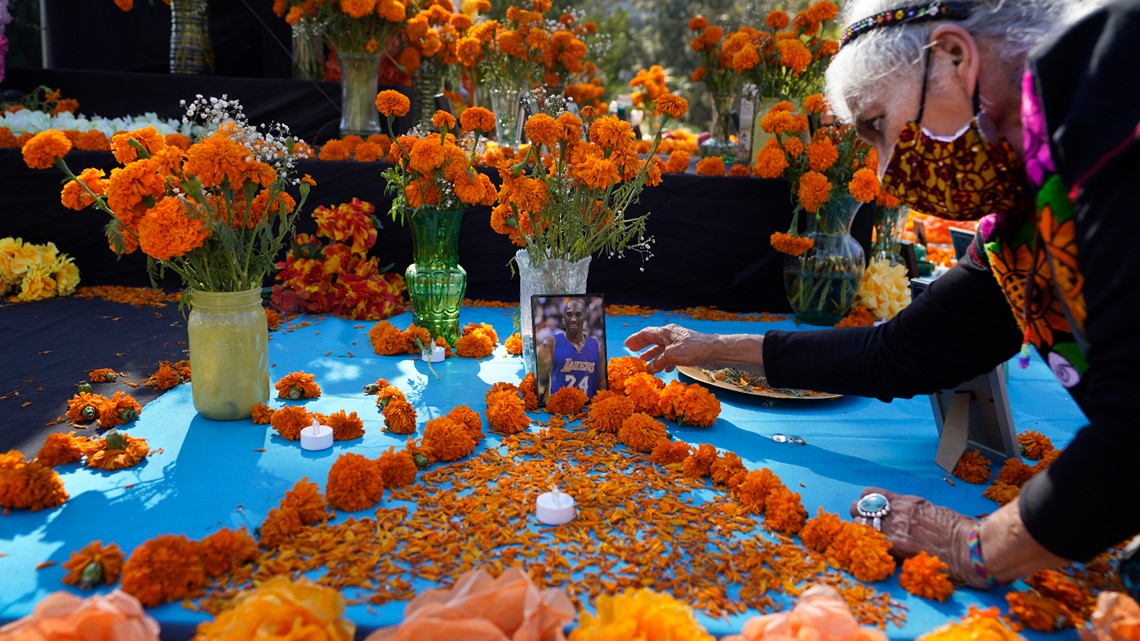 Photographs of those lost - Perhaps the most important element of the ofrenda is the person you want to dedicate it to. Typically placed at the center of the altar, you have multiple pictures of the person who passed on the ofrenda. Pick a few of your favorite photographs to showcase.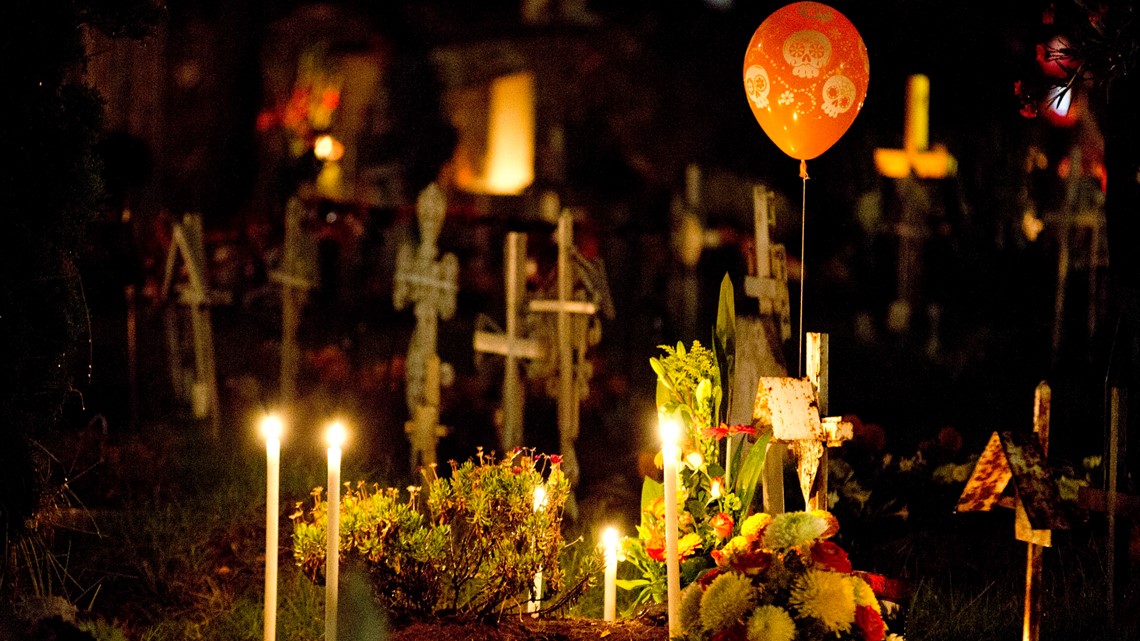 Toys can be used in your altar to honor children. Any other items special to the person you want to remember can be included in your altar.
How to submit to 11Alive's ofrenda
This month, 11Alive is highlighting the beloved tradition of an ofrenda, or altar, that celebrates the life of loved ones lost. 11Alive is showcasing the tradition throughout the month, creating a communal space where people can share a message and memory of those they miss. We want to honor your loved ones and sweet memories in ofrenda style. Community members can submit their photos of those who have passed on, whether it be people or pets.
Click here to learn how you can add to our digital ofrenda.