Your children spend more time at school than any other activity. The teachers they come into contact with can have a tremendous influence of what they learn and who they become. As a result, teachers are background checked and the state's expectations toward their code of conduct is high. But investigative reporter Rebecca Lindstrom has uncovered several weaknesses in the system, that have allowed suspended educators, even some banned from ever teaching again, back into the classroom.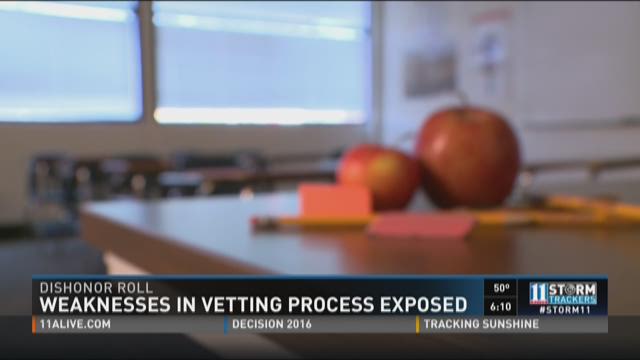 Each state has its own disciplinary standards, but Georgia generally maintains reciprocity. That means if a teacher is currently under suspension, probation or has had his or her license revoked in one state, Georgia will uphold the ruling. But to do that, Georgia must know about the teacher's past. There's part of the problem.11Alive in partnership with USA Today combed through the disciplinary records of teachers from nearly every state and compared it to the names of the 160,000 people currently holding a teaching certificate in Georgia. We learned most have no disciplinary history. They come to work eager and able to teach the children in their classroom. But there is a small, but troubling percentage of credentialed educators, that got their job by lying or looking for loopholes in the system.
INTERACTIVE DATABASE | Check Georgia disciplinary records from 2010-2015. You can search by name or by school district. Keep in mind, the district listed is where the teacher was employed when disciplined. Check out this explanation of what the disciplinary codes mean.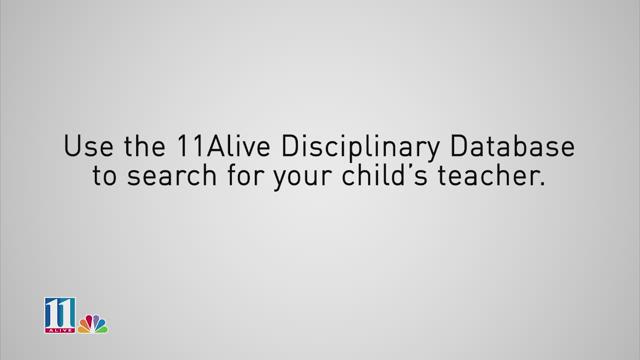 For the past six years Darrell Roundtree has taught students at Fairington Elementary in Dekalb County, even though Florida permanently revoked his license in 2009. He's accused of running a male escort business and using his school issued computer to access adult websites and chat sites. The Florida disciplinary complaint says he even took partially nude photos and hired a GED student to dance for a group of clients.
Florida reported Roundtree's disciplinary history to the National Association of State Directors of Teacher Education and Certification, or NASDTEC, which maintains a national database of teacher's transgressions. But Paul Shaw, the Director of the Ethics Division for Georgia's Professional Standards Commission, or PSC, says the Commission didn't see it due to a glitch in the state's database programming.
The state says it didn't even know there was a red flag to find because Roundtree failed to disclose the accusations on four separate state applications as well as his district job application. It wasn't until the glitch was fix and he applied for re-certification in 2014, that the error was caught. It would take another 21 months for the state to investigate and revoke his license. Roundtree denies the allegations and maintains that he resigned his teaching positions.
According to the PSC, Roundtree has not received any negative evaluations in the past ten years and has even received merit pay for student performance. Still, based of the state's reciprocity agreement and Roundtree's failure to report his Florida license revocation, the state decided to revoke his Georgia license as well.
Paul Shaw, the Director of Ethics for the PSC says the Commission consults NASDTEC when backgrounding any teaching candidate.
"I think it's extremely important because society is more mobile now. And we continuously get people coming from out of state and Georgia does import teachers. We don't have enough teachers here," said Shaw.
It's important to note, most of these teachers did not break the law. They violated their state's ethics code. That means the matters were handled by an education disciplinary board, not police. It also means the disciplinary action would not show up on a background check.
Dekalb County's Chief Human Capital Officer, Leo Brown says the district tries to exhaust every possible opportunity to vet its candidates, but he admits they rely on the PSC to catch any disciplinary history.
But the PSC, says it's just as much the districts responsibility to vet job candidates. In fact, Roundtree admitted he had worked in Florida, a state that maintains its disciplinary records online. All Dekalb county had to do was type in his name, to find out about his past.
The employment form asks, "Have you ever had a teaching certificate revoked, suspended or is any investigation or adverse action now pending against you?"
Roundtree and several other applicants our investigation uncovered, answered "no" despite having a prior or pending disciplinary record. Lindstrom asked the district if it felt those candidates had misrepresented themselves.
"It depends on the timing of those things," said Brown. "No, there was nothing that led us to believe they had misrepresented themselves."
Herman Taylor answered no to that question on July 23, 2004 on a job application for the 2006/2007 school year. But the PSC was already three months into its investigation on Taylor and eventually did issue a one year suspension for behaving "inappropriately and unprofessionally with students and staff, including attempting to use a student to commit tax fraud and striking students with a belt" according to his disciplinary report.
Brown says it's the question that's misleading. He says the district is rewriting it to clear up the confusion and get to the heart of what they need to know to make their hiring decisions.
Taylor tried to get a license to teach in Mississippi in 2010, but according to that state's records, the request was denied. Taylor is currently teaching at Stephenson High and declined to comment. He does hold a valid Georgia teaching certificate.
Rebecca Lindstrom's investigation continues Wednesday night at 11:00 p.m. Do you have questions about this investigation? Join our live chat on Facebook Wednesday at 10:00 a.m.