ATLANTA -- Frantic parents called 911 after they watched their 8-year-old son fall onto his head from an 8-foot-tall slide in Atlanta's West End Park on Saturday -- then, they say they waited for nearly 90 minutes for an ambulance to show up.
Ohiji Corbin and his wife, Lvkenta Hall Corbin were frustrated, upset, as their son Ethan lay in pain with a broken leg and other injuries -- and EMS workers took nearly 90 minutes to arrive.
"When they pull up, they didn't have on the lights and sirens," said Lvkenta. "It's like they were looking for a parking spot!"
"They pulled up without lights -- like it wasn't an emergency situation," said her husband, Ohiji.
When emergency workers arrived and began to treat their son, they found that the boy had passed out from the pain he was enduring.
"He was screaming, in excruciating pain," Lvkenta said.
"He was hollering the whole time, 'My leg! My leg!'," the boy's father said. "It was heartbreaking. He was in pain for four hours without anesthesia."
Ohiji said the emergency workers in the ambulance actually got lost on the way to the hospital. He says the EMS workers were confused as to where they were going.
"We went to the wrong hospital," said Ohiji. "Once we went to the wrong hospital, they Googled to reroute."
PHOTOS | Family was forced to wait hours for ambulance to arrive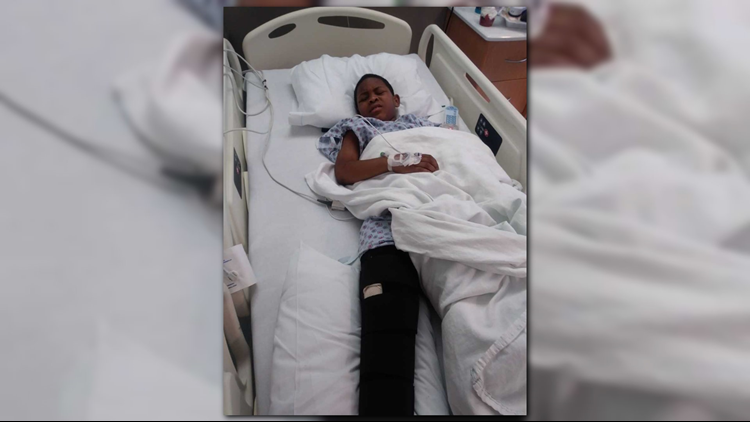 They finally were taken to Children's Healthcare of Atlanta at Egleston for treatment, but in total, the parents said it took nearly four hours after the accident before their son received treatment as a result of the EMS delays.
"I would love for the EMS to do better," Lvkenta said.
"To not be able to find us in a historical park is just unreasonable," Ohiji said. "They didn't take us serious. They didn't."
11Alive News received a statement Tuesday from administrators at Grady Health System, which oversees Grady EMS, regarding this weekend's incident.
"Grady EMS prides itself on providing the highest quality service to the citizens of Atlanta. We acknowledge and apologize for issues related to the response to a call for assistance at West End Park on Saturday, September 15. Our investigation into issues related to this response is on-going. Procedure modifications will be made where appropriate to insure our quality standards are met," the statement said.
Ethan is still in the hospital. His family says the break in his leg is severe.