ATLANTA -- In an emotional interview with Sister Circle, the ex-wife of famed R&B singer R. Kelly, spoke about her shocking revelations about her abusive relationship and how she copes with life after divorce.
Andrea Kelly was married to R. Kelly, whose real name is Robert Kelly, for 13 years before she finally cut the cord after she realized she was in an abusive relationship.
In the interview, Kelly became emotional after she started speaking about why she decided it was time to tell the world about her experience.
"The basis of this stance is you have to love somebody enough to tell them, 'Enough.' And I don't believe that my ex-husband has enough people in his life to be real with him, to be honest with him, who care about his feelings, who care about his family's feelings and I feel like it's God's time. I was not strong enough. How can I be a voice for the voiceless when I don't even have my own. How can I be powerful for the powerless when I don't even have my own."
"So I had to wait until God said, 'Okay, daughter, it is time.' It's like being in boot camp. It's like being in training. I had to go through the trenches. I had to build myself up. I had to go through counseling. I had to even get to the point to accept that I am a victim of domestic violence. That's a hard thing to look in the mirror and say. And then you are put on a platform where you're like, 'Now I have to make a choice. Do I tell people, do I not tell people?' Because at the end of the day my story is not about your curiosity. I'm not here to satisfy people's curiosity. Because then people want gory details," Kelly said.
Kelly then revealed that she had thoughts of suicide.
"It wasn't until the day that I wanted to commit suicide - tried to commit suicide. That it took so many years. But as a mother, when you get to a point that you're okay to leave your three babies without a mom? And death was better than spending another day with him? That's when it became reality for me."
Kelly also admitted to realizing she had been in an abusive relationship before she met R. Kelly. She said her grandfather, who was a baptist preacher, had beaten her grandmother when she was younger.
"And that's the first time I ever saw a man put his hands on a woman," Kelly said.
Kelly believes bad behavior is "learned behavior." She said this when asked about whether or not R. Kelly's past trials and tribulations might have played a role that lead to his abusive actions against her.
"I like to use the term 'learned behavior'. Because you can also unlearn what you've been taught. I could very well sit here today and say, 'Because I was a victim of domestic violence, all men are bad. I'm going to victimize other people.' You have a choice. And just like he went through abuse, you have the choice to get help. But you have to want it," she said.
Kelly went into how difficult it was for her to shield her children from "all pain." As her ex-husband was going through legal issues, she soon realized she could not always be there to protect her children.
When asked about how R. Kelly played a role in her children's lives, she stated bluntly, "There isn't one."
"I'm alone. Was alone. Am alone and will continue to be alone. And I'm very aware of that," Kelly stated through her tears.
Kelly then went on to say, that even 10 years after being separated from the singer, "he doesn't understand the magnitude" of his actions on his children and herself.
With the release of his book, "Soulacoaster: The Diary of Me", Andrea had a few choice words for the infamous singer.
"Robert, you don't get to tell my story. That is my truth. You should have never put me in your book. And if you're going to put me in your book, then you're going to tell the truth in the book.You don't get to tell people that we got divorced because I had a problem with being a stay-at-home mom. We got divorced because I was no longer going to sit and be violated. What he did to me was criminal. Domestic violence is a crime," Kelly stated.
"And I will say this. And people can take it how you want but I know my worth. He didn't have a Grammy before he met me and he hasn't had one since I've been gone. And that does not speak to his music and his genius and his talent. It speaks to the woman behind the man that kept him strong. That prayed for him. That loved on him. That took him in despite your faults. I know what I brought to the table."
Kelly then revealed one of her darkest moments before realizing she had been a victim to her ex-husband's domestic violence.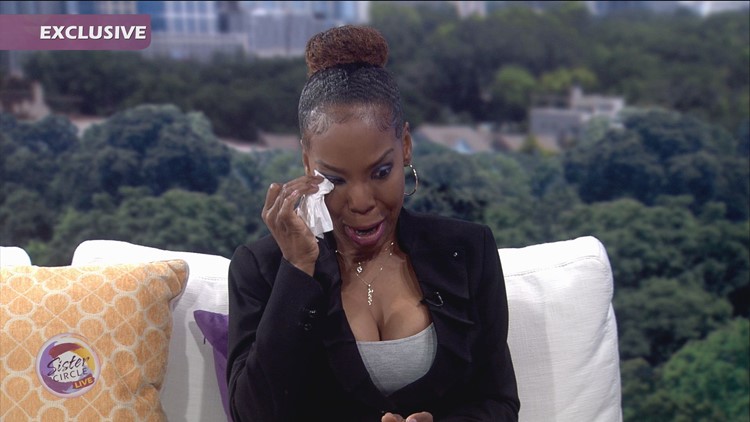 "I remember going out on the balcony, we were at the Wyndham Grand Bay Hotel. I'll never forget it, Coconut Grove. And I actually climbed up on the balcony and I had one foot propped against the wall. And my other foot, I climbed up on ledge. And I remember looking down and it's almost like God was able to let me see into the future and I saw my body laying in blood and I saw the ambulance coming. I saw the housekeeping come out and they were pointing up and they said, 'She jumped from up there.' And then I remember my baby's voice in the back going, 'Momma, momma, momma, why did momma jump. Why did momma leave us?'"
Kelly's vision led her to an online quiz about domestic violence and of the 17 questions that were asked, she said her ex-husband had done 15. That was when she decided to leave.
The family of a young woman who they believe is being held against her will by the singer also spoke on Sister Circle about how their daughter had been brainwashed.
Jocelynn and her family had gotten a chance to meet the singer back in 2015.
Tim and JonJelyn Savage, Jocelynn's parents, say that they believe their daughter is being held against her will at R. Kelly's home, and the main basis for these allegations is that their daughter, Jocelynn, is suffering from herpes, they say.
"The reason why I think my daughter's being held against her will because my daughter is suffering from herpes right now. And she was given that disease by R. Kelly," Jon said.

"We're a very close knit family," said JonJelyn. "Tim and I have been married for years. She was our first daughter of three girls and we have always been close in this family, even from her grandparents, her family, her extended family."
"Just recently, my husband and I had the courage to speak out. A lot of these people have now fled his camp. They've been enabling him. They're enabling him or they take small settlements or payments and that's something we refuse to do," JonJelyn said.
For anyone who may be struggling or is a victim of domestic violence, call the Domestic Violence Hotline at 1-800-799-SAFE.
You can watch Sister Circle weekdays at 9:00AM on WATL and at noon on TVOne.