JOHNS CREEK, Ga. - Police are asking for the public's help with identifying two suspects who are wanted for questioning after an elderly man was scammed out of nearly $15,000.
The entire debacle allegedly started on Tuesday, Nov. 21 at a Walmart, according to the victim's daughter, Kelly Leblonde.
Mr. Dorsey, 77, who according to police has early signs of dementia, was approached by a woman inside of a white Chevrolet Camaro, along with a child and another passenger, while traveling down Pleasant Hill Road.
The suspect pulled up next to Dorsey and started yelling at him through the car window.
She claimed to be a friend of his daughter's, Leblonde, who works as a nurse and was away for the holidays.
The female suspect told Dorsey that she had moved back to Georgia from California and was trying to get her house back. The woman told him that she needed $5,000 in order to do so. Dorsey then pulled into a nearby parking lot and the suspect followed.
According to the incident report, the suspect asked Dorsey if he could help her with her dilemma.
The victim then withdrew $6,000 in cash and met with the suspects in a Publix parking lot located at 5825 State Bridge Road in Duluth.
The female suspect then told Dorsey that they needed an additional $1,000 for their hotel as well.
His daughter then believes that the suspects followed her father to his home where he gave them an additional $800 in cash.
On Friday, Nov. 24, Dorsey met with the female suspect again at a Wells Fargo bank in Duluth where he proceeded to give the suspect an additional $5,000. Dorsey repeated these actions another two times the very next day, totaling three withdrawals in two days.
Leblonde came home from visiting her son in college on Nov. 25 and noticed that many of her father's checks were bouncing, according to police. She asked him why this was and he told her about her alleged 'friend.'
She said she did not have a friend who was returning to the area and told her father that he was getting scammed.
Mr. Dorsey got upset and denied these allegations, according to police. The suspect called again while Leblonde was present.
She convinced her father to play along and that he should meet with the suspect once more. During the conversation on the phone, Leblonde says the suspect revealed her name to be Lisa Thomas.
When Leblonde attempted to call the number back, a man named Steve Demaro answered the call.
According to the daughter, they received a call on their house phone about a week before Christmas and had a feeling in her gut that it was the suspect calling for her father once again. "No one really calls land lines anymore," was Lebonde's reason for believing it was the scammer.
She then heard her father get up and attempted to leave the house before she stopped him and asked what he was doing. He was hoping to meet with the suspect again and get his money back.
"He was trying to do this on his own."
Lebonde attempted to stop him. When she failed to do so, she resorted to following him. She even attempted to call detectives but to her dismay it was a Sunday morning and she was unable to reach any detectives in time.
She parked out of sight as she watched a woman enter her fathers car. After waiting about 30 minutes, she decided to approach and confront the woman.
She opened the door to the passenger side and pulled the woman out of her father's car. She then proceeded to bring the woman into a McDonald's with hopes of keeping her there while she called 9-1-1.
As the woman was attempting to flee, Lebonde said, "How dare you prey on a sweet, compassionate old man who just wanted to do the right thing?"
Lebonde said the woman said she meant no harm and fully intended to pay all of the money back. In fact, she was hoping to bring Dorsey to a separate location to meet with her lawyer and set up a notarized 'I.O.U.'
"I guess I just wonder, you know, people put so much into these scam. How successful could they be if they had a real job? To prey on the elderly and, you know, people who are starting to lose their memory and don't know any better, to prey on those folks and the compassion just eats away at my heart," Lebonde said.
Police were able to meet with the victim and his daughter on Dec. 5 in order to reenact the events that took place and were also given additional information from Leblonde.
She stated that her father had his first encounter with the suspect on Nov. 21, where he wrote a check for $428 at a Walmart located on Highway 141 in Cumming.
After gathering more information and getting security camera footage of the suspects, Johns Creek Police are asking for the public's help in identifying the suspects.
A man and woman can be seen leaving a store after tricking Dorsey into buying them a PS4 console.
Dorsey described the female suspect as being between 50 and 55-years-old with blond-red hair. The male suspect is described as being a white male that may be 35 and 40-years-old and the child was approximately 6-years-old.
If anyone has information about these two suspects, they are asked to please contact Crime Stoppers Atlanta at 404-577-TIPS (8477).
PHOTOS | Police search for suspects after elderly man scammed
PHOTOS | Johns Creek PD search for suspects after elderly man scammed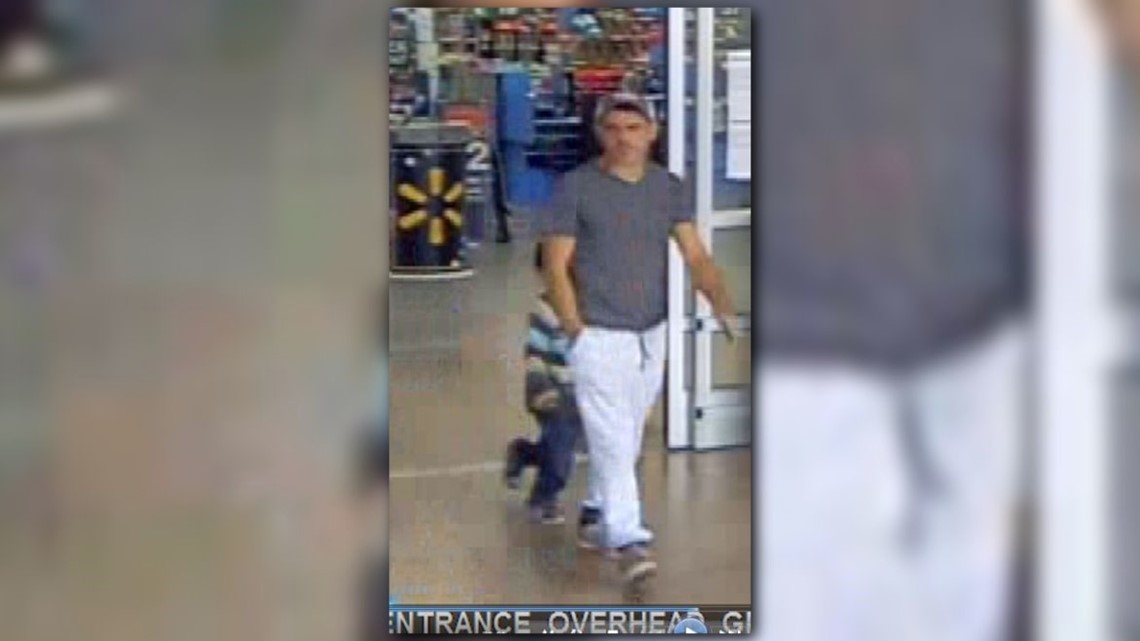 Captain Byers said this case sheds light on a bigger issue.
"They are preying on that population. That's where they're hunting at, that's their hunting ground," he said,.
"That elderly population that's going to have their guard down, that's going to be trusting that's going to have a diminished mental capacity of some type."
LeBlonde's father, a retired accountant, is not alone in falling for scams.
"All my friends have aging parents and some have gone through similar situations mostly phone scams," LeBlonde said.
Authorities offers these tips for protecting yourselves and your loved ones.
MAKE SURE LOVED ONES ARE AWARE OF THESE SCAMS
Being aware and knowing that they likely be approached in person, over the phone or online is half the battle.
JUST SAY 'NO' TO GIVING ANY MONEY TO ANYONE UNTIL YOU SPEAK WITH A RELATIVE WHO'S COMING HOME SOON
Investigators say if crooks know you will consult with someone else they are likely to back off.