JOHNS CREEK, Ga. — The Johns Creek Police Department is advising the community to watch out for their pets after a black bear was seen in the area Friday afternoon.
In a social media post, Johns Creek Police said a black bear was spotted in the Seven Oaks community and along the McGinnis Ferry Corridor to be on the lookout for a furry visitor Friday.
"Let's keep watch on pets the next day or two. #JCPDWare didn't get closer cause I wasn't sure if I was a faster runner than those who were with me," the police department wrote -- sharing the photo below.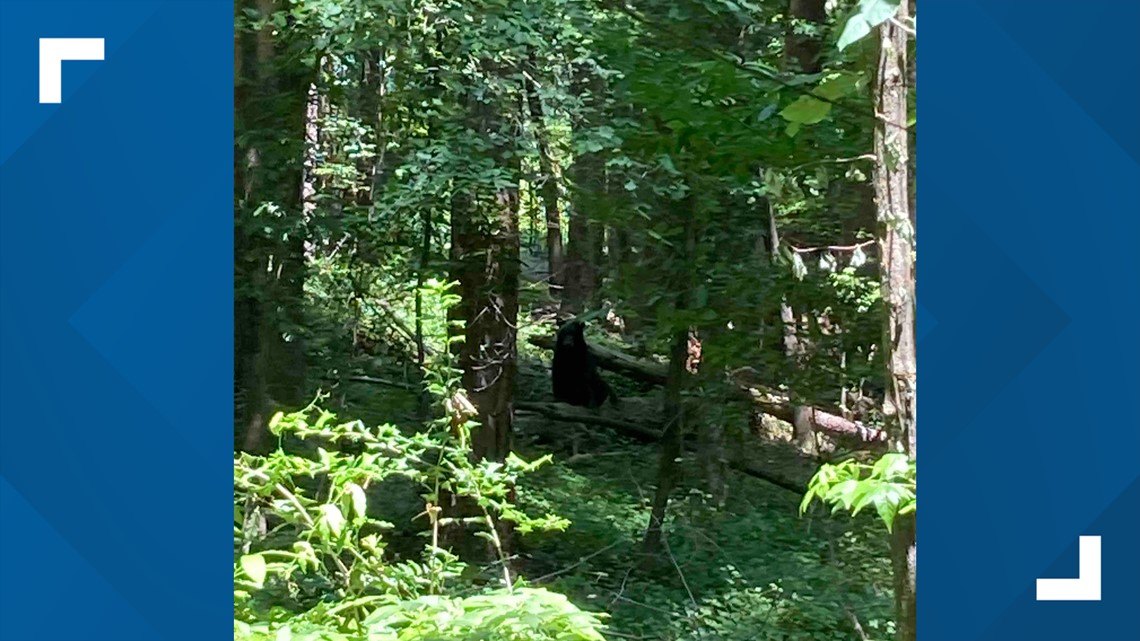 "He is cute and friend-shaped, but he is not a friend," Roswell Police warned. "If YOU see the bear, give him space and let him go on his beary way."
Last week in Forsyth County, a family said a bear hung out in their backyard overnight. The Campbells told 11Alive's Tracey Amick-Peer that their cameras first caught the bear in action in their neighborhood and the unwanted guest decided to stick around.
The Georgia Department of Natural Resources said the Peach State is fortunate to have a healthy population of black bears. The bears are often found in the north Georgia mountains, in central Georgia, along the Ocumulgee River and around the Okefenokee Swamp in southeast Georgia. The DNR added during the summer, the bears can occasionally be spotted everywhere in between.
"Wild black bears are naturally fearful of humans and will go out of their way to avoid people, so please do your part to help keep bears wild," Georgia DNR Bear Biologist Adam Hammond said.
'BearWise' safety tips
The DNR provided the following tips on how to stay 'BearWise':
Stay alert and stay together
Pay attention to your surroundings and stay together. Walk, hike, jog, or cycle with others when possible. Keep kids within sight and close by. Leave earbuds at home and make noise periodically so bears can avoid you.
Leave no trash or food scraps
Double bag your food when hiking and pack out all food and trash. Don't burn food scraps or trash in your fire ring or grill. Leaving scraps, wrappers, or even "harmless" items like apple cores teaches bears to associate trails and campsites with food.
Keep dogs leashed
Letting dogs chase or bark at bears is asking for trouble; don't force a bear to defend itself. Keep your dogs leashed at all times or leave them at home.
Camp safely
Set up camp away from dense cover and natural food sources. Cook as far from your tent as possible. Do not store food, trash, clothes worn when cooking, or toiletries in your tent. Store in approved bear-resistant containers OR out of sight in locked vehicle OR suspended at least 10 feet above the ground and 10 feet from any part of the tree. Local regulations vary.
Know what to do if you see a black bear
If you see a bear before it notices you, don't approach. Stand still, enjoy, then quietly move away. If a bear sees you, back away slowly. Never run; running may trigger a chase response. If a bear approaches, hold your ground, wave your arms and yell "Hey Bear" until it leaves. Stay with your group. If it keeps approaching, use bear spray. If a black bear makes contact with you, do NOT play dead.
Carry bear spray & know how to use it
Bear spray is proven to be the easiest and most effective way to deter a bear that threatens you. It doesn't work like bug repellent, so never spray your tent, campsite or belongings.