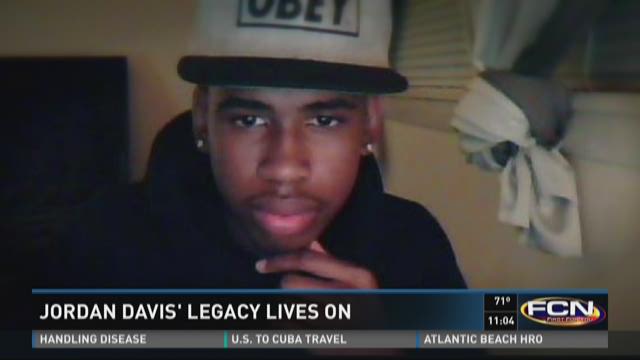 JACKSONVILLE, Fla. -- A big surprise at Wolfson High School where two students were presented with a scholarship in honor of Jordan Davis. Davis was a junior at Wolfson in 2012 when he was murdered.
"He was just a good guy, fun person, never stressed about the little things and that's what made him a good friend of mine," said Leland Brunson, one of Davis' best friends.
This past November marked three years since the best friends were in an SUV with two other teens at a Southside gas station when their car was riddled with bullets. It happened after an argument over loud music with a stranger in the car next to them. That stranger, Michael Dunn, is now serving a life sentence for Davis' murder.
Brunson is not talking about that night, but is talking about how Jordan's legacy is living on through the Jordan Davis Foundation Scholarships handed out each year.
"It means a lot because certain kids when I was growing up they didn't get a chance to go to college because they didn't have money, so it gives them a chance to not stress the little things and worry about the bigger picture, and that's focusing on school and getting an education," said Brunson.
Brunson got a big applause at his alma mater where he stood alongside Davis' father and to help present two seniors, Gerardo Silva and Taylor Holland, with $1,000 checks.
"They said my name, and I was completely shocked," said Holland. "This means a lot because I want to go to UCF. I want to be a civil engineer. I want to do big things in life and money is a real issue, so scholarships are on my mind throughout this whole year, so it means a lot."
Holland was a freshman at Wolfson when Jordan was killed.
"That could have been me," she reflects.
While she didn't know him, Holland knows what happened and says she is honored to be standing on stage with his best friend and inspired to know he went on to graduate from high school. Brunson's advice to her?
"Be yourself. Stay focused, and always follow your dream."
Ron Davis says the Jordan Davis Foundation plans to expand the scholarship next year to students at Raines and Terry Parker high schools.