KENNESAW, Ga. -- You've likely seen the photo online of five Kennesaw State University cheerleaders who took a knee while the national anthem was played before a weekend football game.
The gesture made them the focus of both criticism and praise online. Now, we're hearing from them, for the first time, on why they did it.
On Tuesday, three of those cheerleaders, Tommia Dean, Kennedy Town and Shlondra Young, spoke to 11Alive's Jon Shirek, telling him this was not a whim and that they'd been thinking about it for weeks, even seeking--and receiving--their parents' input and blessings.
"Before we went out on the field, we all prayed," Dean said. "Together, we all prayed."
"And my heart was racing, I was so nervous," Town said.
"We wanted not only to take the action, but let the values behind our action be known," Young said. "So we definitely prayed about it, because we knew that there was going to be a lot of... backlash that came from it. And there was some fear, there. But our passion was definitely stronger than our fear."
Young, a third-year political science major, explained that the on-going issues of police brutality and racial tensions are problems that America can fix. Kneeling was their way to demonstrate their belief in the promise of the flag and the promise of the nation they love.
"So I feel as though it was nothing that was meant to disrespect America, which is the reason why, when we took the knee, we still made it a point to have our hands on our hearts," Young said. "But we just wanted to take the knee in the name of equality."
Town said that the racial tension can even be seen right in her own home--Cobb County--where, only a few weeks ago, a police officer was caught on dashcam video telling a driver during a traffic stop that they only kill black people." The veteran officer was allowed to retire instead of being fired. (Click here for that story)
"So I felt like this was something I needed to do here, in Cobb County, as a Kennesaw State cheerleader," she said.
Town, Dean and Young knew it would draw sharp criticism and they would likely be vilified. One of those critics is Georgia State Rep. Earl Ehrhart, (R) Cobb County, who is chair of the House committee that determines annual funding for KSU and the rest of the State University System.
Ehrhart wrote to 11Alive, saying the cheerleaders were wrong to make people who paid to get into the football game be subjected to their protest.
"A University student cannot demand a taxpayer-supported platform, like a football field, for their political speech," he wrote. "Leave the politics to the public square payed for and shared by all…"
But the cheerleaders said the stadium was the perfect place for a peaceful disruption of the status quo.
"This is a time when we are most seen, a time when I feel as though our statement could be made the most public," Young said. "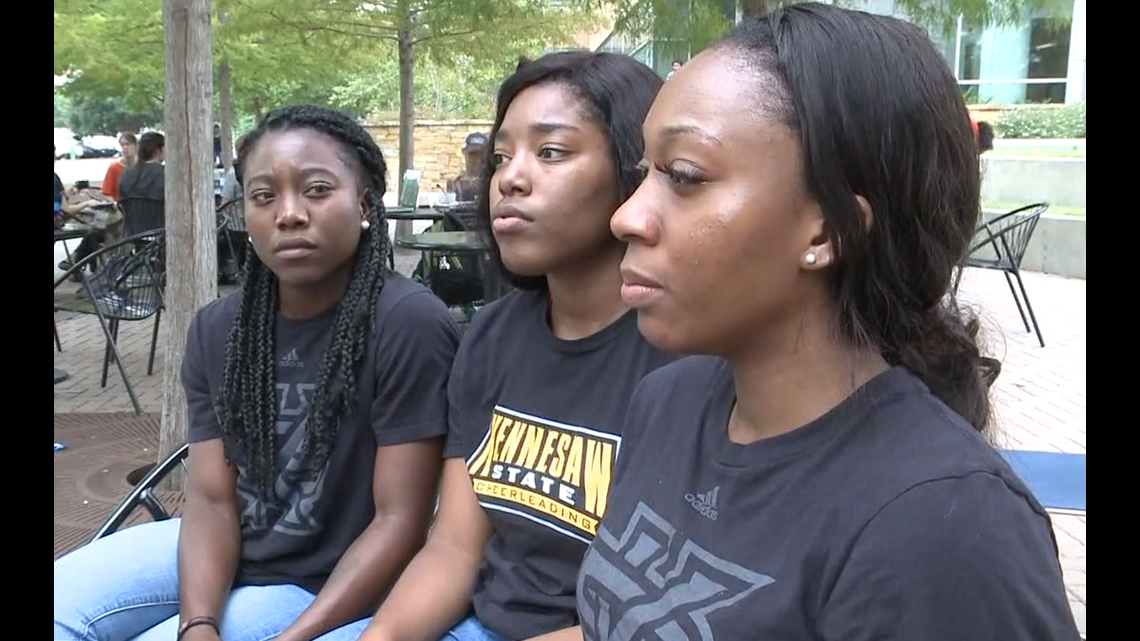 But the five cheerleaders said they'll still be taking a knee in that tunnel, grateful for the support, they say, of the other cheerleaders who choose to stand.
Young said they've drawn inspiration from the Bible--Deuteronomy 31:6, "Be strong and courageous...." Young read the entire verse aloud. And she said they've drawn inspiration from a quote about civil rights pioneer Rosa Parks, that Young knows by heart, "It took Rosa Parks to sit down for people to stand up."
Photos | KSU cheerleaders kneel at football game
THE HISTORY OF THIS PROTEST
In an interview with NFL.com last season, Kaepernick explained why he started first sitting out and then kneeling during the national anthem.
"I am not going to stand up to show pride in a flag for a country that oppresses black people and people of color," Kaepernick said, to NFL.com. "To me, this is bigger than football and it would be selfish on my part to look the other way. There are bodies in the street and people getting paid leave and getting away with murder."
He said, "I am not looking for approval. I have to stand up for people that are oppressed... If they take football away, my endorsements from me, I know that I stood up for what is right."
Meanwhile, the NFL on Tuesday issued a statement to all 32 teams in the league saying they believe players should stand for the national anthem and that it is time to move past "this controversy."
The letter, obtained by 11Alive news partner USA TODAY Sports, was sent to chief executives and presidents of teams on Tuesday from commissioner Roger Goodell.
"The current dispute over the National Anthem is threatening to erode the unifying power of our game, and is now dividing us, and our players, from many fans across the country," the letter stated.
It continued: "Like many of our fans, we believe that everyone should stand for the National Anthem. It is an important moment in our game. We want to honor our flag and our country, and our fans expect that of us. We also care deeply about our players and respect their opinions and concerns about critical social issues. The controversy over the Anthem is a barrier to having honest conversations and making real progress on the underlying issues. We need to move past this controversy, and we want to do that together with our players," the letter read. (Click to read the full story.)
Photos | NFL players during the national anthem on Sunday Sept. 25