KENNESAW, Ga. -- It was a fundraiser for Alzheimer's research that raised nearly $250,000 over the weekend and now one of the participants is getting slammed for it.
The mayor of Kennesaw is getting a strong response after dressing up as pop singer Christina Aguilera during the charity event.
Mayor Derek Easterling performed at the Battle for the Brain lip sync competition and Kennesaw residents are chiming in.
Photographer Sean Brock was there to take pictures; the student at Holy Innocents gave 11Alive News permission to use his pictures.
Photos | Kennesaw mayor criticized for dressing in drag for fundraiser
The mayor says he was just doing the right thing to make a difference and did not expect all the social media reaction.
"That was my performance: over the top," he said. "[I wanted to] get people's attention and say, 'Hey look, if I can do this, you can too.'"
Easterling said he dressed up as Christina Aguilera for a performance of 'Lady Marmalade,' "I think it was a success. We raised nearly $250,000," he said.
He said his performance got the crowd excited, "They were so loud, they were louder than the music. I couldn't hear the music."
Easterling said he just wanted to bring awareness to something that impacts millions of people all over the world. But it's what happened after the performance that's holding the attention: negative social media reaction like a post from Cobb County Republican Party Vice Chair Debra Ashley Williams.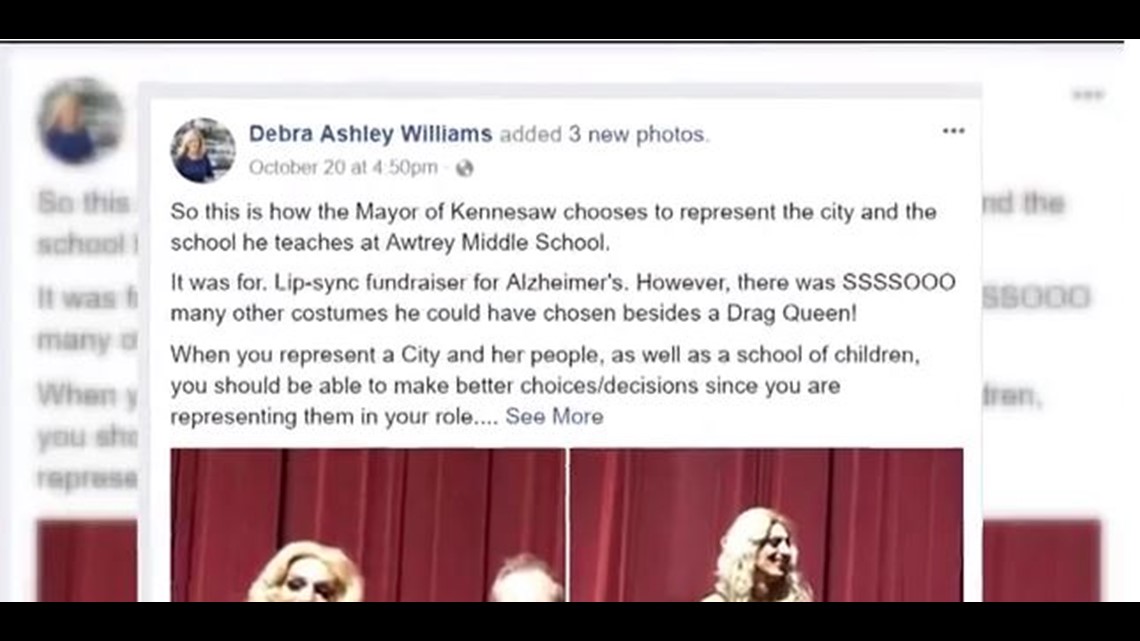 She spoke to 11Alive News over the phone and said his costume was not appropriate for a mayor - a position she hoped to take in 2015 ultimately falling to the candidate whose actions now draw her concern.
"Dressing as a drag queen is not an honorable manner. For holding a title where he represents a various and diverse group of people. All who have different opinions," she said.
Residents 11Alive talked to had mixed opinions.
On the streets of Kennesaw Monday morning, one resident said: "First of all I thought he looked amazing I couldn't believe that was actually a man."
Another said, "I don't see any harm in it. If he's just doing it to raise money."
Still another said, "Oh wow. SO that's our mayor. Okay, wow," when they saw the pictures.
Easterling wants to remind people that his efforts was to make a difference, not to be seen as a drag show performer. He said his family has been impacted by the disease.
"I'm personally involved because I know my grandmother she died from Alzheimer's," Easterling said. "She died not knowing who her son was."
He said the focus should be on the cure.
"There's already enough negative in the world. Let's move forward. Let's have a little fun. Let's raise awareness," he said.
Easterling said any negative reaction he's received won't deter him from continuing to be a voice for Alzheimer's research.