LAWRENCEVILLE, Ga. -- The Gwinnett County community gathered to honor the memory of Gwinnett Police Officer Antwan Toney, shot and killed in the line of duty on Saturday.
The service began at 12Stone Church in Lawrenceville at 11 a.m.
Bagpipes played "Amazing Grace" as Officer Toney's casket made it's way to the front of the church.
Huff made opening remarks and Officer Spellman gave an emotional eulogy.
Then those who loved Officer Toney shared their testimonies. Toney's sister, Carla Johnson spoke first and spoke about the bond between a big sister and little brother.
MORE: Fallen Gwinnett Police Officer Antwan Toney's sister gives moving tribute to 'baby brother 'Twan'
followed by Officers Smith and Walsh. The South Precinct B-Cycle officers will walk onto the stage and and stand post behind the officers during their remarks.
Toney's cousin, Prez Blackmon, gave an emotional tribute to his family member in song -- in a medley that began with "Wind Beneath My Wings" by Barbara Streisand.
Officials from the Gwinnett County Police Department and Georgia Governor's office honored Toney with three posthumous awards, including an Honorable Service medal, the Purple Heart Medal and the Medal of Valor.
Following the remarks was the Presentation of Awards, followed by a rendering of Honors.
Gwinnett County Police Chief Butch Ayers presented an award medal to Toney's mother.
After that, a Rendering of Honors, including a presentation of the colors and a firing party. Taps was played and Chief Butch Ayers presented an American flag to the family.
The officers did the ritual of Last Call before the family was dismissed for the procession to the funeral home.
Officer Antwan Toney was killed while investigating a suspicious vehicle near Shiloh Middle School on Saturday. He had been with the Gwinnett County Police Department for nearly three years.
PHOTOS: Procession, funeral for fallen Gwinnett Officer Antwan Toney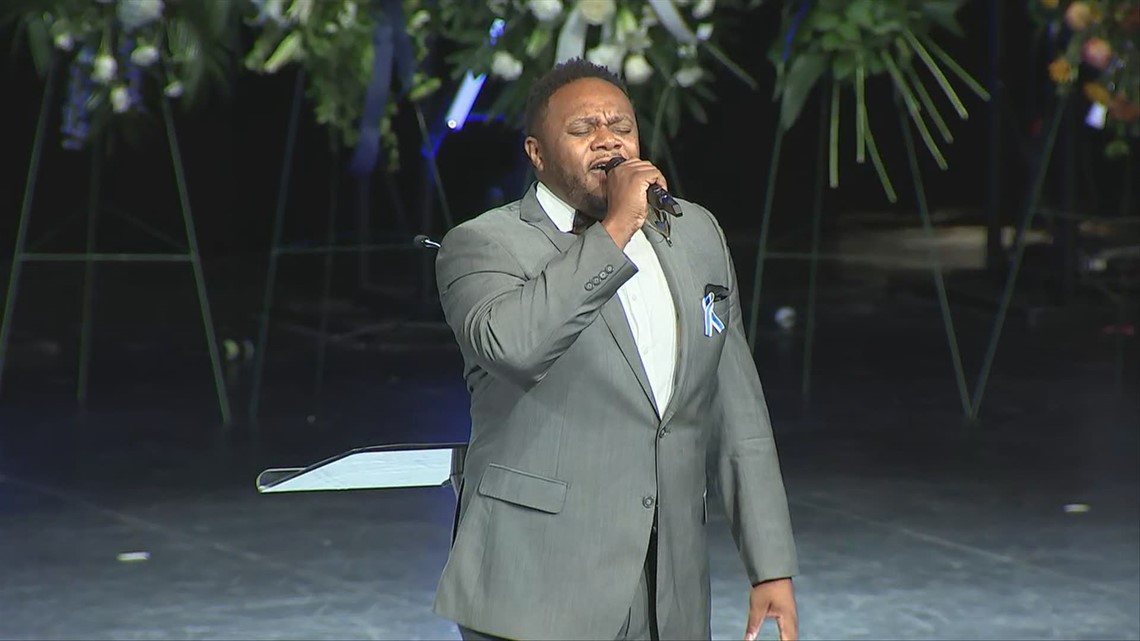 The southern California native had celebrated his 30th birthday a few days earlier. Prior to joining the department, he worked as a security guard
RELATED | Murdered Gwinnett officer's sister: Antwan Toney had passion for police work
Gov. Nathan Deal has ordered flags at the Georgia State Capitol to fly at half-staff to honor Officer Antwan Toney. Toney was gunned down when he responded to a call regarding a suspicious vehicle on Saturday afternoon.
Toney's family flew in from California to attend the services. Some Gwinnett officers flew to Los Angeles to escort them to Metro Atlanta. Officers will also escort them back to southern California, where the family plans a second funeral service on Nov. 3.