GWINNETT COUNTY, Ga. -- All one high school sophomore wanted for Halloween was to be a princess. Thursday night, her wish came true.
Yasmine Martinez dressed up and got the chance to trick-or-treat for the first time, thanks to Central Gwinnett High School and the non-profit Magic Wheelchair. The organization is known for creating costumes for children in wheelchairs.
Yasmine was born with Spina bifida and has been in a wheelchair since birth. The condition occurs when the spine and spinal cord don't form properly.
Hearts, flowers, a unicorn carriage, and her favorite color pink - it was everything she Yasmine loves all at once.
"That night her face, her smile, she really looked like a princess and you could just tell she enjoyed every second of it," said her teacher, Mike Yocca. "It was an amazing evening."
Yasmine got the chance to go trick-or-treating on campus, something she wasn't able to do before. Last year, she didn't do anything for Halloween. That all changed this year.
Yasmine Martinez: A princess for Halloween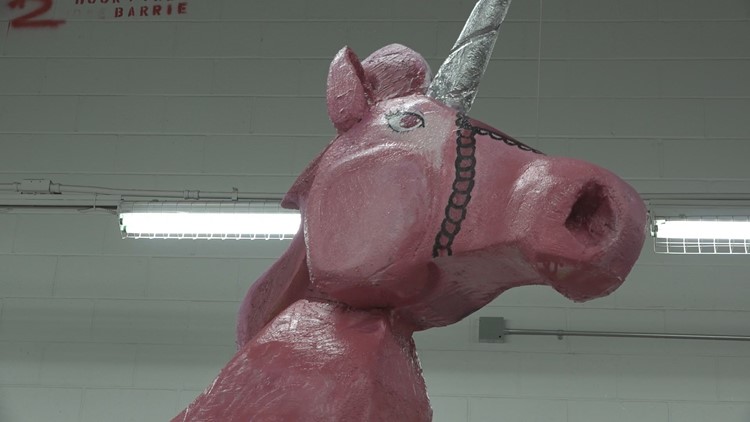 11Alive's Elwyn Lopez asked her how did the festivities make her feel. She had one answer.
"Happy," Yasmine replied.
Her signature black wheelchair wheels were upgraded for some pink ones. She even had her own unicorns to pull her carriage.
Yocca sees Yasmine as a royal in her own right. Yasmine is known for imparting lifelong lessons to her fellow students, they said.
"She teaches them that anything is possible, there are struggles, you have to get through them. She's a fighter. She's smart. She's so capable," Yocca said.
Students came together to make the experience a pleasant one for Yasmine. It took them about two weeks to plan and put together her carriage. After several sketches, Yasmine picked the one she liked the most. She told 11Alive she chose it because she really loved the unicorn.