SANTA FE, Texas – A student walked into Santa Fe High School Friday morning armed with guns and explosives. He opened fire, killing 10 people, wounding 10 others and forcing hundreds of terrified students and staff to run for their lives.
Dimitrios Pagourtzis, 17, has been charged with capital murder and aggravated assault of a police officer. At his arraignment Friday evening, Pagourtzis held his head down as he requested a court-appointed attorney.
Galveston County Sheriff's Office
WATCH: Affidavit: Suspect admits to shooting
We've learned the names of six students and two teachers who died.
Chris Stone, Shana Fisher and Kim Vaughn were shot and killed in their first period art class, according to family members.
Relatives have confirmed students Angelique Ramirez and Kyle McLeod were among the victims.
Photos: Victims of the Santa Fe High School shooting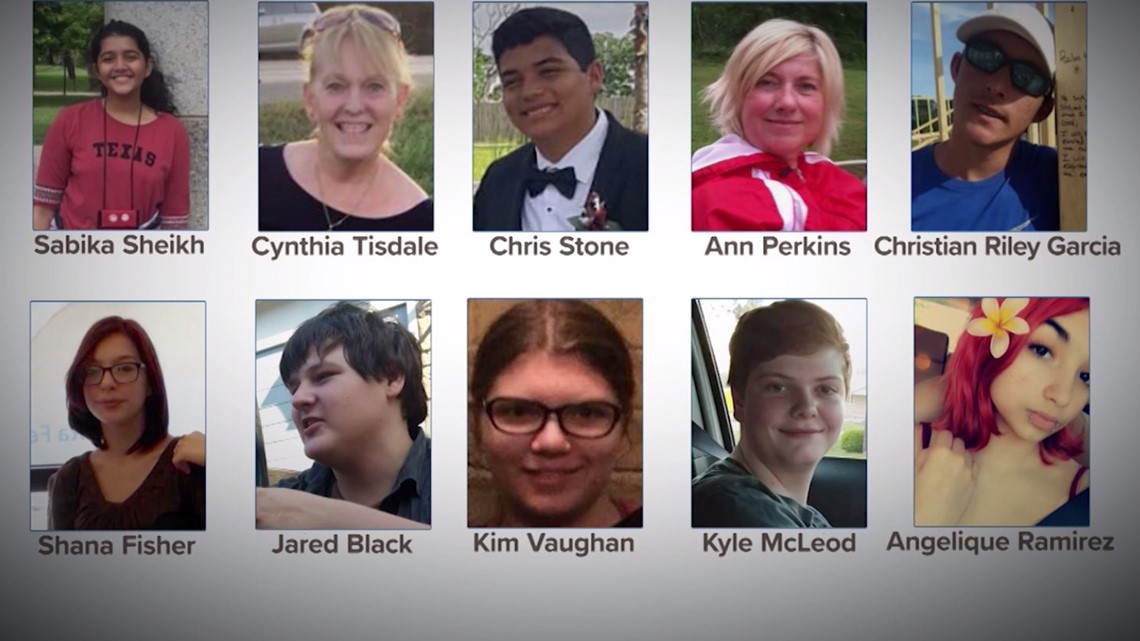 An exchange student from Pakistan, Sabika Sheikh, was also killed, according to the Pakistani ambassador in Washington.
Relatives say Cynthia Tisdale, a substitute teacher in her 60s, died in the shooting. They say her three children and eight grandchildren were her passion.
Substitute teacher Ann Perkins was among those who died. According to those who knew her, she was a beloved teacher and was well-loved in the community, CBS News reported. Several students tweeted, calling her the "sweetest lady" and a hero.
One of the most critically injured victims was Santa Fe ISD police officer John Barnes, who was shot when he confronted Pagourtzis. Officer Barnes, 47, was rushed by Life Flight to UTMB where he remains in critical condition.
Related: What we know about the suspect, 17-year-old Dimitrios Pagourtzis
The suspect wanted to commit suicide but instead gave himself up," Governor Greg Abbott said, calling him a coward.
Abbott said investigators found information on the Pagourtzis' cell phone and computer about his plans for a mass shooting.
There were also disturbing hints on his social media pages, including photos with a gun and knife, a "Born to Kill" t-shirt and a coat with a Nazi medallion and other symbols of evil and rebellion.
Brandon Austin, a junior, said Pagourtzis mostly kept to himself at school.
"I never thought he would amount to something this tragic. He stuck to himself, he had a few friends, but never really talked to many people," Austin said. "I had maybe seen him get bullied a few times, but nothing too serious, so for him to do something catastrophic, I just...it's crazy."
Aiden Gomez played football with Pagourtzis.
"He was really quiet," Gomez said. "He was just kind of awkward."
Police say Pagourtzis also planted explosive devices in and around the school, which is located about 30 miles southeast of Houston. They warned there might be other devices out there and Santa Fe residents should stay alert and call 911 if they see anything suspicious.
Explosives found at Santa Fe High School; police warn there could be others
Download the KHOU 11 mobile app for Apple or Android for alerts
Photos: At least 8 killed in shooting at Santa Fe High School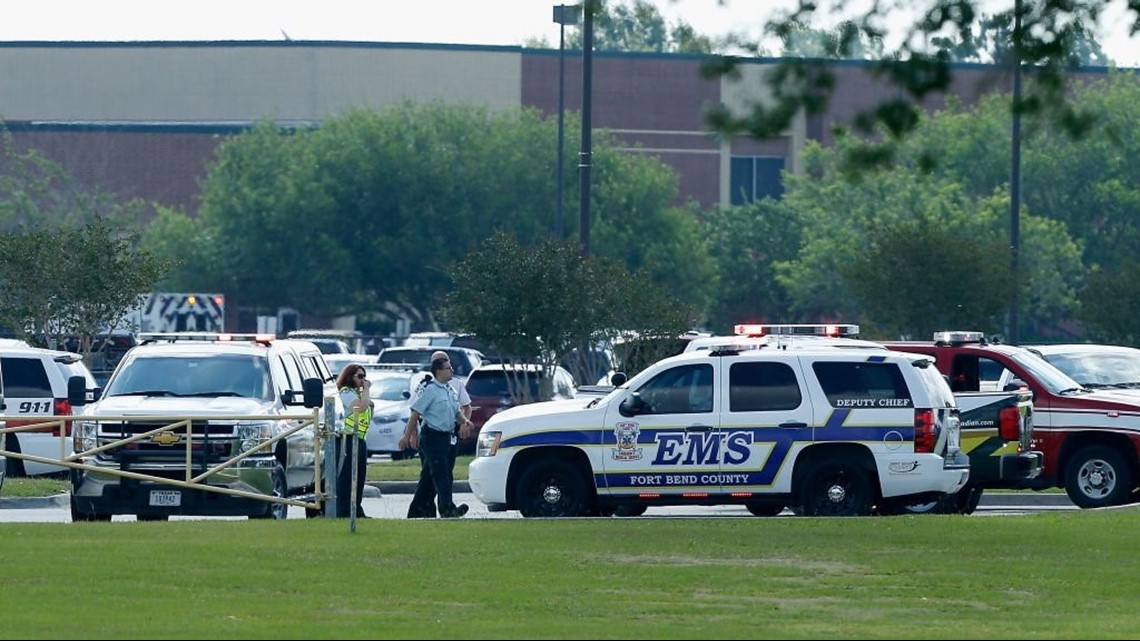 Dozens of federal, state and local officers are at the suspect's house in the 19000 block of Highway 6 to search for more possible explosives and other evidence.
Pagourtzis lives in the house with his parents and used his father's guns in the shooting, Abbott said.
Photos: Community heartbroken by Santa Fe school shooting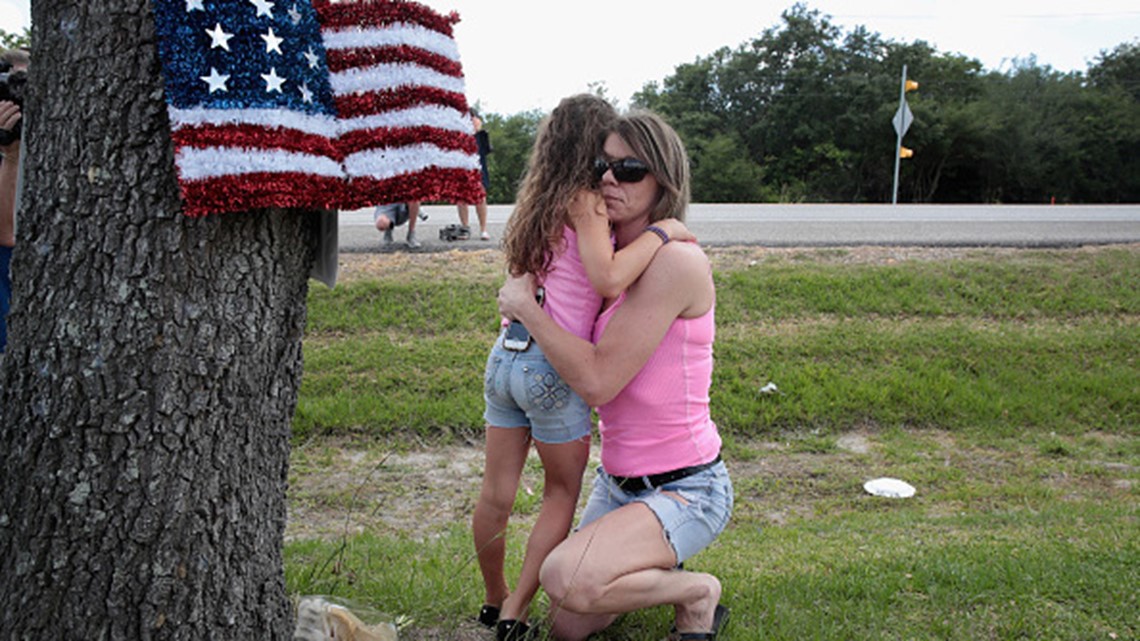 The gunfire was first reported around 7:40 a.m. Friday.
Rome Shubert, a member of the high school baseball team, was shot in the back of the head.
"I didn't feel anything. I was like, 'How did I make it out without getting shot?' I had no idea (I'd been shot)."
Shubert was treated and released.
Zach Lawford was two doors down from the classroom where the shots were fired.
"We clearly heard the first shot and probably 20 more shots," Zach said.
WATCH: Mom says 10th-grade daughter was injured in shooting
He said his substitute teacher ran into the hallway and pulled the fire alarm to alert everyone in the school.
Students say they saw kid with gun, fire alarm pulled
John Robinson, 16, says he was in first period English class when the fire alarm went off.
"Everybody was just trying to get away from the school. They kept saying there was a shooter, people were shot," Robinson says.
'Everybody yelling 'run, go, as fast as you can' | Santa Fe student describes shooting
"One minute we're sitting there doing math problems and then we're being told to run for our lives," Lauren Little said. "There were people crying and screaming everywhere."
Sophomore Dakota Shrader said she didn't realize there was a shooting until she got outside.
"Next thing you know, everybody looks and you hear 'boom, boom, boom, and I just ran as fast as I could to the nearest forest so I can hide and I called my mom," Shrader emotionally explained with her mom by her side Friday morning.
'People were crying and screaming everywhere,' Santa Fe student said
Teachers took many of the students across Highway 6 where they took cover behind a car wash.
They were eventually moved to the Alamo Gym where many were reunited with frantic parents.
But some parents got the devastating news that their child was killed or injured.
"My heart goes out to everyone of those parents. I couldn't even imagine not being able to have my kid home," said one emotional mom whose child wasn't hurt.
Some of the injured victims were taken to UTMB or John Sealy Hospital in Galveston. Others are being treated at Clear Lake Regional Medical Center.
The FBI and Texas DPS Troopers have joined Santa Fe police, along with law enforcement officers from Galveston and Brazoria Counties.
They are questioning two additional students identified as "persons of interest.""
Social media reacts to Santa Fe High School shooting
School shooting in Texas. Early reports not looking good. God bless all!," President Trump tweeted.
Trump said his administration would "do everything in our power" to protect students.
Santa Fe ISD announced Friday evening that all schools in the district will be closed Monday and Tuesday. District officials said students could retrieve their cars between noon and 2 p.m. Saturday, but they must report to the junior high cafeteria where they will then be taken to the high school.
Santa Fe is located at 16000 Highway 6, about 30 miles southeast of Houston.