Squeals of laughter turned to screams of alarm when a 3-year-old boy nearly drowned - turning blue and not breathing. But this story has a happy ending because of two 7-year-olds who were quick to act.
It happened in seconds. Duke's grandmother said she was watching the 3-year-old jump off the diving board with his swim float. The next thing she saw was her 7-year-old grandchildren dragging him out.
For the Pike kids, it's just summer. Seven-year-old Caleigh loves playing ball with her cousin Brantley and her little brother Duke. On Wednesday, they were playing and having fun like they always do. But all that almost changed one week before.
PHOTOS: 7-year-olds save toddler from drowning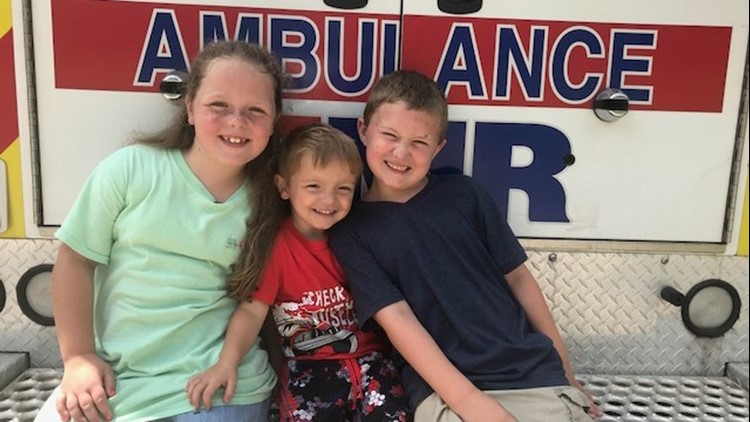 Laughing, the young children made the sounds of the ambulance they heard as it rushed to them and took little Duke away.
They can joke about it now, but Caleigh and Brantley were terrified when Duke slipped under the water. Duke had slipped out of his swim float and didn't come back up. Brantley haled him out of the water while Caleigh kept his head up.
"It was dispatched as a 3-year-old near-drowning, nonresponsive," Melissa Funderburk said. "They told us he was pulled from the pool and he was non-responsive and blue."
She was the first paramedic to respond to the scene.
"It's difficult to get into that mentality," she said. "We have to do our job, regardless of who it is."
But it was made even more emotional this time. It turned out that these young children were related to one of their own.
"It's very special for us knowing that his grandfather is one of our coworkers," she said. "EMS is one big family. His family is our family."
She said that in the hot summer months, parents can't be too careful with their children around water.
"Training pool safety is important, make sure your kids know," Funderburk said. "Make sure there's always an adult there, that they have proper floatation devices and they keep them on."
They rushed Duke to the hospital and,k thankfully, he recovered quickly. Funderburk said that this little boy's survival is thanks to his sister and cousin who didn't hesitate.
"They are the real heroes. They are the ones who did all the work," Funderburk said. "Without them pulling him out, the outcome could have been much different.
Sign up for The Speed Feed newsletter below to get the latest headlines in your inbox each weekday! (App users click here)