ATLANTA — Georgia Department of Transportation officials are sharing the best and worst times to hit the road for the Memorial Day weekend holiday.
To assist with the flow of traffic, GDOT is suspending lane closures starting Friday, but transportation leaders still expect congestion at peak hours.
According to traffic forecasts, the roads will start to get busy Thursday. GDOT is recommending people add an extra 30 to 45 minutes to their travel time to get to their destinations safely.
Here's what GDOT is predicting.
Metro Atlanta interstates:
A boost in congestion on metro Atlanta interstates starting Thursday afternoon
Heavy, worse-than-normal traffic Friday, with congestion starting as early as noon
Expect afternoon congestion on downtown interstates Saturday
Sunday and Monday are predicted to have lighter-than-usual traffic
Normal weekday commute travel times will pick up again Tuesday. Drivers to anticipate a staggered morning rush.
As for surface streets in the metro, heavy traffic is predicted for Wednesday afternoon and is supposed to be the heaviest on Friday. The best time for travel will be Monday.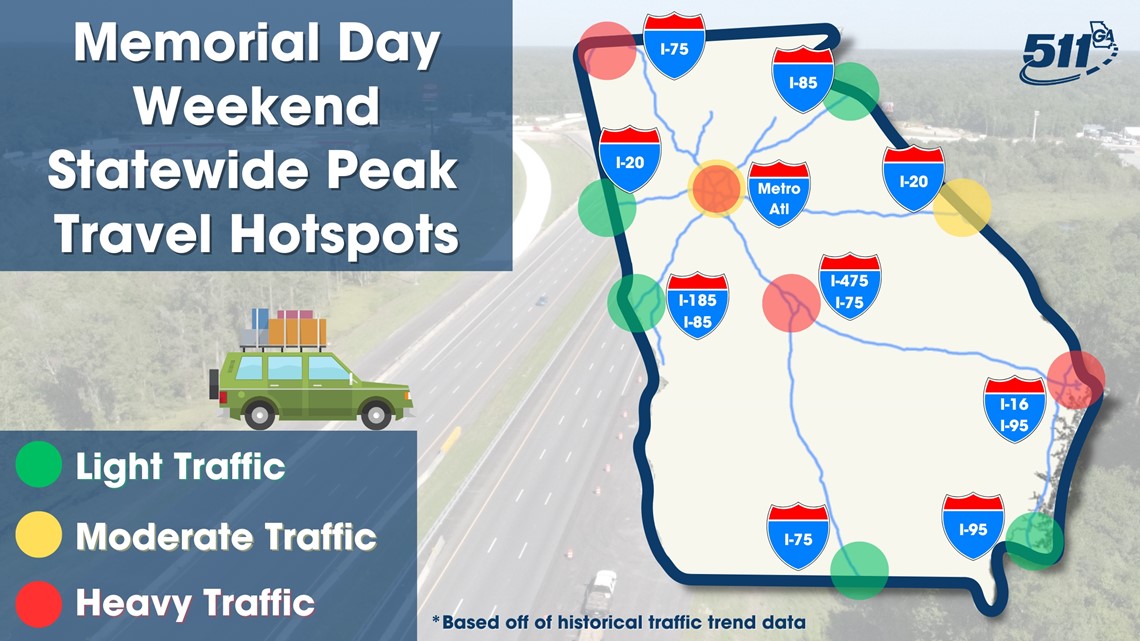 GDOT is reminding people to be vigilant on the roads and to move over for first responders especially if there's an emergency vehicle with flashing lights parked on the shoulder of the highway -- it's the law.
If drivers are stuck in bumper-to-bumper traffic authorities ask that all passengers stay in the vehicle. If there's been an accident, law enforcement offers the same advice, if it's safe to do so, due to the increased traffic on interstates and roads.