ATLANTA — A prominent Atlanta monument in Midtown is dressed in a new display of unity with the people of France after a devastating fire ravaged the famed Notre Dame Cathedral.
The monument, called the Millennium Gate, is focused mostly on Georgia history, but "celebrates the state's ties with the world," according to representatives with the National Monuments Foundation.
As such, the organization said they were moved to stand in solidarity with the French people after the devastating fire at the historic landmark. In a display of unity, they hung a 12-by-18-foot French flag from the monument, erected on 17th Street just steps from Atlantic Station.
"The National Monuments Foundation is dedicated to the preservation of architecture and history, so these events have struck a deep chord in the heart of our foundation," a spokesperson for the organization said.
It was on the evening of April 15 when the first flames appeared from the roof of the historic cathedral in the heart of Paris. Flames quickly engulfed the historic church, collapsing the iconic spire.
Photos: Fire engulfs Notre Dame Cathedral in Paris, France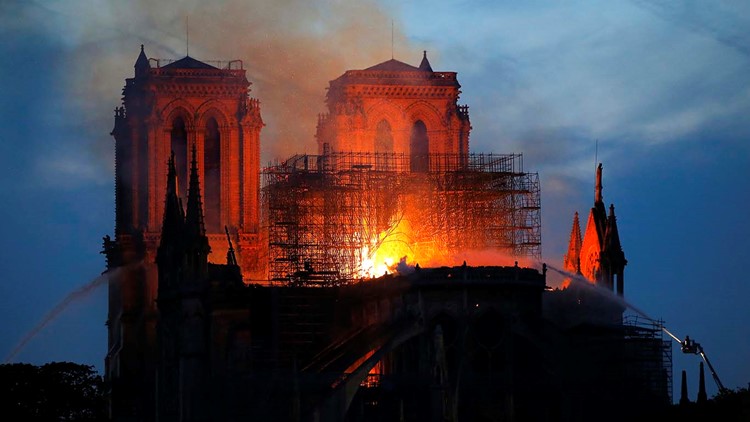 The fire comes as construction crews worked to renovate portions of the Gothic-style church. Firefighters initially feared that they would be unable to save the 14th Century cathedral, however, they were ultimately able to extinguish all the flames. The interior of the church, and its sacred treasures, were largely left unscathed.
The catastrophic fire struck a chord among humanity worldwide, who tweeted their support for the French people. The country's president has vowed to rebuild the historic sanctuary, and people around the globe have stepped up to promise donations to help with the effort.
How long the flag will remain is unclear, but the National Monuments Foundation has promised the "French Tri-Color (will fly) in solidarity with France and grief for what has happened to the greatest monument in France."
This is not the first time the monument has hoisted a flag beneath its arch. It did so with the French flag once before after the Paris terror attacks in November 2015 that left 130 people dead. It has also featured the Japanese flag to mark the 40th year since the opening of the country's consulate in Atlanta, according to the National Monuments Foundation.