DEKALB COUNTY, Ga. — DeKalb County Police said the 1-year-old in the Amber Alert from early Thursday morning has been found.
"Today we received a call from a homeowner, who had been alerted by a passerby that a baby was crying on her porch," said DeKalb County Police Chief M. V. Ramos.
The homeowner noticed the baby matched the description of the child in the Amber Alert. Ramos said when officers arrived on the scene, they were able to confirm it was indeed the same child.
She was found in the 1500 block of Stoneleigh Hill, which is not far from the original scene, according to Ramos.
11Alive's Joe Henke captured a photo of the moment the child was back in her mother's arms.
Ramos said they child seemed fined, but she was taken to the hospital for an examination, to make sure she was OK.
Police later said in a tweet - posted along with a photo of the girl and Chief Ramos in the hospital - that she is expected to be cleared to go home.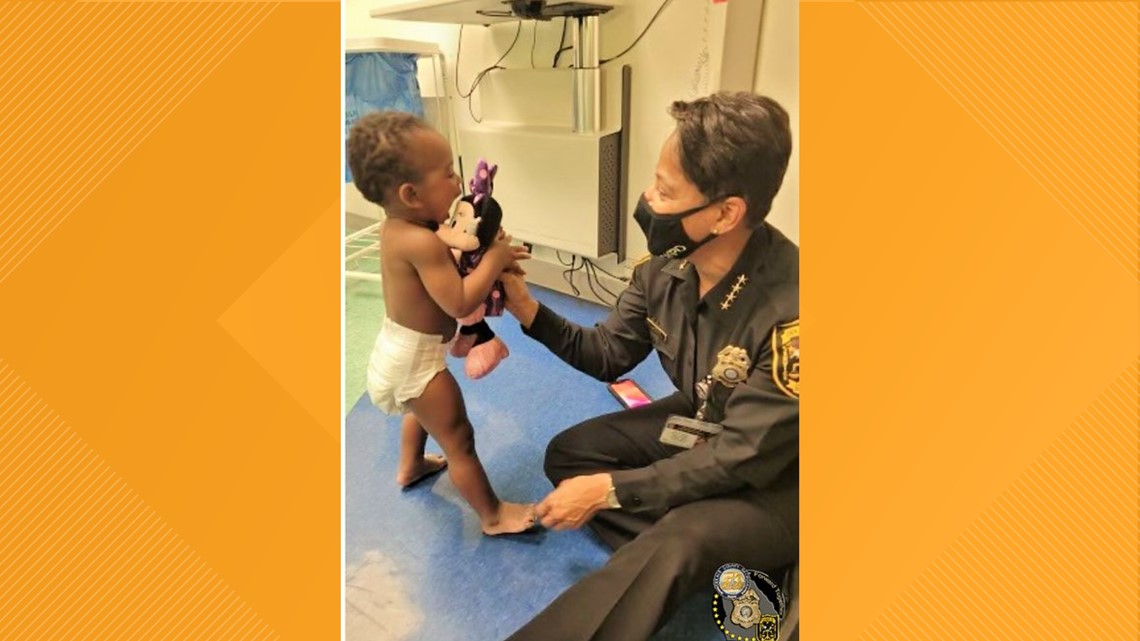 As for the 14-year-old suspect, police said they found him in Atlanta off of Bolton Road, Thursday afternoon.
According to officers, Grisby's mom was working as a DoorDash driver, and was making a food delivery along the 1200 block of Harvest Dale Court in Stone Mountain around 2 a.m., when possibly two suspects stole the car with the 1-year-old in the backseat. Capt. Brian Deloach said the car was still running when the mom got out of the vehicle.
"She attempted to get back to the car and stop the individuals, but they did not stop," he said.
Deloach said they located the car in a nearby neighborhood. Police said the license plate on the car had been changed and the child's car seat was not inside.
According to Ramos, they believe the delivery was a setup, even though they don't believe the teen knew the child was in the car.
"It really touches me in the heart as a mother, just as a parent, just as a human being that a child is out there and we don't know," Ramos said, as they were still searching for Grisby Thursday afternoon.
Though authorities initially believed more than one suspect was involved, for now, the teen was the only person they were looking for in connection with the crime. Ramos said he faces the charges of kidnapping and theft by taking a motor vehicle.