Missing in Georgia: Have you seen us?
There are more than a thousand missing persons in Georgia—all ages, races, genders and backgrounds.
Have you seen any of these missing people?
:
There are more than a thousand missing persons in Georgia—all ages, races, genders and backgrounds.
11Alive is taking a closer look at cases that are still unsolved—these people are still missing and their loved ones are still looking.

Tiffany Whitton
:
Tiffany Whitton, of Marietta, Ga., had her demons and was known to go off the grid for weeks at a time. But when Sept. 19 rolled around every year, no matter the arguments between them, she would always call her mom, Lisa Daniels, to wish her a happy birthday.
She's blown out candles on four birthday cakes, opened countless gifts, fielded a slew of happy phone calls from friends and family, but Daniels has turned one year older for four years without a word from from her eldest.
In fact, no one has heard from Whitton since Sept. 13, 2013.

"Even if we were on the outs, on my birthday, she would always call me. Always. And it didn't matter how bad things were, she would always call me. The fact that she hasn't reached out to anyone... she's either not out there or she is not able to reach out to anyone," Daniels said.
"Have I given up 100 percent of my hope? Absolutely, not. And never will, until there's a positive ID that she's been found."
The last time Daniels talked to her 26-year-old daughter was on Aug. 31, 2013. They were exchanging witty banter-filled text messages over a college football game.
"We're Clemson fans and Clemson was playing Georgia, and she was calling me because she knew I was going to the game. She was excited and she was talking smack. That was a good day. She was happy and I was happy."

A week later, Whitton reached out to her grandmother, Daniels' mother. According to her, Whitton showed up, claiming that she had no food and no clean clothes. Her grandmother took her to the laundromat and met Whitton's boyfriend when she dropped her off with bags of food.
Daniels said that her mother begged Whitton to come home with her, but she refused.
And for the next four years, Daniels' phone has remained silent—no voicemails, no calls, no texts from her daughter. Today, she searches every face she comes across looking for her daughter and mother to her 10-year-old granddaughter.
She clings to hope that new leads will reveal the truth once and for all, and put a fire under this cold missing persons case.
"I pray a lot and I love my family and I'm not going to abandon them. I have a lot of people who love me and care about me. And I think that the last thing that Tiffany would want is, just for me to just give up. If I gave up on life, I'd be giving up on her, so I can't do that."
Whitton is 5'3 tall and 105 lbs., with blonde hair and green eyes. She has several tattoos, including Chinese letters on her lower back and wrist, as well as a butterfly on her right hip.
Anyone who knows anything about her disappearance should call the Cobb County Cold Case Unit or the Marietta Police at (770) 794-2366, or call their tip line at (770) 794-6990; or visit the Facebook page "Find Tiffany Whitton," that Daniels created. She's the next Facebook follower will be that one person who knows the answer to her questions.
"We still believe there is at least one person who either knows where Tiffany is or whether something may have happened to her," her mother said in a recent post. "Not knowing where she is or whether she's alive is agonizing."
Eva Allen
:
"Lord, I don't know where Gwen is, but you know where she is. All I ask you to do, is just keep her safe and remember [daughters] Monica and Nicole—make them strong, so they can endure whatever the outcome is. Amen."
Dorothy Ellington, 76, recites the prayer she says for her "baby" sister's safe return home. The last time she saw her was June 30 after visiting their oldest sister, Pearl. But she would never arrive at her family's reunion on July 6.
Her sister, Eva "Gwen" Allen was last seen leaving her group home, located at 3669 Snapfinger Road, in Lithonia, Ga., just off of Interstate 20, around 1 a.m., on July 4.
According to her family, Eva, the youngest of 16 siblings and originally from Tuskegee, Ala., has bipolar disorder for which she takes medication.
"Wherever she is, she needs her medicine," Ellington said. "I don't know whether they will find her alive or not… because 16 days missing is a long time, and anything could have happened during that period of time."
Her daughter, Debra "Monica" Allen, last saw her on June 29, when she visited her at the group home where her 67-year-old mom has been living for about nine months, after she was found wandering around on a highway last year.

"Her bipolar flared up and she was caught walking along the expressway. The police picked her up, and nobody could go pick her up at that time of the morning, so they carried her to jail. She stayed in jail for three days and then put her in Grady hospital. And when she went to Grady, they told her that she couldn't live by herself anymore," Ellington remembered.
It was a hard decision for her two daughters, but Debra said, with both of them working full-time jobs, they just could not give her the round-the-clock care she needed.
"She needs somebody watching her all day. She needs somebody making sure that she's taking her medicine."
"Ever since I can remember, I knew about her condition with bipolar. She has a manic state where she gets really hyper, not really rational—just do things just spur of the moment," Debra said. "You can't really be prepared for it and it's not manageable. That has happened [to her] throughout my life."
But since the group home is voluntary, she does not have to stay, adn she is not legally remanded there. And when she is in a manic state, Debra said, there's nothing anyone can do.
"If she's set to leave, she's gonna go."

It's a scary thought for her family.
"People don't realize that if the person with bipolar goes into a manic state, they hallucinate; they don't sleep—so, that automatically makes you delusional," Debra said, tears welling up in her eyes.
She explained what her mother's manic episodes have been like in the past.
"You go out. You do whatever you can. You just act irrationally sometimes—just, you don't think through everything. And it's not because they want to harm anyone, or anything like that. It's just that, if they're not on their medication... they can't really control it."
In fact, she said, people have told her that if her mother isn't harming herself or others then there's no urgency behind her disappearance.
"She is harming herself and she is putting herself in danger—or anybody else, if she's not getting the medication that she needs," Debra said about the grandmother of four.
She said that she wants the public to understand that her family and her mother are not alone. And that this heartache can happen to anyone.
"You can be put in the same mental state as her or anybody else. It doesn't take a lot for somebody to have a mental illness," she said, tears rolling down her cheeks faster than she can wipe them away.
"I just want them to know that she really has a big heart and she really is a nice person, and she just needs help right now."

According to the cell phone records, she said, from July 2 up until July 9, someone was dialing 1-2-3, indicating possible confusion—and making her family believe that she is starting to forget things and now doesn't know how to contact them.
"She's never just gone and never been in contact with anyone. She's always contacted a family member or a friend, within a short period of time. We've always known at least where she was or how she was doing, or that she was fine," Debra said.

"It's unusual. Even though she's been in her manic state and she's bipolar… this is not like her."
Right now, the large, tight-knit family is praying.
"I hope for the best, but, I don't know. It seems kind of dreary right now," Ellington said. "All we can do is just pray. Just pray for Gwen [Eva]. It's all we can do."
Eva was last seen wearing a maroon shirt and black pants. She is described as a black female, with black hair and brown eyes. She is 5'2, 120 lbs., with glasses.
Debra wants her mom to know to know that she's not giving up.
"I love you; we love you. We're praying for you. We just want to know that you're safe and please come home."
If you have any information about Eva's whereabouts, call 911, or the DeKalb County Police at (678) 406-6792.
PHOTOS | Searching for Eva

Jenna Van Geldren
:
Jenna Van Geldren's car has been found, but her whereabouts are still unknown, and her family continues to search for her, making pleas via social media.
Her father, Leon Van Gelderen has been diligent on Facebook with updates, photos and requests to the public, in an effort to bring his 25-year-old daughter back home to Druid Hills, Ga., safe and sound, and keep her story alive.
"We need your help if you are a true friend. All information is confidential. Jenna went above and beyond for her friends. She needs your help," he wrote on Jenna's page to her Facebook friends.
Jenna, a Gwinnett Technical College graduate, was last seen on Friday, Aug. 18. She was house sitting for her parents that weekend.
More than two weeks later, on Tuesday, Sept. 5, DeKalb County Police SVU Supervisor, Sgt. Torrey Kennedy said, her car, a blue 2010 Mazda 6 sedan, was found in a parking lot on Defoors Avenue in Atlanta, nearby Interstate 75--and only about seven miles from her parents' house.
Inside her car that was out of gas, yielded zero fingerprints nor clues. Nearby store security camera videos in the area provided police with no further leads.
Kennedy said the police department has been on this case more than any other since the night she vanished.
"It's a difficult case. We struggle with it. I mean, we've been working it. It's just difficult, you know, when someone disappears without a trace, per se… We just haven't had that one, strong lead that leads us to believe that she's less than healthy or the contrary. So we haven't had anything to lead us in any direction."
On the Friday night she went missing, her parents said she was watching their Druid Hills home and watching after their sick cat. According to them, she was supposed to stay for the weekend while they were in Canada.
But when her brother stopped by his parents' house the morning of Saturday, Aug. 19, Jenna's car was gone; there was no signs of a break-in, police said later, but the house was in disarray. While her purse and phone were missing, her phone charger and personal items she always has with her were left behind.
"Things were broken in the house, T.V. was on, the lights were on and my daughter was gone," Leon told 11Alive on Aug. 30.
All activity on her phone, social media and bank accounts halted on Aug. 18, Sgt. Kennedy said
"That's the difficult part of it. Pretty much everything cut off at that time frame," Kennedy said. "We're not sure if she had additional devices, or bank transactions or things of that nature that we don't know about. I guess there was sort of a portion of her life that she liked to keep private."
PHOTOS | Missing woman's car found empty

Leon took to Facebook begging for answers soon after his daughter, who he said has high-functioning autism, went missing.
"Her mother and I are heartbroken," he wrote.
Jenna's mother, Roseanne Glick, also posted on social media.
"This has been the most heartbreaking time of our lives.... We know that someone out there knows more than they are saying... I have seen the good in our world with all the support we've received... I believe that again, good will outweigh the evil and Jenna will be found."
Jenna was driving her mother's red, 2010 Mazda 3 sedan the night before she disappeared. And according to her family someone was in the car with her when she returned to the house—but they don't know who.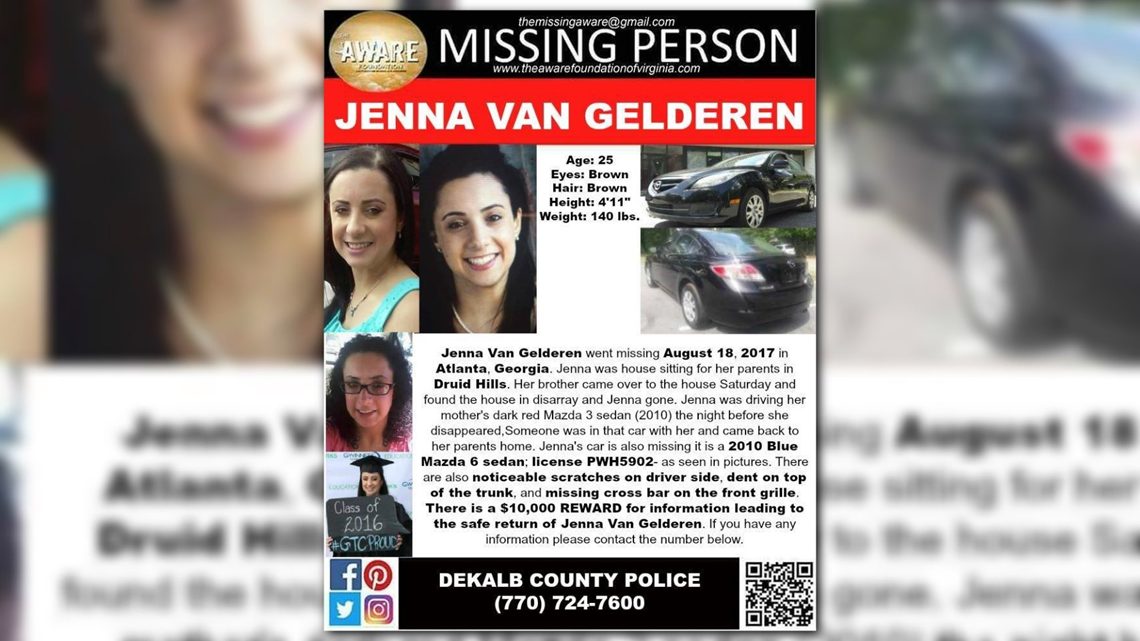 "I walk around in a fog, it's totally a fog," Glick said on Aug. 30. "I start crying during the day and I wake up every day, like I said, just in a fog."
Leon wants the public's help piecing together clues of Jenna's disappearance—especially since, they said, she is on the autism spectrum.
"She's very gullible, susceptible, enticed very easily and she doesn't perceive danger the same way the rest of us do," Leon said.
And that's what has Glick worried.
"Her vulnerability is what I'm most concerned about right now," she said.
Jenna is 4'11", 140 lbs., with long, dark hair and pierced ears.
Kennedy said they have no evidence to confirm if she left on her own, or if she was the victim of foul play.
The family is offering a reward for her safe return.
Carol Evans
:
Carol Evans was last seen last seen at her home on Lower Lovelace Road in West Point, Ga., around 2 p.m. on Friday, Nov. 10, according to the Troup County Sheriff's Office.
After extensively searching for her, police said teams were not able to locate the 75-year-old woman; however, sheriff's officials have not labeled the case as a criminal matter.
Evans suffers from an "altered mental state" and "does have times of confusion as to where she is," according to the sheriff's office.
If you have any information on the case, contact the Troup County Sheriff's Office at (706) 883-1616 or Crime Stoppers at (706) 812-1000.
Justin Gaines
:
Justin Gaines vanished on the early morning of Nov. 2, 2007.
He was an 18-year-old college freshman having a night out at Thirsty Thursday, a huge party at Wild Bills--then a popular night club in Duluth.

If you have any information, you can call the anonymous tip line at (877) 270-9500 or call the Gwinnett County Sheriff's office at (770) 619-6500.
Jessica Noll is a multimedia journalist, who focuses on in-depth, investigative crime/justice reports for 11Alive's digital platforms. Follow her on Twitter @JNJournalist and like her on Facebook to keep up with her latest work. For story ideas, contact her at jnoll@11Alive.com or call, text at (404) 664-3634.