The mother accused of stabbing four of her children and their father to death showed bizarre behavior during her first appearance hearing Friday morning. Her antics became so strange, the judge eventually told her to "stop talking."
As the camera focused on her face, Isabel Martinez showcased a wide smile for the cameras.
Throughout the entire hearing, Martinez smiled, waved her arms, and gave thumbs up. At one point, she knelt down on her knees and spread out her arms, as if to embrace someone in a hug.
Photos | Gwinnett mom charged with killing family makes first appearance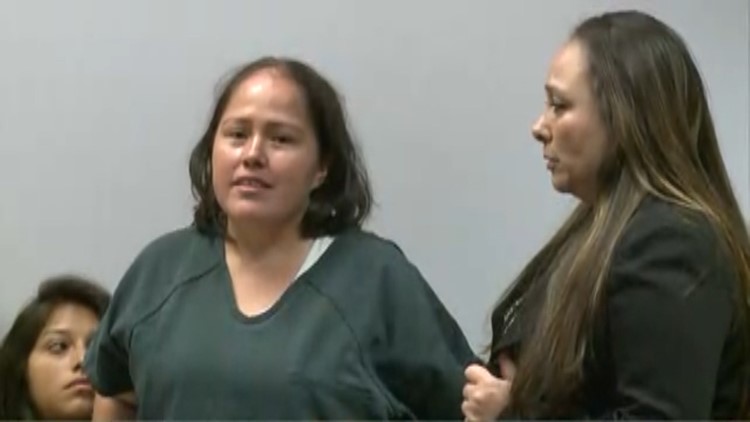 She was charged with six counts of felony aggravated assault and ten counts of murder. When hearing her counts, Martinez shook her head and continued to smile at the camera.
The judged cautioned Martinez to not show out for the cameras.
"Ma'am, I'm going to caution you to cut out the display for the cameras. It's really not a good idea and probably not to your benefit," Judge Michael Thorpe said.
When offered the choice to be appointed an attorney, Martinez said her attorneys are the people and her faith, according to her translator. Judge Thorpe tried to convince her to accept legal help, but repeatedly refused.
"My attorneys are the people. We're fighting for the hope, people will always hope because it is the last thing that dies. Please, you are the hope of the world, each and every one of you. It does not matter what color you are because God loves us all," said Martinez.
"Well, I am going to tell you, I can't force one on you. Alright?" But the judge tried to have Martinez reconsider her decision to not have an attorney representing her, "...and I doubt that you are well equipped to handle that on your own, but that's your decision. I'll make a note that you intend to represent yourself."
She then continued to speak as she made her way out of the room,
"For me, the hope and the attorneys are always going to be the people and my faith. Those are my attorneys, that is why I am here. Nothing else matters, I am representing the people that are humble, hardworking, the people who suffer and those who have a lot of charges so they understand everything is possible with God."
Martinez's preliminary hearing is scheduled for Thursday, July 20.
According to the Gwinnett Co. Public Information Officer, "She is also being held for ICE (US Immigration and Customs Enforcement)".
A spokesperson with the U.S. Immigration and Customs Enforcement Agency (ICE) also confirmed that Martinez "is a Mexican national who illegally entered the United States and is in the country unlawfully. This is her first encounter with ICE so we cannot estimate how long she's been in the country; she crossed the border to an unknown time/location."