ATLANTA -- The 6-month-old baby girl who was grazed by a bullet over the weekend is still wearing her hospital bracelet. 11Alive's Kaitlyn Ross spoke to Amayiah's mom about the scary ordeal.
Someone fired shots at the Forest Cove Apartments on New Town Circle around 9:15 p.m, Sunday. As bullets started raining down, family members say Amayiah's aunt shielded her from the gunfire. The baby was grazed in the back.
"I was panicking because I saw the bullet hole in her pamper, but I didn't see the bullet," Amayiah's mom said. "I was panicking. I started crying."
Investigators found nearly 20 bullet casings at the scene, according to police. Residents say the shooting happened during a party.
"It just happened so quick, I came downstairs and I heard shooting and I don't know what happened, but there was so many gunshots, there were people screaming, children," said witness Octavia Carter.
"I don't know how it got my baby and not my sister because she was holding her," Amayiah's mom said.
But, the more she learned, the more she realized just how fortunate she was.
"They were just telling me I'm lucky because it was an inch away from killing her," she said. "My child could have been shot in the back of the head, the face."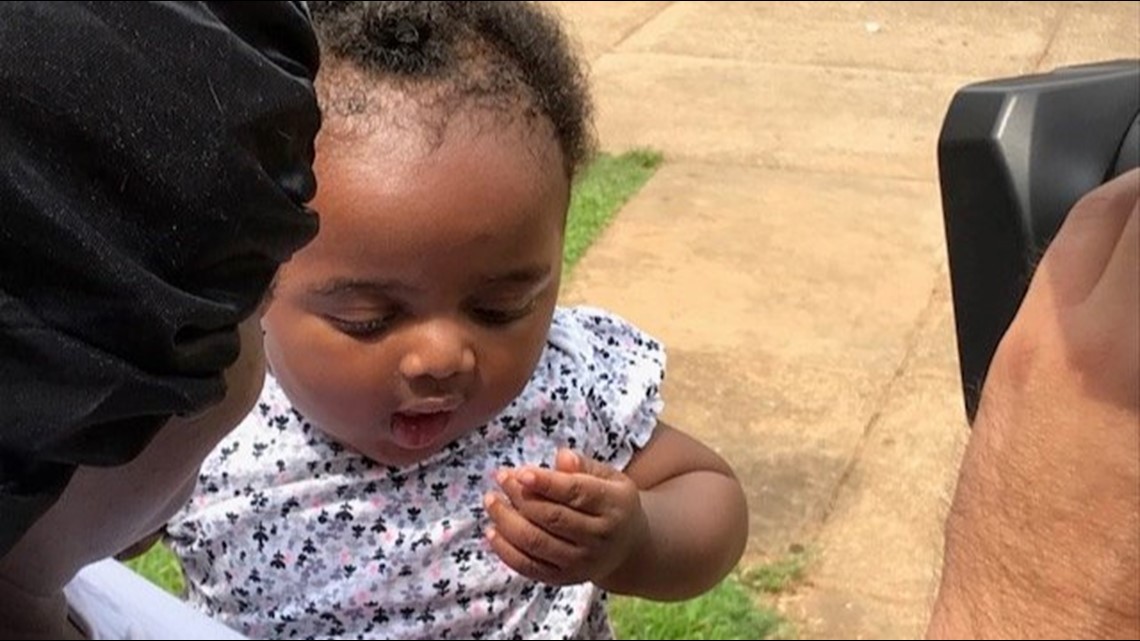 Amayiah's family said they are terrified - and the shooters are still on the loose. Witnesses told police they saw two men in a silver vehicle leaving the scene.
"I want to see if they can transfer me to another community because I don't want to be here," she said. "This is like the third incident in this apartment."
Another woman did get injured in the shooting. Residents said that woman was shielding another child who was not injured. Police said the woman was shot in the leg and was grazed on the arm.
"She didn't run and leave the baby," the victim's sister Otrina Smith said. "She pushed the baby down, so she didn't leave the baby."
Residents said they want change at the apartment complex. Parents who live there plan to hold a rally Wednesday at 11 a.m demanding safer conditions and better security. The fliers for the event said they will march to the office to deliver the demands.
"It's sad when you stay somewhere and you can't take your kids outside and play," Carter said.
Police said the shooting appeared to be a random incident but they are still investigating.