GWINNETT COUNTY, Ga. -- A mother accused of stabbing her husband and four of their children to death was scheduled to appear in court Monday morning - but stayed for mere minutes.
Opting not to hear the charges against her read aloud, Isabel Martinez entered a not-guilty plea to every charge by way of an attorney.
Authorities said Isabel Martinez stabbed her husband, 33-year-old Martin Romero, and four of her children -- 2-year-old Axel Romero, 4-year-old Dillan Romero, 7-year-old Dacota Romero and 10-year-old Isabela Martinez -- early on July 6. A fifth child, 9-year-old Diana Romero, survived the attack.
Photos | Gwinnett mom charged with killing family makes first appearance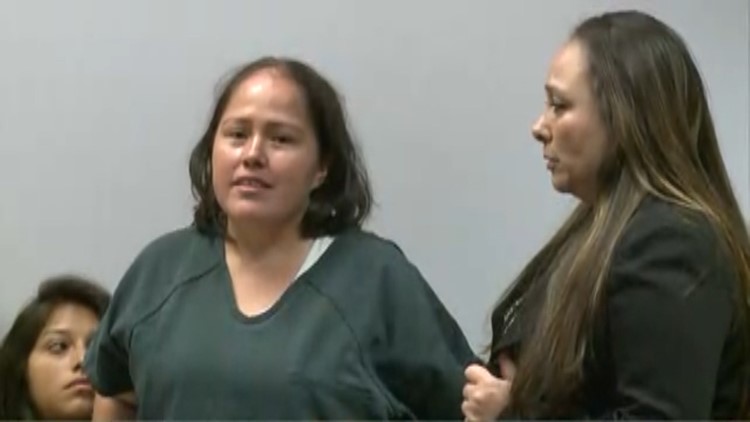 Martinez told investigators that she felt a "devil-like spirit" while on a family trip, days before the attack.
In an interview included in newly-released Division of Family and Children's Services documents, Isabel Martinez denied killing her family.
In the interview, which was conducted on July 10, Martinez said she come to the U.S. 12 years ago, and that she always lived in Georgia. She said that she had some relatives in Illinois, and others in Mexico.
Martinez said she was innocent, and that she had documents at home that would tell investigators what happened. She said that she called 911 when she realized what had occurred and that "things had happened so fast."
Days before the murders, the family took a beach trip to Savannah, Martinez said. While there, she said she asked her husband to bring her back home because she felt a "devil-like spirit in Savannah" and she didn't want to be there.
She said that while they were at the beach, the waves attempted to take her and her children away and she "just wanted to save them." She said she couldn't explain the spirit, but said she was very frustrated.
Martinez said that she and her husband didn't have any arguments during the trip, and "everything was normal" when they got back home.
On the morning of July 6, Martinez claimed a friend of her husband's came into the home and committed the murders. She said the friend used a black knife that she had never seen before, but said it was from their home. She said there should be evidence in the home that the friend had been there.
Martinez claimed the family friend had "full access" to their home, but said she was unaware how he got inside. She said he managed to get out before police arrived.
She said the friend took advantage of her because he knew Martinez was "going through things with her father." Neighbors previously said that Martinez's father had died weeks before the murder.
Martinez would not give the family friend's name. She said she was still analyzing things and that, "The truth will come to light."
In her first court appearance, which held days before the interview described above, Martinez flashed a wide smile for the cameras in the courtroom. She gave a thumbs up and waved her arms. The judge warned her not to put on a show for the cameras.
PHOTOS | Stabbing leaves several children, one man dead in Loganville