FORSYTH COUNTY, Ga. — Desperate 911 calls for help over the weekend show just how massive a fatal fire in a Forsyth County was - and foreshadowed how tragic it would be.
It was around 2:40 a.m. Saturday when dispatchers got the first calls to report a house fire near Apple Valley Court in the Lanier Heights subdivision. One caller described the ominous sight, visible from the lanes of Ga. 400.
"There seems to be a massive fire over there," one caller described. "There's a huge plume of smoke and you can see flames from the road.
"I thought I was seeing stuff, but the closer I got the bigger the plume got," he added.
Deputies were the first to get to the scene - but by that time, multiple neighbors had dialed 911.
"It's a cloud of fire," one caller, who lives up the street, reported. "I can see orange."
"I hear something knocking, and crying. I want to go outside to help, but I don't know if I can help," she told the dispatcher, imploring for help to get there quickly.
(Story continues below gallery)
Two young children killed in Forsyth Co. house fire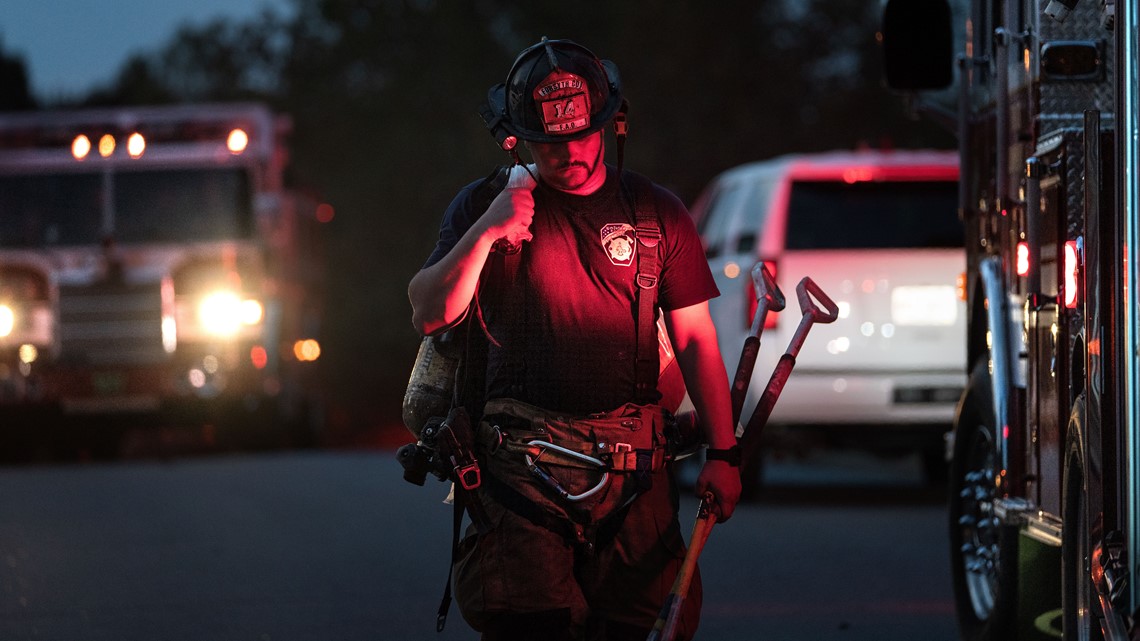 But it was the call from a neighbor across the street that let first responders know something tragic awaited.
"My neighbor's house across the street is completely engulfed in flames!" the caller said panicked.
The dispatcher asked if there was anybody in the home who was able to get out, but hysterical sobs can be heard in the background.
"The mother was out. She said there are kids inside," the caller said, with a layer of heaviness in his voice.
"There's kids inside?" the dispatcher repeats.
"Yes. Possibly," he replies.
RELATED: Children killed in Cumming house fire identified

"How many kids, and where would they possibly be?" the dispatcher presses.
"Upstairs," the caller said.
"How many kids?" the dispatcher follows up.
"I- I-. Maybe, two," he answers.
"The house is beyond completely engulfed," he adds after a pause.
When firefighters were finally able to get inside the home, they made the heartbreaking discovery - the bodies of two children, 9-year-old Laura "Morgan" Noe and 12-year-old Shaun Noe. No one else was hurt.
According to Forsyth County Schools, Laura Noe (identified as Morgan by the school system) was a 4th grade student at Cumming Elementary while Shaun Noe, Jr. attended Otwell Middle School and was in the 6th grade.
RELATED: Family mourns as firefighters grapple with discovery of children's bodies in burned home
Forsyth County Division Chief Jason Stover said their investigators and state fire marshals are combing through the rubble of what's left of the home to look for exactly what sparked the fire. So far, though, they've found nothing nefarious about it.
"Based on the investigation, thus far, there's no indication of foul play," Stover said.
But even with suspicious activity ruled out as a cause, Stover added that losses like these never get easier.
"No matter how many times or years you've been doing it, it's still difficult," he said.
A Forsyth County Schools spokesperson said that additional counselors, social workers and psychologists will be at the schools this week. Meanwhile, a GoFundMe account has been created to help raise funds for the funeral expenses. Click here for information on how to donate.
Follow MyCummingNews for more news on Cumming.
MORE NEWS
Mother flags down police after baby caught in Southwest Atlanta crossfire
Marietta City Schools to provide free childcare for staff
Reward for information in shooting of 12-year-old following football game increased to $10K