"This will be the 37th year that it's been put on, and it's just evolved," Sharona Sandberg, the show's coordinator, said. "We've calculated approximately 10,000 people will be here Saturday and Sunday, and that's just the shoppers. That's not including the crafters. We literally fill up our parking lots. We've had to run shuttles from here to the neighborhood parking lots."
She says the event, which is always held the weekend before Thanksgiving, was initially setup outside the high school. Eventually, though, the operation was moved indoors.
"They definitely take over the school," Sara Griffin, the school principal, said. "It's most of the floor here and the gym and the cafeteria. They use up our entire building to make sure it's the best experience for our crafters and our visitors."
A total of 230 craft booths will be setup in every corner of the school, and everything being sold has to be handmade.
"We have a craft show selection committee, and we look through all the pictures in your application," Sandberg said. "What we try to find are original crafts and people that do something out of the norm. We try to get a lot of variation here and not have a lot of the same thing."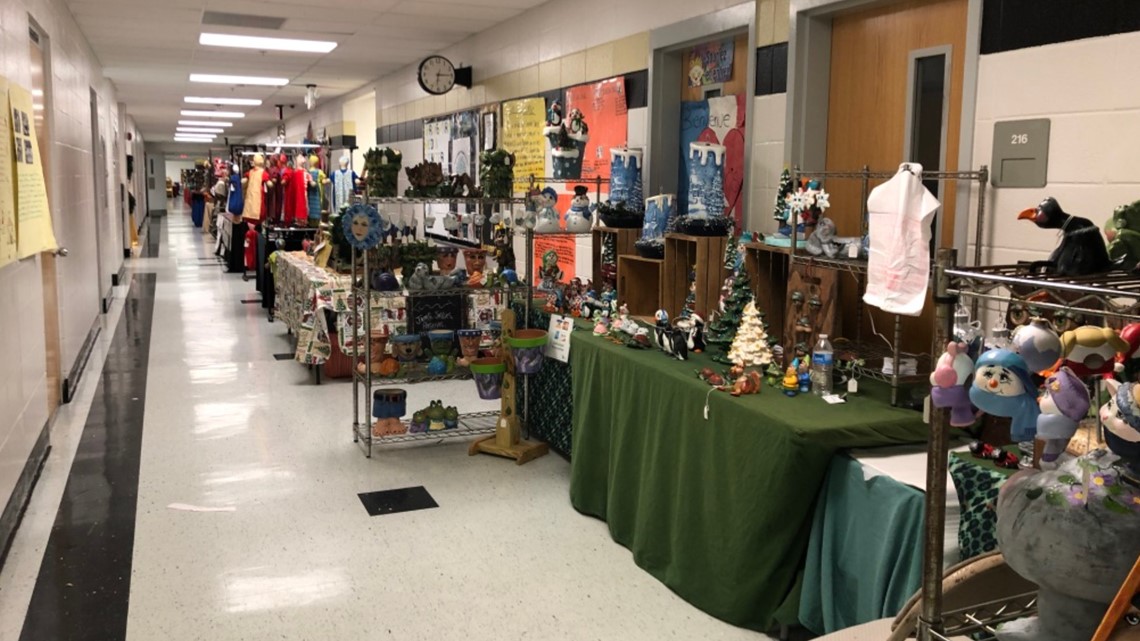 The event has become so popular, Sandberg says many vendors pay the booth fee a year in advance.
"They don't want to risk losing their spot, so my craft show for 2020 will be halfway full on Sunday of this show," she said. "We only have about 20 available to offer to new Crafters each year, and we have close to 200 people apply for those 20 spots. So it's highly competitive to get in."
Sandberg says the vendors pay a flat fee for a booth, then they get to keep 100 percent of their sales.
"The only way we make money is selling the booth space," she said. "We rent them the booth space for the day and that's the money we keep. Other than that, we will make money off a raffle. Each crafter is required to donate an item worth $25 or more to our raffle."
The money raised goes back into the PTSA and eventually benefits the students.
"I think that's the most important part of the craft show, that it's a way for our students to earn scholarship money," Griffin said. "They gave something around $20,000 in scholarships last year to our students, and it's a wonderful program for our kids. This event will really allow some of our kids who could not afford to go to college, to have that first step in paying for the experience."
The craft show will be open to the public from 9 a.m. to 5 p.m. on Saturday, November 23 and 10 a.m. to 4 p.m. on Sunday, November 24 at Sprayberry High School.
Want more East Cobb news? Follow us on Facebook.