HAPEVILLE, Ga. — Scott Allen loves Halloween. Loves it. So much so in fact that in spite of never doing one in the six years he's lived in Hapeville, he has decided to throw haunted yard event on his property for Halloween and two days leading up to it. When it came to a theme for his haunted yard, the answer was simple, that tried and true Halloween horror icon, Michael Myers.
"Literally you should see the inside of my house right now, it's not mine. It belongs to Halloween," laments Allen as he stands in his front yard, proudly wearing one of his customized 'Halloween in Hapeville' t-shirts.
Next thing he knows, he's buying mannequins, fog machines, pumpkins and the pièce de résistance, a custom 30-square-foot yard banner. This is when Allen meets an unexpected adversary, a Halloween Humbug.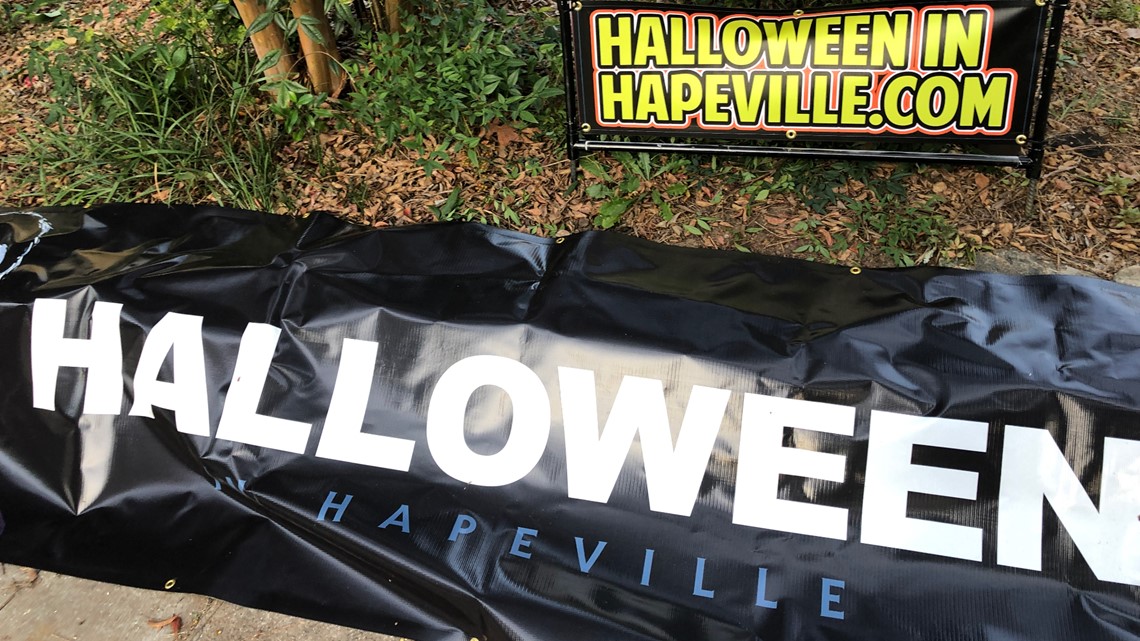 While his Halloween sign sat in his yard for over two weeks without incident, it was shortly after the sign started catching attention on Facebook that things changed. Within a few days of the posting, Allen received a notice from the city on his front door informing him that he needed a permit to display his yard banner. However, upon applying for the permit, he was told by a city official that according to a city ordinance, he wasn't allowed to have the sign at all.
"I was ready to call it quits. Return everything I could to get money back. Cut my losses and just be miserable on Halloween," Allen tells My East Point News,
"But because I saw how many people in the community support it and want me to do it. I'm going to continue and push forward."
To date, Allen has spent an estimated $2,000 on the 3-day event with a shopping list that includes 11 mannequins, 3 animatronics, 6 fog machines, customized t-shirts, a 30 sq ft yard banner and 3 sq ft banner, and of course, so so many pumpkins. Halloween in Hapeville will be taking place on October 29 - 31 from 6 pm to 9 pm at 3026 Dogwood Dr. in Hapeville.
Want more Tri-Cities news? Like us on Facebook.