LAWRENCEVILLE, Ga. — Lawrenceville joins a small of list of cities rewriting their guidelines to open-container drinking laws.
Visitors and residents can now freely walk around the downtown area with a beer, wine or liquor beverage, in-hand.
However, there are a few rules to remember when doing so, to remain compliant with all local laws:
Drinks must be in clear plastic cups of 16 oz. or less.
Drinks must be purchased from a licensed establishment in Downtown Lawrenceville.
Open container only permitted on sidewalks and walkable areas of the Downtown District (Depot Area, Square & Lawrenceville Lawn)
Drinking and driving, as well as an open container inside any vehicle, is prohibited at all times, so please drink responsibly.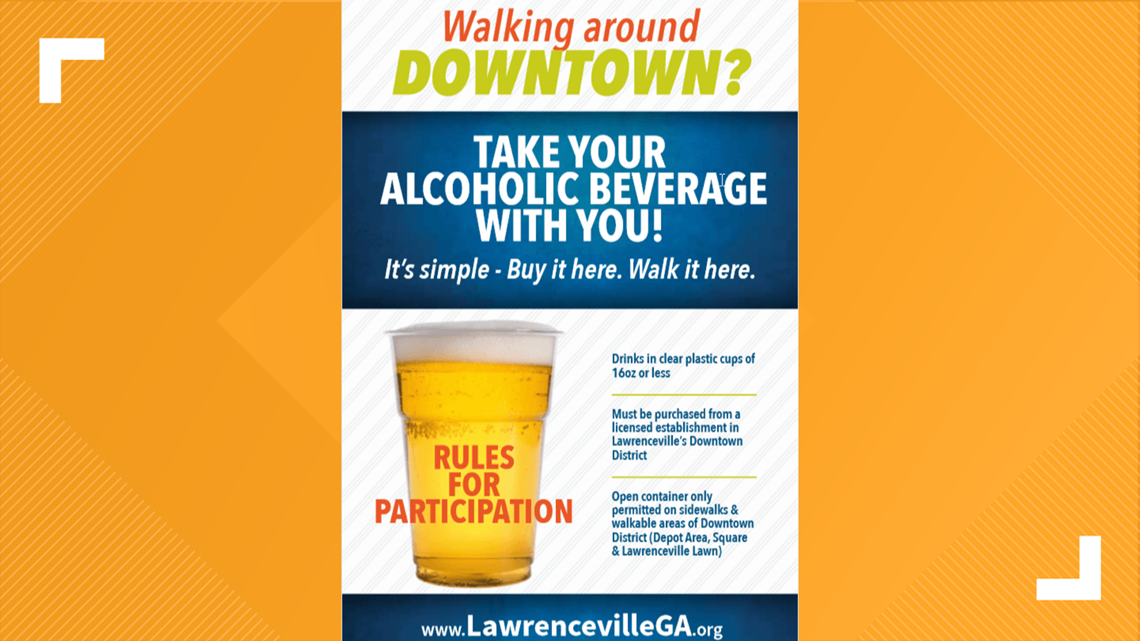 Lisa Sherman, the chief communication officer for Lawrenceville, says the city wanted to enhance the downtown experience.
"We have a lot to offer downtown, and we want everyone to come visit," she said. "Now visitors can enjoy dinner, take their drink to go and enjoy a show at the Aurora Theatre or do some shopping while enjoying a drink of their choice."
Sherman says that the ordinance is in its soft opening right now, but that the city plans to unveil more marketing information soon.
Want more Lawrenceville news? Like us on Facebook.