One tenant Tyana Rutledge, at the Oaks at New Hope Apartment Complex in Lawrenceville, said days before Christmas freezing temperatures caused the pipes to burst in an apartment near her own.
"I feel like my back is against the wall. Honestly... the leak happened on Christmas Eve initially, and I literally have not been sleeping," Rutledge said.
Since then, Rutledge said she has struggled to have the repairs in her apartment taken care of. She shared photos and videos – showing water dripping from the ceiling. Some of the water, she said dripped onto her bed.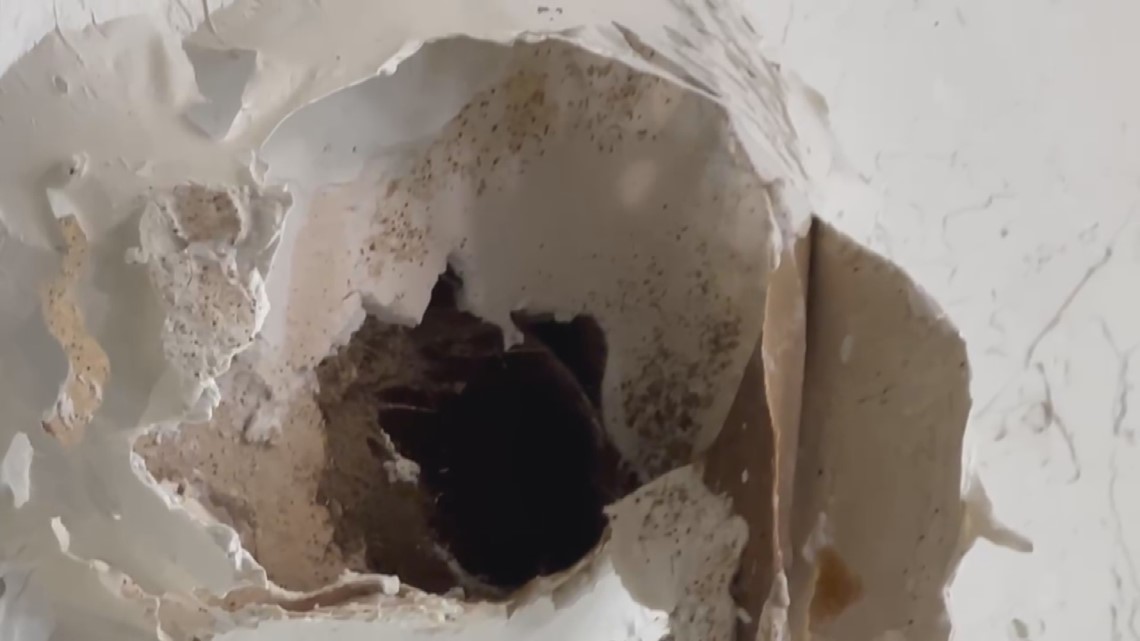 Rutledge said she did not have the means to move somewhere else.
"Like, what are we going to do? We don't, we don't have the means to do so," she said.
A spokesperson for the apartment complex sent the following statement to 11Alive:
I have spoken to both the community manager as well as to the regional manager overseeing Oaks of New Hope.
This resident did have a leak in her apartment over the Christmas holidays. She was not transferred to a new apartment because repairs were underway and her unit was stable.
All repairs in her unit have been completed except for the replacement of the carpet pad, which is expected to be completed today and texturing of the ceiling, which should be finished within 24 to 48-hours. This is dependent on the resident allowing workers into her unit to do so, which has been difficult.
There was another leak above the resident's unit this morning where the pipe seal leaked and those repairs have been made. There was a little water along the wall area but the resident's carpet was not wet and no wet vac was needed in her unit.
We also want you to know that the resident also informed property management staff that she would be moving out. At no time did property management staff say she could vacate the premises if she was not happy.
Oaks of New Hope management and Dominium take these issues very seriously and have worked diligently to make repairs in a timely manner.
Rutledge was able to come to an agreement with her complex, but there are options for others who do not have that option.
Mara Block with Legal Aid Atlanta said renters have options when it comes to repairs.
"Under Georgia law, the landlord is required to maintain the premises of the unit in habitable conditions," she said.
If you have questions about what is considered habitable, Block said to contact a local code enforcement office.
"Code enforcement can often force the landlord to make the necessary repairs...They can issue tickets, they can issue fines. They can take a landlord to court," Block added.
Block said to document everything, so you have records in the event you have to go to court, but renters should keep paying even if repairs have not been made.
"The tenant still has a duty to pay their rent. Now what the tenant can do to remedy that situation in the future is ask for, you know, potentially take the landlord to court and sue them for what we call diminishment of value," Block said.