GWINNETT COUNTY, Ga. -- First responders used every technique at their disposal to rescue several children and one adult from a 10-foot fall into dangerous rapids on Saturday.
Just before 5 p.m., Gwinnett Fire responded to the 911 call of a frantic woman at Freemans Mill Park who said many children were stranded on the Alcovy River.
When firefighters arrived, they learned that 10 children and an adult were in a dangerous predicament - some stuck on rocks in the middle of the rushing rapids. Gwinnett Fire spokesperson Tommy Rutledge said rain had caused the river to swell.
The result was a situation where a misstep could be potentially deadly. Crews immediately rescued one child who was about to go over the falls into the swift waters below by tethering themselves to solid ground and going in.
Daring rescue unfolds on Alcovy River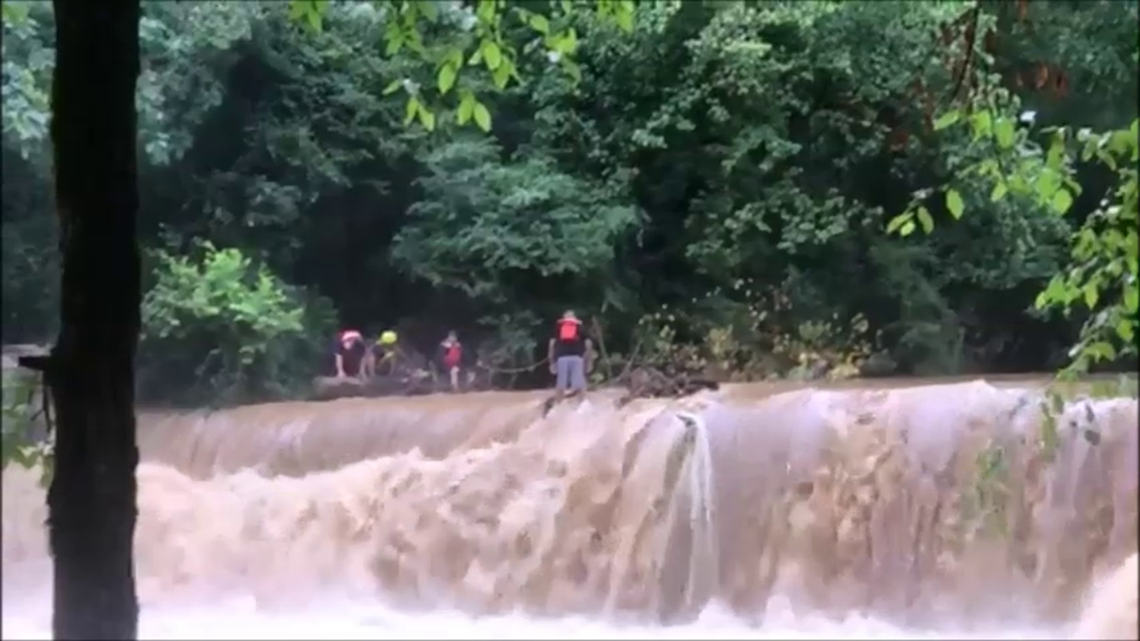 More children stranded on rocks in the middle of the river were soon rescued as well using rope rescue bags to get them to safety points down-river where they were removed.
Others still stranded got lifejackets from firefighters as they awaited their chance to escape the perilous situation. Soon they did.
But the rescue operation wasn't over just yet. A father and son at the top of the falls were still in danger of falling in and being swept away. Luckily a swift water rescue team got to them before that happened.
In all, officials said the rescue took about an hour with some taken to the hospital for evaluation - though none showed obvious signs of injury.
Rutledge said the group was believed to be part of a large multi-family picnic that was taking place at the bottom of the trail near a watermill. He added that there were signs warning the public not to enter the water.
MORE NEWS
ICE agents arrest, detain Cornelius mom
Kelley O'Hara scoops up dropped American flag, wins over the internet with post-game kiss, locker room celebration
Search for Andreen McDonald officially over
Family says 21-year-old son died rationing insulin
'It hurt': 7-year-old details spankings, belt use at trial of 2-year-old sister's alleged murder by foster parents