HALL COUNTY, Ga. – Law enforcement across Hall County underwent training this week to find at-risk people in a matter of minutes, using a simple piece of technology.
Watch-sized trackers, developed by a non-profit called Project Lifesaver, come with a unique tracking number held by the caregiver. It helps track people living with dementia or autism, along with other at-risk individuals who tend to wander off, through a GPS system.
Hall County Sheriff's deputies, along with Flowery Branch and Gainesville Police officers, received training to track the devices with police radio frequency receivers.
"If they go missing, [a caregiver] dials 911 and gives them the [tracking] number, and that number is automatically sent to law enforcement to help find them," explained Sherrill Day with the Pilot Club of Gainesville. Her organization purchases the $300 trackers for Hall County residents. "If we can get the word out, hopefully we will gain more people. I'd like to see us have as many people as we possible can."
Trackers to find at-risk patients now available in Hall County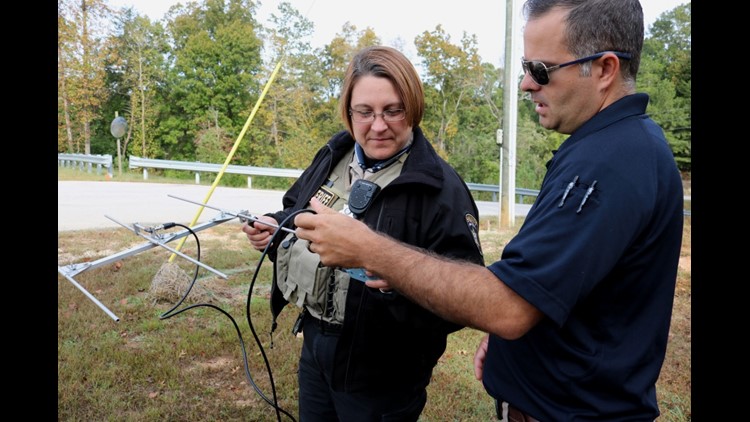 Right now, only a handful of people in Hall County are wearing the devices.
Derreck Booth with the Hall County Sheriff's Office said deputies got excited about the technology when they located the transmitters in 15 to 30 minutes every time.
"Time-wise, it is huge, with somebody, say, out in the woods," Booth said. "We are approaching cold season. You know, time is crucial in getting people found and located and this can save lives."
A dozen Hall County deputies learned how to use the devices this week, and two of those officers will train the rest of the agency.
Booth said he hopes more families apply for the trackers, to end future missing person searches in a matter of minutes – instead of hours.
"Messaging is key, to get it out to folks and have them feel comfortable contacting Pilot Club to get the device," Booth said.
Recently, the device helped find a missing person with autism in Savannah. According to Project Lifesaver, the person was found within 38 minutes with the device.
If the demand to receive a tracker through the Pilot Club of Gainesville increases, the club said they will begin to ramp up fundraising.