ATLANTA — A young man, 22-year-old Nygil Cullins, was shot and killed by Atlanta Police on Wednesday in an incident his parents have characterized as a mental health crisis.
It unfolded at the Fogo de Chão restaurant in Buckhead, with APD saying officers fired at Cullins after he shot a security guard who had tried to tackle him inside the restaurant.
What we know about the police shooting at Fogo de Chão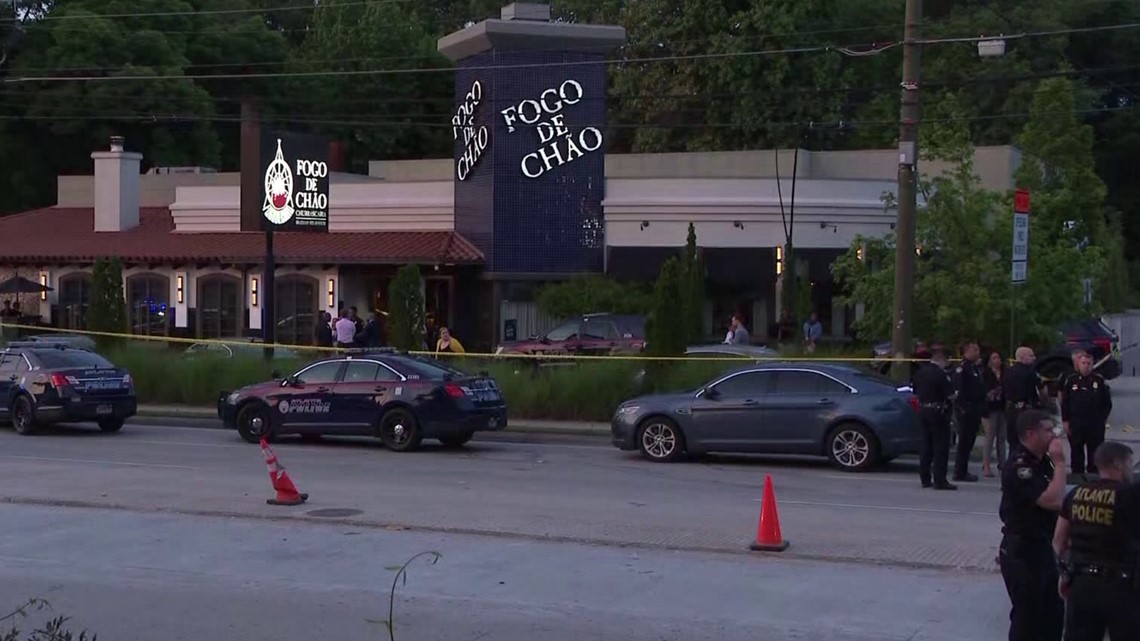 Cullins' parents said it was preceded by a mental health episode: They spoke to reporters Wednesday night and his mother Mya said she had gone to his apartment and felt he "wasn't well." Her and his father Quinten had called police prior to him going to the restaurant, but said they didn't come to the apartment until two hours after their call. His mother said that if police had responded sooner "my son would've still been here. I would've rather him been in the psychiatric hospital than outside in a body bag," she said.
She said she was trying to get him to a behavioral health center: She said she even called Riverwood Behavioral Health Center ahead of time to make sure they had a bed available, and told 911 dispatchers she would follow police there and fill out the paperwork when they arrived. She said "all you have to do is transport him."
His mother feared he might get killed by police: She said on the 911 call, "I explained to them in great detail, my biggest fear when I got on the phone with them, I said 'He's an African American male. Please make sure whoever shows up is trained and knowledgeable so when they deal with my son, I don't have to worry about my son being killed.'"
He went from his apartment to the restaurant: A woman who identified herself as a friend of Cullins and a former employee at Fogo de Chão said he had also once worked there. The restaurant is located at 3101 Piedmont Rd. NE in Buckhead. His mother said it was only about 30-45 minutes after he left that the news broke.
Police were called by someone at the restaurant: They responded to a 911 call about an "unruly patron" who had a gun. It has not been detailed what was going on or what might have been "unruly" behavior that led to the call. The former employee who spoke to 11Alive mentioned she heard about "a confrontation" but added, "with who I don't know."
Police said they initially tried to escort him out: APD Deputy Chief Charles Hampton said officers were able to "isolate" Cullins at the front of the restaurant after initially encountering him in the bar area, further back, and proceeded to attempt to bring him outside.
An officer used his Taser: It's not clear if there was a struggle or why, otherwise, the officer deployed the Taser. Deputy Chief Hampton said it had a "negative effect." Hampton described how Cullins was "then able to get up on his feet" - it's not clear how he got to the ground, whether by falling because of the Taser or in some kind of struggle - and "tried to exit the business." Hampton did not describe in detail the events in the brief moments the incident occurred, saying "officers attempted to try to detain and escort him out but they were unsuccessful in doing so."
The security guard then stepped in: According to police, the security guard at the entrance "was able to tackle the subject."
Police say at that point, Cullins shot the security guard: They said that while being tackled, he was "able to retrieve his weapon and fire one shot into the security guard."
An officer then fired at Cullins: Police did not say how many times the officer shot or where the 22-year-old was hit, only that the officer "did deploy his firearm, fatally injuring the subject."
The security guard survived: Police did not detail his injuries. He was taken to a hospital, they said, and was in stable condition as of Wednesday night.
No one else appears to have been injured: Though the restaurant was crowded at the time, according to police, only Cullins and the security guard were injured.