ATLANTA — Editor's note: The information in the article has been updated to reflect the accurate totals.
UPDATE | Thanks to your donations, we surpassed our original goal of collecting 200,000 cans throughout metro Atlanta to help others in need. We have successfully collected over 297,603 cans and just over $22,000 in donations on Friday. You can still contribute by submitting monetary donations online here.
Can-A-Thon is a canned food collection drive. Partnering with Publix and The Salvation Army, 11Alive raises food for families in need every holiday season.
8 a.m. | The event kicked off with a $10,000 donation from Dunkin'. Check it out:
10 a.m. | Primrose School CEO talks about the importance of teaching their students about giving back to the community and becoming better citizens. This is what she said:
10:30 a.m. | We just got a huge donation from the students at North Gwinnett High School. Student Government Association President Kaylee Bryant explains why they wanted to be a part of the tradition once again:
10:45 a.m. | Our phone banks are open! If you are unable to drop off canned goods and want to make a small (or large) monetary donation, give us a call at 404-885-7611 from 11 a.m. to 1 p.m. or from 5 p.m. to 7 p.m.
11 a.m. | We are so close! As of our last count at 11 a.m., we have collected 171,864 cans and just under $18,000 in donations! Keep them coming.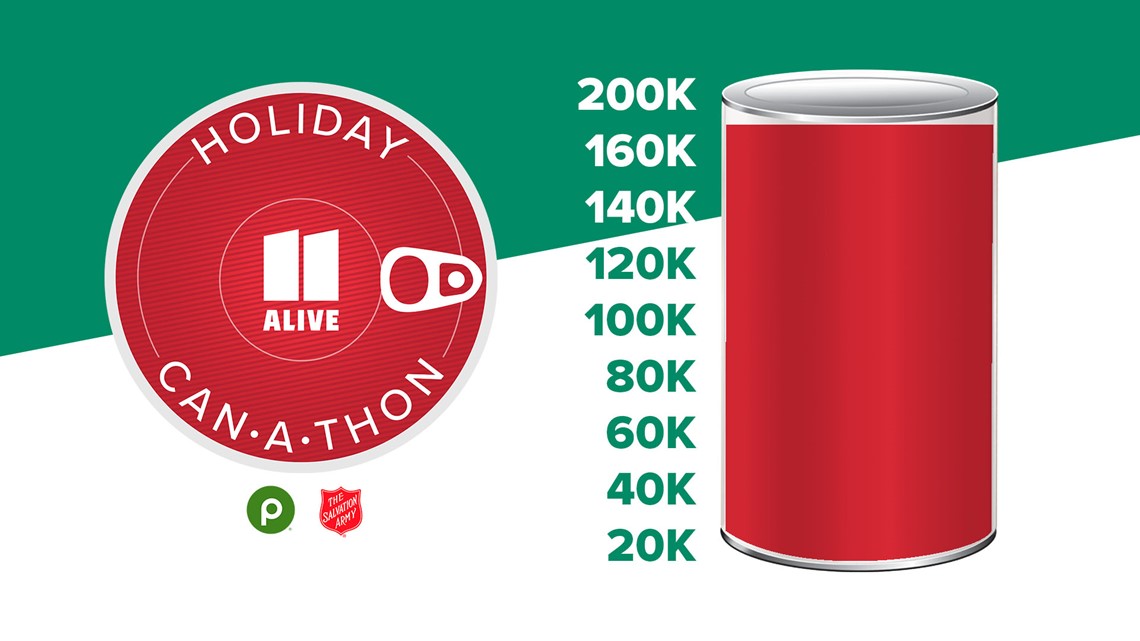 11:10 a.m. | Salvation Army Major Bob Parker sat down with 11Alive to discuss what makes donating this year so important.
11:20 a.m. | Salvation Army Captain Paul Ryerson told 11Alive that Can-A-Thon donors are helping stock all 13 food pantries. He said all the food is brought to a massive warehouse and items are pulled throughout the year, as needed.
11:30 a.m. | Publix's community relations manager Brenda Reid shares why they love partnering with 11Alive each year. How do we get all the food to The Salvation Army? Publix donates trucks and crews to help us!
11:40 a.m. | The Bells Ferry Elementary School chorus has decided to offer a jolly performance to keep Can-A-Thon donors in the Christmas spirit during our donation drive.
12:00 p.m. | Feldwood Elementary School drove all the way up from College Park to the Salvation Army on North Druid Hills to unload seven cars with cans. North Atlanta High School students are volunteering their time to gather cans for the Can-A-Thon.
12:17 p.m. | Salvation Army Captain Paul Ryerson told 11Alive we have collected over 222,000 cans in metro Atlanta, surpassing our goal of 200,000 cans. A new goal of 300,000 cans has been set!
12:21 p.m. | 11Alive's Chris Holcomb delivers a truckload of cans from the newsroom in the ThunderTruck to the Salvation Army off of Sugarloaf Parkway in Lawrenceville.
1:12 p.m. | Four-time Can-A-Thon volunteer and member of Alpha Kappa Alpha Sorority, Inc. joins the event once again, this time bringing her daughter-in-law along with her. They said this is their way of giving back.
1:23 p.m. | Greater Atlanta Christian School pulled up with multiple truckloads of food, a total of 34,000 cans.
2:10 p.m. | People from around metro Atlanta are coming to drop off locations in droves to donate and help others in need.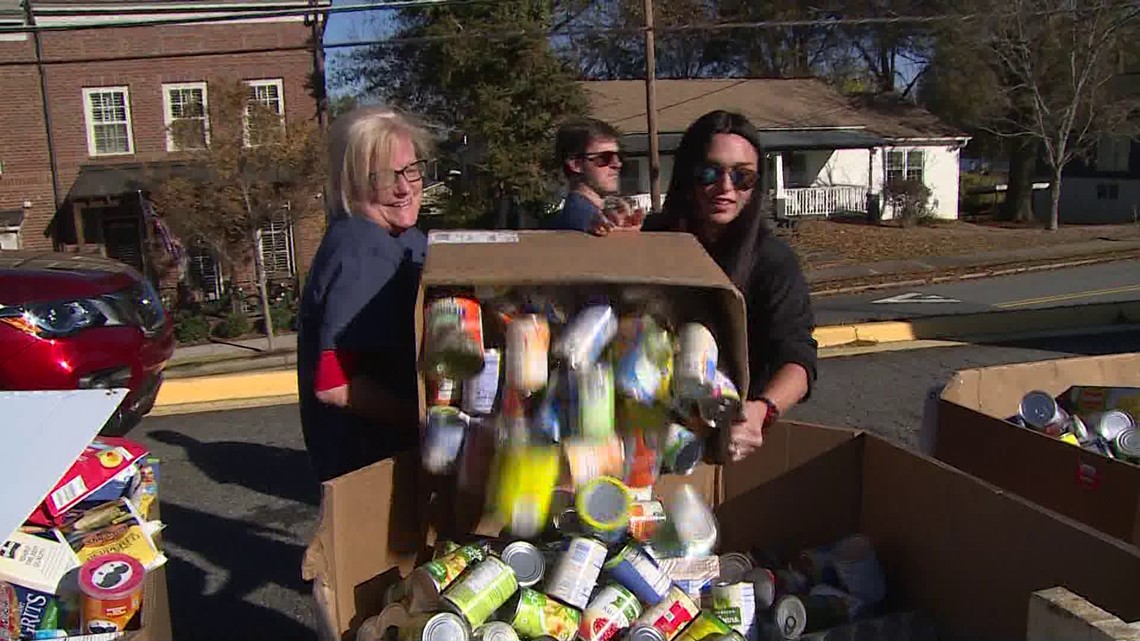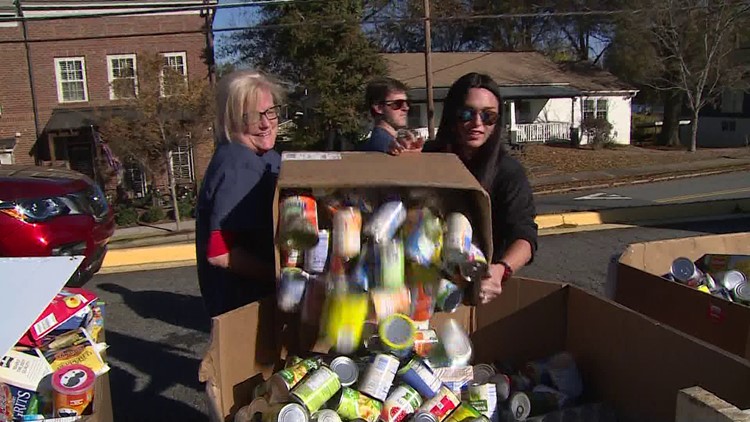 2:15 p.m. | Coca-Cola just showed up to our Gwinnett location with a massive semitruck to make a generous contribution.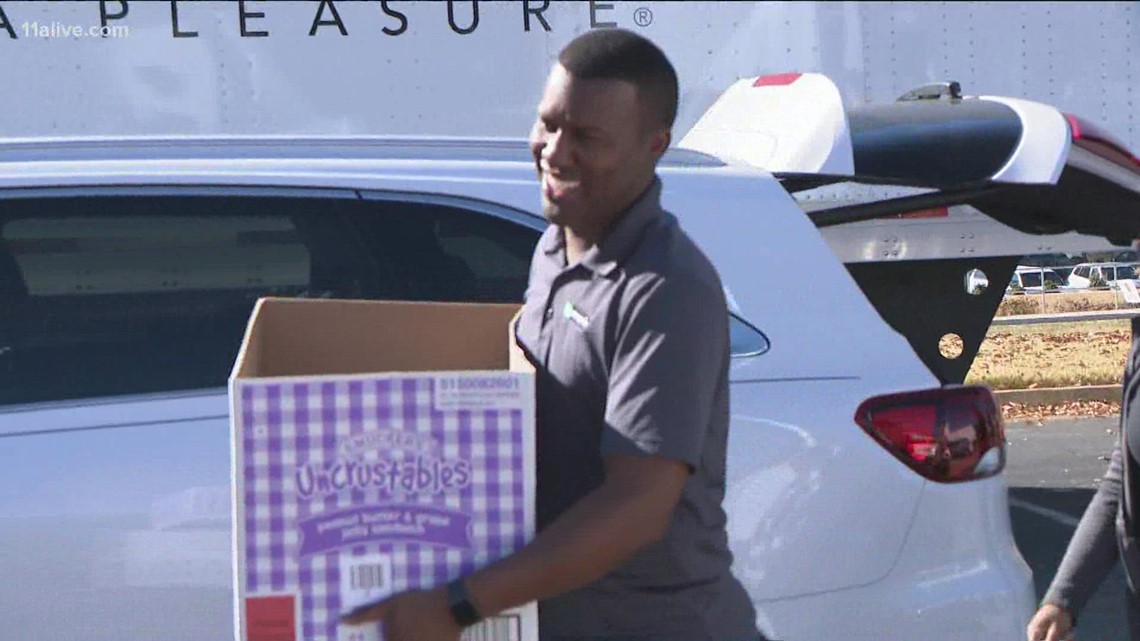 3:50 p.m. | We're inching closer to our new goal, reaching just over 222,300 cans and $19,000 in donations!
5 p.m. | We are still unloading trucks of donated cans from Greater Atlanta Christian School. It's not too late to donate. There's just one hour left before donation locations close!
6 p.m. | Donation locations have now closed. With the help of people throughout metro Atlanta, we've successfully collected over 275,000 cans, surpassing our original goal of 200,000, and over $20,000 in donations and counting.
7:45 p.m. | After tallying all of the food across donation centers, our grand total is 297,603 cans and over $22,000 in donations to help combat food insecurity across metro Atlanta.
The drive begins Friday, Dec. 3, and continues for eight weeks. The collected food will then be used to stock The Salvation Army's 13 Metro Atlanta-area food pantries and distributed among food insecure families before the year's end.
People interested in helping provide food for those in need can donate to the 39th Annual Can-A-Thon on Friday from any of three contactless drop-off locations from 8 a.m. to 6 p.m.
- DeKalb County: 2090 North Druid Hills Road NE, Atlanta, GA 30329
- Cobb County: 202 Waterman St SE, Marietta, GA 30060
- Gwinnett County: 3455 Sugarloaf Pkwy, Lawrenceville, GA 30044
Photos: 11Alive Can-A-Thon 2021
The donation drive is accepting a number of different items. Non-perishable food, canned goods (vegetables, soups, meats, sauces, fruits), dry goods (pasta, beans, oatmeal, grits, crackers, cereal), baby formula and baby food are all approved items for this year's drive. Interested donors can shop for food items on the Can-A-Thon Amazon wishlist here.
If interested donors are unable to make it to one of the three available donation spots on Friday, there is another option. Virtual donations can be made here during the eight week drive, just $10 can buy dinner for a family of four.
11Alive will share the Can-A-Thon event on-air Friday. For more pictures and videos, viewers can follow the official 11Alive Facebook, Twitter and Instagram pages. Those interested in helping spread the word about the food donation drive can download Can-A-Thon graphics here.
If you're part of a school, office, church or club that has a large group stopping by a Can-A-Thon location on Friday to donate, please share more information on which location you'll be joining us at by registering here.