Join 11Alive and the Salvation Army for a tradition going on its 37th year -- Can-A-Thon!
Food insecurity is an issue in the United States, and Georgia is not immune. One in four children in metro Atlanta lives in a home that's food insecure. Parents struggle to feed their families, and rely on the help of the Salvation Army's food pantry to get by.
11Alive and the Salvation Army want to help decrease those numbers and change lives in our community.
Join us at one of several locations across metro Atlanta to make a difference this holiday season. Canned goods collected from the drive will stay local to help families in need
Can-A-Thon 2019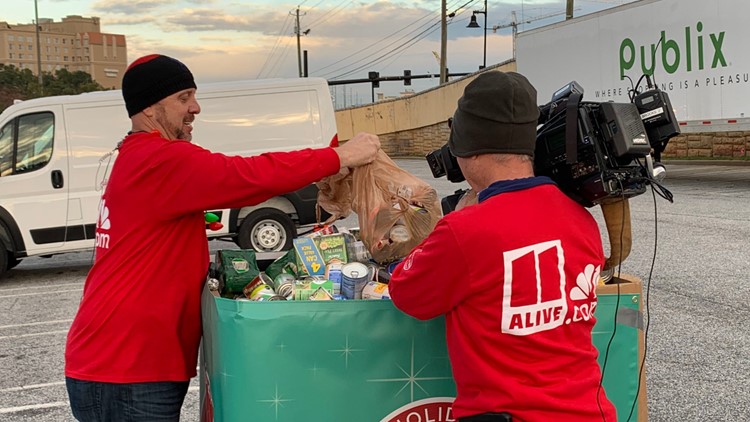 Frequently Asked Can-A-Thon Questions
Can I be on TV?
While we would love to feature all persons and personalities who are donating canned goods, we cannot promise or guarantee screen time to any person, group, school, or company. In the event of "breaking news", 11Alive will prioritize coverage of the most pressing local or national news.
Can my group perform LIVE?
We love performances by Can-A-Thon supporters who are bringing canned goods! We are unable to promise or guarantee screen time to any choir, band, or entertainer.
Do you supply boxes?
Unfortunately we do not supply boxes for your canned good collections.
Do you have graphics I can use for social media, newsletters, etc.? Yes! Please e-mail Joelle.miller@uss.salvationarmy.org for Can-A-Thon graphics.
What are acceptable donations?
Non-perishable food items, canned goods (vegetables, soups, meats, sauces, fruits), dry goods (pasta, beans, oatmeal, grits, crackers, cereal), baby formula, and baby food.
Will you pick up my Can-A-Thon donation?
No; we are not able to pick up the donations. Plus, it's so much more fun to drop-off your collections at one of our drop-off sites on Can-A-Thon day!
Can I drop my donation off on the way to work?
Yes! This is the fastest, and easiest way to give. Once you arrive at your drop-off location, our team of volunteers will unload the bags/boxes from your car. You don't even have to turn the car off!