Imagine 458,000 pounds of food. That's roughly enough food to fill every seat in more than seven professional football stadiums combined. It's also how much food The Salvation Army distributed to metro Atlanta families in just three months this year.
As COVID-19 continues to ravage our state, the need for food is bigger than ever: our goal this year is to collect 500,000 pounds to meet the growing demand. While communities rely on food pantries for support every year, we're counting on you to help our neighbors through unprecedented unemployment, sickness and hard times.
We invite you to join The Salvation Army, 11Alive and Publix to stock food pantries for the 38th Annual Holiday Can-A-Thon. Your donations fill the pantries and help ease the burden of food insecurity for so many families in our Atlanta community.
Like so much else, this year's event will look different – and because the need is so much greater in 2020, our call to action is too. The 38th Annual Holiday Can-A-Thon will be an 8-week push to end hunger in our city starting Monday, November 9th through December 31, 2020.
Because we're extending Can-A-Thon, we're creating virtual and in-person opportunities for you to support The Salvation Army:
- Donate Here Just $10 provides three meals for a family of four
- Text to Give "weCAN" to 770.685.6550 to donate to The Salvation Army
On Friday, December 4, we are offering a COVID-19 safe, contact-less drop-off of non-perishable goods at eight of The Salvation Army's metro Atlanta locations in Brookhaven, Canton, Doraville, Decatur, Fayetteville, Lawrenceville, Marietta or Newnan.
More details and all the latest updates can be found at 11Alive.com/Can-A-Thon and salvationarmyatlanta.org or e-mail Joelle.Miller@uss.salvationarmy.org with any questions.
Thank you for spreading the word. We can't end hunger without the support and generosity of those who are able to give back in times of need. With your help, we can stamp out hunger in metro Atlanta.
Can-A-Thon 2019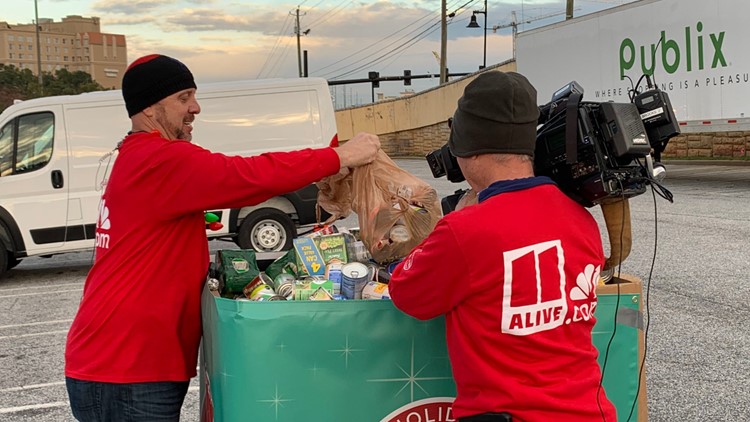 Frequently Asked Can-A-Thon Questions
Can I be on TV?
While we would love to feature all persons and personalities who are donating canned goods, we cannot promise or guarantee screen time to any person, group, school, or company. In the event of "breaking news", 11Alive will prioritize coverage of the most pressing local or national news.
Can my group perform LIVE?
We love performances by Can-A-Thon supporters who are bringing canned goods! We are unable to promise or guarantee screen time to any choir, band, or entertainer.
Do you supply boxes?
Unfortunately we do not supply boxes for your canned good collections.
Do you have graphics I can use for social media, newsletters, etc.? Yes! Please e-mail Joelle.miller@uss.salvationarmy.org for Can-A-Thon graphics.
What are acceptable donations?
Non-perishable food items, canned goods (vegetables, soups, meats, sauces, fruits), dry goods (pasta, beans, oatmeal, grits, crackers, cereal), baby formula, and baby food.
Will you pick up my Can-A-Thon donation?
No; we are not able to pick up the donations. Plus, it's so much more fun to drop-off your collections at one of our drop-off sites on Can-A-Thon day!
Can I drop my donation off on the way to work?
Yes! This is the fastest, and easiest way to give. Once you arrive at your drop-off location, our team of volunteers will unload the bags/boxes from your car. You don't even have to turn the car off!