ATLANTA — It's a holiday tradition going on its 38th year!
Here's what you need to know about the 38th Annual Can-A-Thon
What is Can-A-Thon?
Can-a-Thon is a canned food collection drive and partnership between Publix, 11Alive, and The Salvation Army.
When is Can-A-Thon?
Friday December 4th 8AM-5PM you can drop off cans with contact-less drop-off opportunities for the community at eight of The Salvation Army (TSA) locations throughout the Atlanta market.
Drive through and drop off cans between 8AM-5PM
Call in to 11Alive's first Can-A-Thon Telethon Friday December 4th 11AM-1PM or 5PM-7PM to make a financial donation 404-885-7611
Where can I donate cans for Can-A-Thon?
Donate in-person at one of 8 contact-less, COVID19 safe TSA donation sites between 8AM and 5PM on Friday, December 4th.
- Brookhaven: 2090 North Druid Hills Road NE, Atlanta, GA 30329
- Doraville: 3771 Central Avenue, Doraville, GA 30340
- Lawrenceville: 3455 Sugarloaf Parkway, Lawrenceville, GA 30044
- Marietta: 202 Waterman Street SE, Marietta, GA 30060
- Decatur: 3500 Sherrydale Lane, Decatur, GA 30032
- Canton: 121 Waleska Street, Canton, GA 30114
- Newnan: 670 Jefferson Street Extension, Newnan, GA 30263
- Jonesboro/Fayetteville: 600 West Lanier Avenue, Fayetteville, GA 30214
Can-A-Thon 2019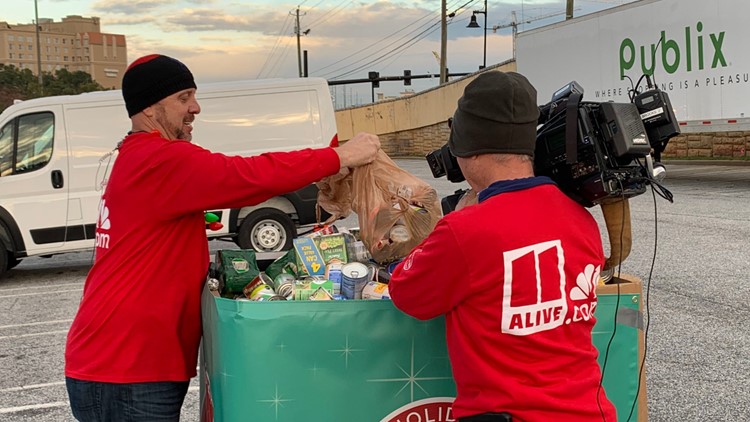 What can I donate?
Non-perishable food items, canned goods (vegetables, soups, meats, sauces, fruits), dry goods (pasta, beans, oatmeal, grits, crackers, cereal), baby formula, and baby food.
Where do my Can-A-Thon donations go?
They stock The Salvation Army's 13 Metro Atlanta-area food pantries and will begin going to food insecure families by the end of this year.
I can't make it on Friday but still want to help. What can I do?
Why canned goods?
Nearly 800,000 people in metro Atlanta and North Georgia are food insecure. One in four children in metro Atlanta lives in a home that's food insecure. Parents struggle to feed their families, and rely on the help of the Salvation Army's food pantry to get by. 11Alive and the Salvation Army want to help decrease those numbers and change lives in our community.
Where can I watch?
11Alive will be broadcasting live from our Can-A-Thon stops. Watch us beginning at 4:30 a.m. through the Morning Rush and Atlanta & Company. You should also follow us on Facebook, Twitter and Instagram for more pictures and videos!
How can I share spread the word?
We have graphics you can share across your social platforms. Click here to download Can-A-Thon Graphics.