EDITOR'S NOTE: This is part two of a four-part series on the aftermath of Hurricane Michael, one month later.
CAIRO, Ga. -- The town of Cairo, Ga. largely dodged Hurricane Michael.­ But it suffered the storm's biggest loss.
Eleven-year-old Sarah Radney was staying with her grandparents in Lake Seminole, in the direct eye of Michael. The storm slammed a carport through the roof. Sarah was hit and killed.
One month later, the pain endures.
At her family's home on the south side of town, Georgia and Abigail Radney play in the room they shared with their sister. Sarah's clothes and things remain spread on the bed.
"I've washed all of her clothes, but I have not put them away," says Sarah's stepmother, Amber Radney. "I kind of enjoy going back there and not moving anything … leaving everything where it's at. I think everyone's kind of OK with her still being back there, you know?"
Sarah's pictures hang on the walls in a house held up by faith.
"That's the only reason I can go on," Amber Radney says, "and the only reason any of us can go on: this was God's will. I miss Sarah, and I'd give anything to have her back. I'd have taken her place in a second."
"But God wanted his angel."
(Story continues below gallery)
Sarah Radney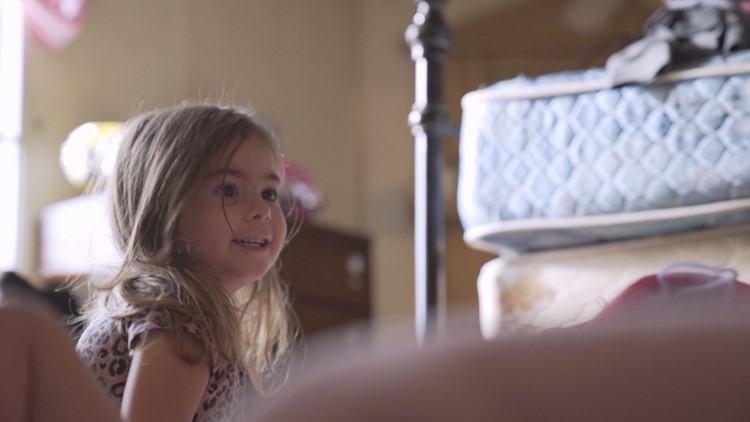 Five minutes up the road, for eight hours a day, Roy Radney works as a welder. He knows he must.
"I know physically I've gotta get up," he says a month after losing his daughter. "Mentally I'm at work, but my mind is not here, hardly ever. I know it shouldn't be this way, but if I have a good day, I go home and I can't help it. I feel guilty about it. My daughter's laying six foot in a grave, so why should I deserve to have a good day?"
But minutes after saying that, Radney says this:
"A month ago, if you had asked me, is there much good left in the world, I'd have said no. But my mind's totally changed."
The community in Cairo has rallied around the Radneys. Their church took care of Sarah's funeral. More than 500 people have donated nearly $24,000 on GoFundMe. At Sarah's new school, Washington Middle, they held a balloon release. Dozens of classmates wrote sympathy cards for Sarah's family. None of it makes the grief any easier. But it does remind the family of what still exists around them.
"It takes something like this to open up your eyes, stop taking for granted what you're holding, and love on it just a little more," Amber Radney said.
"I don't see this town letting the memory of Sarah go away. Ever."