There is panic in parts of the immigrant community as people wonder if they could be arrested next. The confusion comes after immigration agents carried out raids in several communities, sending shockwaves through the country.
ICE is calling the raids routine enforcement. They say it all boils down to people who were allowed to be here -- and when they did their check-in, those same people were arrested.
"People who went to report under a humanitarian state, who went to report for months or years, and didn't come out of the building," said immigration attorney Carolina Antonini.
Antonini says her office has fielded dozens of calls from people concerned about their loved ones.
"To have your parents deported in the middle of the night, then you have no income," she said. "Nowhere to be, no one to take you to school, receive you from school, take you to the doctor -- that's incredibly disruptive."
Homeland Security Secretary John Kelly says arrests were made in five cities on February 6.
PHOTOS: Immigration raids in Atlanta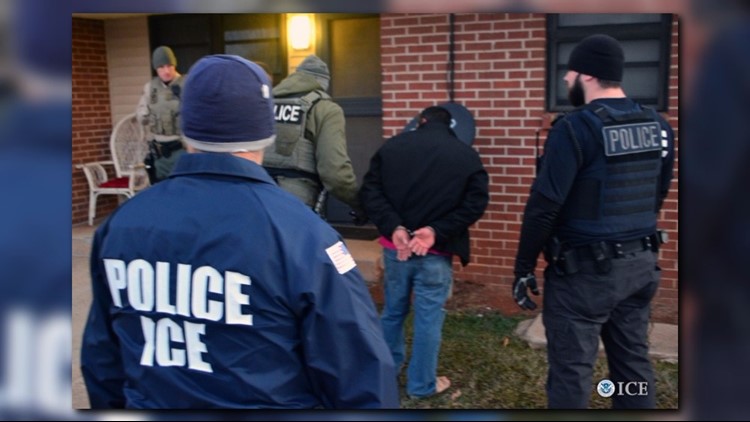 Agents looking for convicted criminals, gang members, fugitives and people who illegally reentered the state after deportation.
"Is it possible this raid netted people with substantial criminal convictions?"
"Absolutely," Antonini replied. "The fact is, we are getting reports that all kind of people are getting netted for this operation."
Washington, DC-based advocacy group United We Dream released a pamphlet showing five steps immigrants should take if ICE is in their area. Antonini says the first one is "Know Your Rights."
"First, make sure it's an officer, second, make sure they have a warrant," she said. "If they have a warrant for your arrest, step outside and close the door. If they have a search warrant, then give them access to search your home -- but only to the access the warrant permits."
Our viewers may hear the words 'humanitarian stay' tossed around a lot. Antonini says people who have that stay are considered low priority and allowed to stay in the United States for one reason or another. That can be family ties or even something like medical conditions. They must check in with ICE on a timeline that ICE deems they should.
She says a lot of those folks went to check in, and never came back home.
Photographs were taken last week by government officials showing federal agents arresting foreign nationals in metro Atlanta.
Officials say they arrested 190 people in Georgia and the Carolinas. Of those, 127 had previous convictions for crimes such as homicide, sexual abuse, drug trafficking and DUI.
According to Homeland Security, another 29 had been removed from the country, but had returned to the United States illegally.
11Alive News asked a local immigration expert to explain the difference between the policies fo the Trump Administration and the Obama Administration.
President Donald Trump's plan to remove the undocumented immigrants who have committed crimes is similar to what President Barack Obama declared in 2014. According to government data, the Obama Administration deported more people than any other president's administration in history. That number peaked at more than 400,000 in 2012. The total decreased over the next few years before a slight uptick in 2016.