DOUGLASVILLE, Ga. — UPDATE: No charges will be filed against the off-duty ICE officer who shot and killed a man in a Walmart parking lot in Douglas County, according to the district attorney and law enforcement officials.
READ MORE | No charges will be filed against ICE officer who shot, killed man in Walmart parking lot
--------------
ORIGINAL STORY
We're finally getting an idea of what happened in a Douglas County Walmart parking lot that left a man dead after a shooting.
It was Sunday afternoon around 1 p.m. when Douglasville Police responded to the Thornton Road business near I-20 after getting reports of a shooting. When officers got there, they found 45-year-old Johnathan Liddell of Austell dead in his car from a gunshot wound. They found the off-duty ICE officer, 38-year-old Othello Jones on the scene.
Police were initially slow to release any details about the shooting, only releasing a heavily-redacted report that left many questions - including the officer's name - unanswered. However, after 11Alive pressed for answers, police released a version of the report that offered a narrative from responding officers. It painted a fuller picture of the moments immediately after the shooting.
MORE | One person shot and killed at Lithia Springs Walmart store
The police report lists Jones as the one who called 911, and that he did so because he was being followed.
According to the report, when Douglasville Police got there, they went to check on Liddell, but he was already dead. That's when the officer noticed a black gun on top of the red Chevy Caviler. He asked Jones whose gun it was, and he answered that it belonged to Liddell. Jones told the officer that he got it from the backseat of the car and put it on top of the car.
The officer picked up the weapon, and "immediately noticed it was plastic," according to the officer's narrative. He later wrote that it looked like an airsoft gun.
The report states that Jones had his wife and three kids with him, and they all said they were okay. After that, Walmart's loss prevention officer came over to police to report that there was video of the incident.
Officers handcuffed Jones after that, removing his weapon and placing it into the back of the police vehicle. The police report lists the alleged crime as a "willful killing."
Photos: 1 killed at Lithia Springs Walmart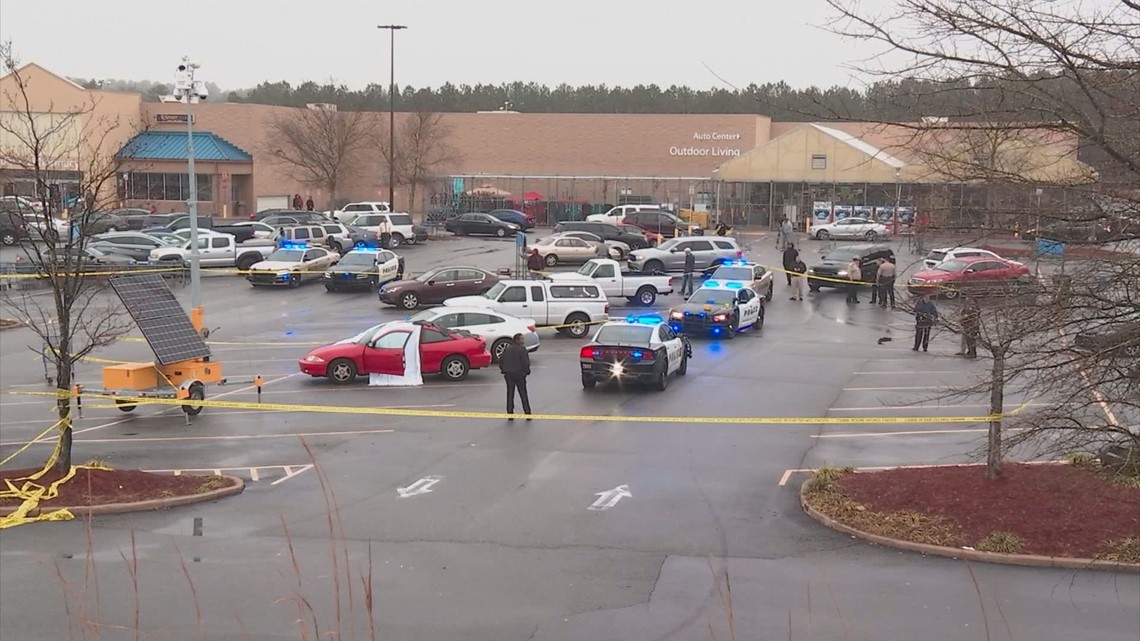 According to one man who started recording moments after the shooting, it appeared that Jones and Liddell had been arguing before the lone gunshot rang out.
Erick Wright said after the shot, he looked over to see Jones with his gun drawn, yelling for the man inside a car to put his hands up. When the victim was actually shot is unclear, but Wright said seconds later, he heard the officer call for his wife to get his badge.
"So, I went ahead and started filming him," Wright said.
READ | Witness describes tense moments of Walmart shooting
He said the officer asked for him to call for help. Wright said once he realized the shooting was over, he walked to where the police officer was near the victim's car.
Wright said when he got there, it appeared that it was a single shot had been fired through the back window of the victim's car. As for why the officer fired the gun, Wright said the officer reported seeing the victim reach for something, and that's why he shot.
RELATED | Gunman in Walmart killing identified as off-duty ICE officer
The case is still under investigation by authorities, however the Georgia Bureau of Investigation said it would not be involved in the case. The Department of Homeland Security's Immigration and Customs Enforcement Office also released a statement to 11Alive, confirming Jones was not on duty at the time and was traveling in his personal car.
"Douglasville Police and the Douglas County Sheriff's Office are investigating the incident," the agency said. "Additionally, ICE's Office of Professional Responsibility investigates ICE officer-involved shootings in coordination with our law enforcement partners. Due to those ongoing investigations, no additional information is available at this time."